Well (sigh), what a year 2020 has been.
A global pandemic, an election for the history books, a rush on grocery stores, online school, drive-by parties, and mask mandates. If you're looking for Christmas ornament ideas, may I recommend the 2020 dumpster-fire collection or the ceramic toilet paper cartoon?
After a year like this, here come the holidays! For a few of you, that's good news. (We know who you are. Yes, we all saw you putting up your Christmas lights in July.)
However, for many of you, it's not good news.
Maybe you're wondering if you should even pull out the Christmas tree at all, simply fast-forwarding life into the New Year.
For others, perchance the reason you seem so excited about Christmas is because you're covering up the apprehension and fear brewing just beneath the surface of your heart.
Perhaps you're asking yourself, "Do I really need another Christmas?"
Actually, this year, I believe we need Christmas more than ever—for the same three reasons that we needed the first Christmas two millennia ago.
Here are three reasons why I—in particular—need Christmas. 
#1 – I need Christmas because of Adam and Eve.
A quick glance at 2020 can convince just about anyone that we live in a broken world. We live in a world that has moved far away from peace. It's as if much of nature itself is allergic to harmony. Why is that?
According to the biblical record, Adam and Eve (the world's first humans) decided that they knew better than God. They ate from the tree of the knowledge of good and evil, deliberately disobeying God's directive for their life.
The results were catastrophic. Desiring illumination, they achieved humiliation. They were infected with the penalties and problems of sin, and the entire universe writhed under the curse of evil. Ever since, we humans have been unable to enter God's uncontaminated presence on our own.
Why do the temptations of hatred, bitterness, lust, and dishonesty still haunt the halls of our hearts—thousands and thousands of years after Adam and Eve? Because we have inherited their sinful nature.
Christmas doesn't exist because we need vacations, presents, and extra church services. Christmas exists because we have sinned. Adam and Eve led the way, but we gladly followed them off the cliff. For me, Christmas is an annual reminder that I come from a long line of sinners who needed a Savior.
#2 – I need Christmas because of my actions.
Drawing our worldview from the Bible, the church (with whom my family does life) defines sin as…
Any outward or inward failure to conform to the moral law of God, affecting our actions, attitudes, words, and motivations. As sovereign and holy, God establishes the moral law as a reflection of His righteous nature; therefore, we sin when we violate His law or anything consistent with His nature.
From creation, God has placed healthy appetites and drives within all of us. If you think about it, sin isn't something God created. No, it's something the world, our flesh, and the devil corrupted. Every sin is only an unnatural exaggeration of a legitimate, God-given virtue.
If unchecked…
Ambition can easily become pride.
Attraction can easily become lust.
Pleasures can easily become idols.
With candor, the Bible says the following about our actions…
If we claim to be without sin, we deceive ourselves and the truth is not in us… If we claim we have not sinned, we make him out to be a liar and his word is not in us. (1 John 1:8, 10) 
The acts of the flesh are obvious: sexual immorality, impurity and debauchery; idolatry and witchcraft; hatred, discord, jealousy, fits of rage, selfish ambition, dissensions, factions and envy; drunkenness, orgies, and the like. (Galatians 5:19-20)
Under the right circumstances—in our natural state—every person is capable of any sin. Apart from ultimately denying Christ, even a genuine Christian is capable of any sin that a non-Christian can commit.
I needed that first Christmas because of my actions, and every Christmas holiday since has served as an annual reminder of my need for a Savior.
#3 – I need Christmas because of my attitude.
Many of us see ourselves as fundamentally good people who try to do the right thing but miss the mark occasionally. However, an honest look at the Bible and our own hearts reveals that we are fundamentally sinful people who only do good by the grace of God.
C.S. Lewis declared…
When a man is getting better he understands more and more clearly the evil that is still left in him. When a man is getting worse he understands his own badness less and less.
I believe we can only escape the clutches of pride when we become self-aware of our destructive attitudes—the thoughts and desires that flow like lava beneath the surface of our lives.
 Many of us are inclined to think that sin is a rare exception in our lives. That may be true if we only define sin as an act of willful disobedience to God's laws, such as the Ten Commandments. "As long as we don't lie, steal, or commit adultery, we're good to go!" Or so we think.
To God, these actions are only the tip of the iceberg. The Bible talks exponentially more about our wayward attitudes, thought processes, and heart motivations than it does about isolated acts of sin.
 In his famous Sermon the Mount, Jesus said if we lust or hate in our heart it's just as destructive and distasteful as committing adultery and murder.
In the New Testament of the Bible, Paul the Apostle wrote…
But the fruit of the Spirit is love, joy, peace, forbearance, kindness, goodness, faithfulness, gentleness and self-control. Against such things there is no law. Those who belong to Christ Jesus have crucified the flesh with its passions and desires. Since we live by the Spirit, let us keep in step with the Spirit. Let us not become conceited, provoking and envying each other. (Galatians 5:22-26)
Put to death, therefore, whatever belongs to your earthly nature: sexual immorality, impurity, lust, evil desires and greed, which is idolatry. (Colossians 3:5) 
How can we ever keep all the commands of the Bible? The truth is… we can't; nevertheless, there was one person who did, which gives Him the sole right to be our Savior!
According to hundreds of reliable first-century witnesses, Jesus was born in Bethlehem, lived a perfect life, and died on the cross—giving Himself as a sacrificial substitute for our sins and absorbing the judgment we rightfully deserved. For them, the evidence was undeniable: Jesus rose again three days later, ascended back to heaven 40 days later, and still offers forgiveness, righteousness, His Spirit, and eternal life at the moment anyone repents and believes!
So, how does this good news impact us this Christmas?
When we see our desperate need for Christ, we'll see our desperate need for Christmas.
May God help us this year to see Christmas with new eyes. May we understand it as the rescue for our desperate condition. May each Christmas light, Christmas cookie, and Christmas tree mean more to you this year than ever before when you realize the great Creator became our Savior, and all God's fullness dwells in Him.
Matt Friend, a Charleston native and tenth-generation West Virginian, graduated from the Southern Baptist Theological Seminary, has served in pastoral ministry since 2002 and at Bible Center Church since March 1, 2016 (as our sixth Lead Pastor). He and Sarah (his high school sweetheart) are raising two teenage daughters, Katie and Riley, and a son, Kadyn. Together, they are advocates for adoption and all things West Virginia. In his free time, he enjoys reading, camping, hiking, kayaking, and spending time with his family and two dogs, Queso and Wasabi.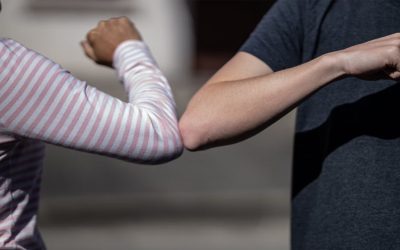 Today my son walked into school without a mask for the first time in almost two years. Instead of walking, I should probably describe him as having floated into school! When Sarah and I received the email from his principal yesterday announcing that masks are now...