Dear Bible Center family & friends,
Welcome to church! Thanks for visiting in person or tuning in online or on TV.
You've picked a great day to attend or tune in because the message is all about heaven.
Who gets to go to heaven?
When do we go to heaven?
What will it be like?
Thankfully, our Pastor of Discipleship and Multiplication, Mike Graham, will deliver the message. He's one of my favorite teachers and preachers, so I'll be right there with you, taking notes and asking God to speak to my heart from His Word.
When you hear today's message, you'll benefit by knowing where it fits in the bigger picture. Since September we've journeyed through the Bible's core doctrines, broken into various miniseries. We're currently in a 4-part series titled Renewed, in which we are examining what the Bible says about the end times and the eternal state. (If you missed the last two weeks' messages on Jesus' second coming and the fate of unbelievers, you can watch or listen to them here.)
Join me in offering up a prayer on Pastor Mike's behalf, and let's ask God to continue transforming us into the image of Jesus through the reading and teaching of His Word and through our gathered worship today.
Longing for heaven with you,
Matt Friend • Lead Pastor
@PastorMattBCC
P.S. For everyone's safety, we'll use the same pre-packaged communion format that we've used throughout the pandemic. Be sure to pick up yours at the worship center doors.
Thursday | March 4
Sunday | March 7
9 & 11 AM | Worship Services | On Campus & Online
9 & 11 AM | Early Childhood, Children's Ministry, & Middle School (MSM)
9 AM | High School Ministry (HSM)
10 AM | Worship Service | WCHS-TV
Sunday Groups | Various Times
Wednesday | March 10
6 PM | AWANA | 1st Floor
6 PM | Middle & High School stuffing eggs for Easter Egg Hunt | Church Campus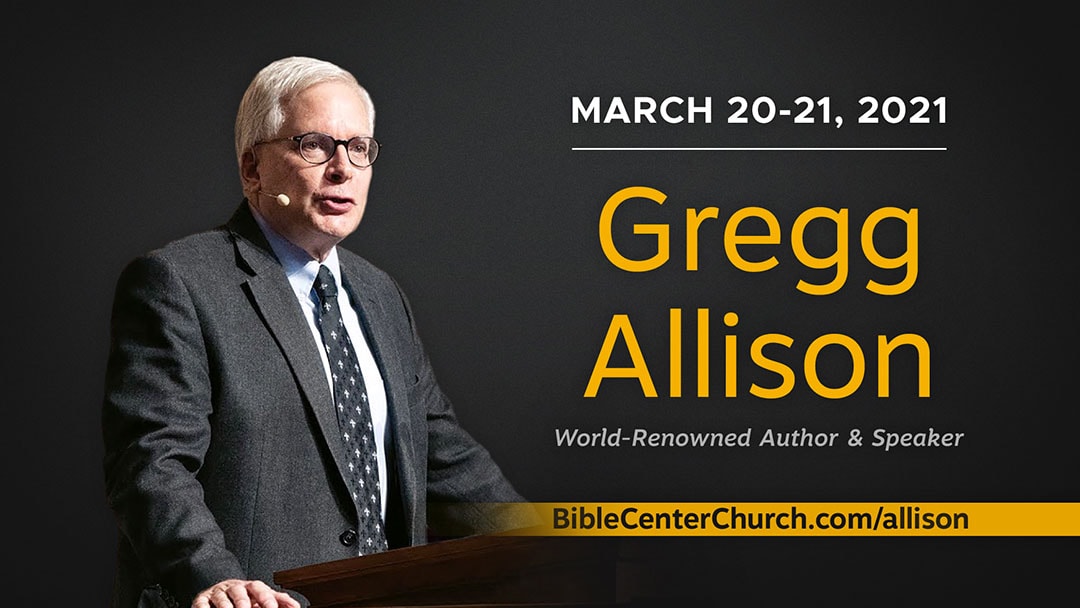 Save the Date: Guest Speaker and Theology Intensive
March 20-21 | On Campus & Online
Bible Center Church is thrilled to welcome Dr. Gregg Allison, world-renowned author, and speaker, for a half-day intensive and Sunday services. 
Dr. Allison's books are being used in churches and seminaries around the world to shape pastors, missionaries, and entire congregations. His knowledge and insight are second to none, and you will leave encouraged and inspired.
Church Life
---
Memorial Tribute for Palm Sunday
To honor loved ones who have passed away this past year, we will present a tribute on Palm Sunday. To include your loved one, please complete this form by Monday, March 29.
Israel 2022 | Orientation Meeting
Sunday, March 14 | 8 PM | Zoom | Are you interested in a life-changing trip to the Holy Land? Would you love to walk the same streets where Jesus walked? Are you ready to start reading your Bible in full-color and 3-D? We'd love to have you join us in Israel from May 31–June 10, 2022! Check out all the info here for our first orientation meeting where you can learn all about the trip!
Member Statement of Faith Update
As the culmination of two years of prayer, hard work, and Bible study by our Board of Elders, and after six months of doctrinal sermons, Core Classes, and fireside chats… we are nearing the end of our Member Statement of Faith update initiative.
You can watch a video and learn all about it here. Per our constitution, we entered a 3-week review period (February 28-March 20) with another Q & A with our Pastors and Elders. Please take advantage of the following:
Elders Available for Questions (next Sunday, March 7, after both morning services at the front of the Worship Center)
Half-Day Core Class Intensive with Dr. Gregg Allison (Saturday, March 20, register here)
Spring Member Meeting (Sunday, March 28, at 6 PM online or on campus)
Family
---
Children's Ministry Helpers
Looking for a way to serve, give back, or become energized? Being a part of the Children's Ministry is fun and exciting! Help our kids learn about how amazing Jesus is—the One who created it all. Become a volunteer and serve on a once-per-month rotation (AWANA and Nursery-5th Grade). Volunteers are needed now for Wednesday and Sunday service times. Contact Pastor Steve Neill or Jane Jackson-Fowler to get plugged in, or just visit them on the 1st floor.
Bible Center School
---
Enrolling Now!
Bible Center School is enrolling now for the 2021-22 school year. To learn more about BCS, to tour the school, or to enroll, visit BibleCenterSchool.com.

BCS Employment Opportunities
Preschool Summer Employment Opportunities | Opportunities are available for the preschool summer program.  If interested, Email Preschool Director Machelle Huffman for details.
Substitute Teachers are needed at BCS (grade levels and days are flexible). Email Principal Stephanie Schafer.