Last week, our nation mourned seven mass shootings in seven days.
Tuesday, March 16 | Eight people were killed in Atlanta when a gunman stormed three spas.
Wednesday, March 17 | Five people preparing a vigil in Stockton, California were hit by a drive-by shooter.
Thursday, March 18 | Four victims were taken to the hospital after a shooting in Gresham, Oregon.
Saturday, March 20 | Five people were shot after a disturbance inside a Houston club; eight people were shot by an unknown assailant in Dallas, and one person was killed and another five were injured in Philadelphia during a shooting at an illegal party—from which 150 people fled for their lives.
Monday, March 22 | Ten people, including a police officer, were killed in a shooting at a Colorado supermarket.
In the last 24 hours, 23 tornadoes ravaged the southeast—one in Mississippi, 17 in Alabama, and five in Georgia—killing at least 6 people and leaving heavy destruction. This morning's sun rose on multiple communities in ruins. Homes and businesses were ripped apart. Streets and yards are littered with mangled debris. Innumerable utility poles have been left splintered.
Why?
The ancient philosopher Epicurus notoriously said, "Either God wants to abolish evil, and cannot, or H\he can and does not want to. If he wants to, but cannot, he is impotent. If he can, but does not want to, he is wicked." What are we to make of Epicurus' words?
In summary, the Bible acknowledges four types of evil:
Moral Evil – A result of Adam and Eve's original sin and the sinful disposition passed down to the entire human race. The Biblical worldview is that "the wages of sin is death."
Natural Evil – A result of living in a cursed creation, post-Adam-and-Eve. Much falls into this category: from tidal waves to tiny bacteria; from diseases to disasters; from viruses to volcanoes.
Supernatural Evil – A result of Satan's rebellion and his malevolent leadership of a third of heaven's angels who have become demons on earth.
Eternal Evil – The ultimate result of all who reject Jesus and who will spend eternity, with Satan and his demons, separated from God in hell.
May we never forget that none of this was visibly evident in God's original design for the universe, spiritual or physical. God declared His original creation as "good."
However—within God's sovereign purposes—Satan, Adam, and Eve eventually fell from their innocent state by using their free will to disobey God. In their own time and their own way, they purposely rejected God's goodness and willfully ejected from their dependent relationship with God, becoming self-appointed judges of good and evil. Since then, death and depravity have ruled the day, both in the hearts of broken human beings and in all of nature itself.
Is it God's fault?
According to the Bible, God gave Adam and Eve (and, most likely, Satan by default) the freedom of self-determination. They chose poorly, and we have suffered the consequences ever since.
Even though our wills are stained with a propensity to sin, God does not abridge the accountability of moral, intelligent creatures.
Though I inherited a sinful nature from Adam, I tell my children that I would've made the same poor decision that he did, had I been given the choice.
Is God still in control?
God is certainly in control from the standpoint that He is working all things (even evil) for His ultimate hidden purposes and for our good.
When a trumpet sounds in a city, do not the people tremble? When disaster comes to a city, has not the Lord caused it? (Amos 3:6)
I form the light and create darkness. I bring prosperity and create disaster; I, the Lord, do all these things. (Isaiah 45:7)
You intended to harm me, but God intended it for good to accomplish what is now being done, the saving of many lives. (Genesis 50:20)
If God can do anything, why can't He remove evil and suffering?
In one sense, this is a misleading question. God actually can't do everything.
He can't lie.
He can't disobey His own law.
He can't be inconsistent with His own character.
Thankfully, though, God will one day remove evil and suffering. It is part of His plan!
Then I saw a new heaven and a new earth, for the first heaven and the first earth had passed away, and there was no longer any sea. I saw the Holy City, the new Jerusalem, coming down out of heaven from God, prepared as a bride beautifully dressed for her husband. And I heard a loud voice from the throne saying, "Look! God's dwelling place is now among the people, and he will dwell with them. They will be his people, and God himself will be with them and be their God. He will wipe every tear from their eyes. There will be no more death or mourning or crying or pain, for the old order of things has passed away." He who was seated on the throne said, "I am making everything new!" (Revelation 20:1-5)
How can we respond in the meantime?
First, put your faith in Christ! Commit your life to Christ. Jesus died to pay for your sins, and He rose again to offer you new life. Receive His free gift of salvation!
Furthermore, we can weep those who weep (Romans 12:15) and do good to those in need (Mark 12:31; Luke 6:27).
Finally, we can, "in our hearts, revere Christ as Lord. Always be prepared to give an answer to everyone who asks you to give the reason for the hope that you have, with gentleness and respect" (1 Peter 3:15).
Do you know someone wrestling with the evil and suffering of the world? Feel free to share this with them and to get a conversation started. Your ongoing, compassionate presence and listening ears will mean more to them than having all the answers.
Matt Friend, a Charleston native and tenth-generation West Virginian, graduated from the Southern Baptist Theological Seminary, has served in pastoral ministry since 2002 and at Bible Center Church since March 1, 2016 (as our sixth Lead Pastor). He and Sarah (his high school sweetheart) are raising two teenage daughters, Katie and Riley, and a son, Kadyn. Together, they are advocates for adoption and all things West Virginia. In his free time, he enjoys reading, camping, hiking, kayaking, and spending time with his family and two dogs, Queso and Wasabi.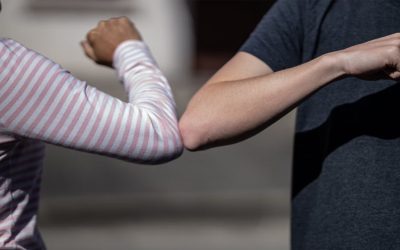 Today my son walked into school without a mask for the first time in almost two years. Instead of walking, I should probably describe him as having floated into school! When Sarah and I received the email from his principal yesterday announcing that masks are now...