Dear Bible Center family & friends,
Christ is risen! He is risen indeed.
Welcome to church on this beautiful Easter morning! Thanks for visiting on campus, online, or on TV.
"Hope." The word breathes anticipation. It's hard to say hope without some sense of expectation. Today's theme is "Hope Rising." Hope can rise in our hearts because Jesus rose from the grave, and His followers will too!
If you're worshiping with us on campus or online, you'll notice that today's program includes an abbreviated message. However, you can enjoy the full, 31-minute message on TV today at 10 AM, on our app, or at BibleCenterChurch.com/sermons. The expanded notes are also there for your deeper Bible study on the topic of resurrection.
Did Jesus really rise from the grave? If so, how can we be sure? How can we respond to someone who claims that Jesus' resurrection can't be scientifically proven? How can we know Jesus' resurrection was physical and not just spiritual? I discuss all of these things in the full version of the sermon.
Our prayer is that hope will rise in your hearts today. For Christians, Easter means that the worst thing is not the last thing!
Right now, your heart may be breaking.
You might be falling apart.
But Jesus knows the road you're facing—
even if it's a step in the dark.
One day you're gonna see clearly.
One day, your heart's gonna find—
that buried beneath all the grieving,
the sun has been waiting to shine.
May God use everything about today's service (the music, the message, the Scripture readings, the songs, the one-another encouragement, and the prayers) to remind us that…
Hope is Rising!
Matt Friend • Lead Pastor
@PastorMattBCC
Thursday | April 1
Friday, April 2
Good Friday Service | 7 PM | Online/On Demand
Sunday | April 4
Easter Services
7:30 AM | On Campus
8:45 AM | On Campus, Online
10:00 AM | On Campus, Online, On TV
11:15 AM | On Campus, Online
Families are encouraged to attend the service together (about 40 minutes in length). Children's Ministry and all other groups will resume next Sunday.
Wednesday | April 7
6 PM | AWANA | 1st Floor
6 PM | Middle School (MSM) | Church Campus
7 PM | High School (HSM) | School Campus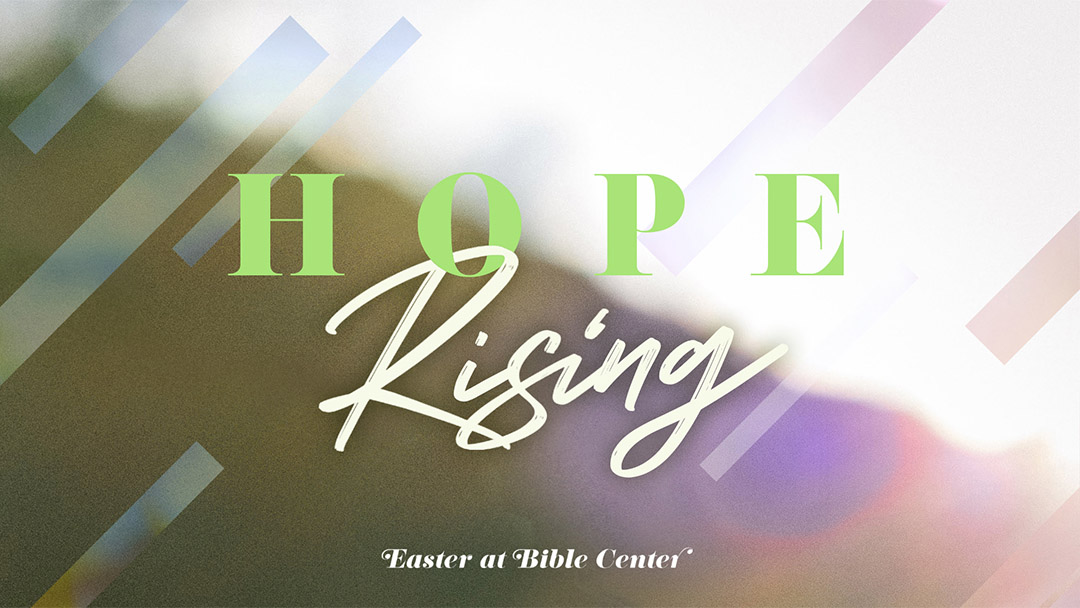 Sunday, April 4
You're invited to be our guest for a beautiful service celebrating the resurrection of our Savior.
Church Life
---
Good Friday Service
April 2 | 7 PM | Good Friday is a special time to look back in awe and wonder at the sacrifice Jesus made for us on the cross. Join us online for a creative hour of dramatic Scripture reading, art, singing, and prayer as we survey the 14 Stations of the Cross… the 14 places mentioned in Scripture where Jesus journeyed in those final, dreadful hours. All ages are invited as each service element is designed knowing children will be watching.
Belong
---
New Group for Families with Young Children
Begins Sunday, April 11 | 10 AM | Room 1121 (first floor) | Looking for a place to belong? Are you a parent of young kids? This group might be for you! Check it out on April 11. Led by Troy and Kelly McClung.
Bible Center School
---
Spring Open House
Wednesday, May 5 | 9 AM-2 PM | Considering Christian Education? Want to know what BCS is all about? Come check out BCS while students are in session! Tour the school, meet the faculty, and see what our students are saying about BCS. To schedule your tour, please call (304) 941-1704 and our office staff will be happy to answer your questions and help you choose a time that works best for your schedule.

BCS Employment Opportunities
Teacher for 3-year-old Preschool Class | Full-time (with benefits) | Email Preschool Director Machelle Huffman for details.
Preschool Summer Employment Opportunities | Email Preschool Director Machelle Huffman for details.
Substitute Teachers are needed at BCS (grade levels and days are flexible). Email Principal Stephanie Schafer.