Dear Bible Center family & friends,
Welcome to church! Thanks for visiting on campus, online, or on TV.
Please take a moment to scroll down to see two important announcements below:
Mother's Day Weekend Schedule (May 6/9)
New Service Schedule (May 13/16)
This weekend we continue our Are You Certain? series. For 8 weeks we're studying the inspired letter of 1 John in search of spiritual confidence and assurance of salvation.
The book of 1 John is all about assurance. Its goal is to give genuine believers assurance that all of our sins have been forgiven (past, present, and future); that God the Father completely accepts and approves of us through the merits of Jesus; that we really are going to be with Jesus when we die; and that our salvation is eternal and secure.
Toward the end of the letter, John writes, "I write these things to you who believe in the name of the Son of God so that you may know that you have eternal life" (1 John 5:13).
In this inspired letter, John identifies 8 pieces of evidence that you are—or are not—a genuine child of God. So far, we've discovered that authentic Jesus-followers:
Have a relationship with Jesus.
Are eager to confess and change when we sin.
Desire to know God above all else.
Today's message, the fourth in the series, is titled, "Certain Allegiance" from 1 John 2:18-27. We'll see that those who belong to Jesus will never ultimately reject Jesus.
In other words, we can be assured that we have truly received eternal life as long as we don't ultimately turn our backs on Christ. We, true believers, can take great comfort knowing that we will never ultimately deny Christ because we have the Holy Spirit in our hearts and the truth of the gospel in our minds.
Thankful for Jesus,
Matt Friend • Lead Pastor
@PastorMattBCC
Thursday | April 29
Sunday | May 2
9 & 11 AM | Worship Services | On Campus & Online
9 & 11 AM | Early Childhood, Children's Ministry, & Middle School (MSM)
9 AM | High School Ministry (HSM)
10 AM | Worship Service | WCHS-TV
Sunday Groups | Various Times
Tuesday, May 4
Wednesday | May 5
6 PM | AWANA End-of-Year Night
6 PM | Middle School (MSM) | Church Campus
7 PM | High School (HSM) | School Campus
Mother's Day | May 9
We hope you'll join us on Mother's Day. Bring a guest! Whether you bring your mom or daughter or a woman who's had a special impact on your life, we'd love to celebrate with you. Mother's Day (May 9) will follow the model we recently used for Christmas and Easter with all weekend services—including Thursday night, May 6—being identical.
Early Childhood Ministries (Nursery through 5 years old) will be available Sunday morning, but all other age groups are encouraged to sit with their families for the service. Base Camp, MSM, HSM will resume May 16.
Groups will not be held but will resume May 16.
Thursday, May 6
7 PM | On Campus
Sunday, May 9
8:45 AM | On Campus, Online
10:00 AM | On Campus, Online, On TV
11:15 AM | On Campus, Online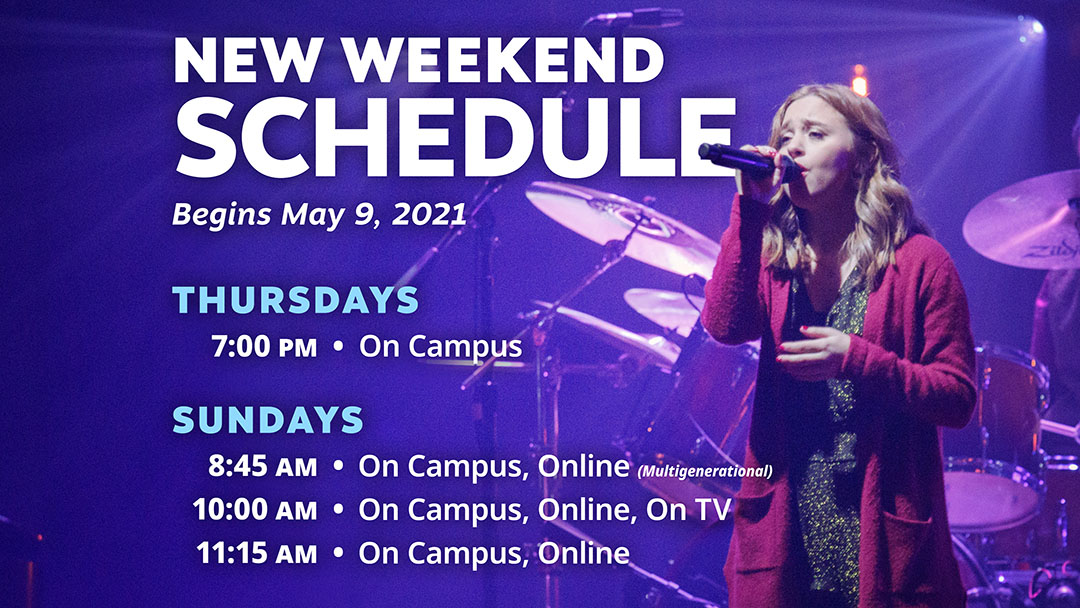 It used to be that crowded rooms were a good thing, but as we emerge from the pandemic, people seem more comfortable in smaller settings. To continue to provide the safest possible options, the most welcoming environment, and the best opportunities to connect, we will continue our three-service schedule on Sunday mornings: 8:45 (Multigenerational), 10:00, and 11:15 AM.
We believe a third service will allow us to welcome more people (fewer per service) to both our services and groups, to better connect with guests, and to help people take their next step toward making disciples—Jesus' great commission to us.
For more details on this decision and what you can expect, check out the video below.
Church Life
---
Membership Night
Friday, May 14 | 6:30-9:00 PM | Whether you're ready to become a member or you just want to know more about Bible Center, join Pastor Mike Graham, along with other BCC staff, for our next Membership Night! Register | Learn More
Learn about our mission and vision.
Ask questions.
Interact with our staff and others considering membership.
Baptism Opportunity
May 16 | Baptism is an outward expression of faith after someone has decided to follow Jesus. If you've been thinking about getting baptized, we're providing many opportunities on May 16 in a safe (and chlorinated!) setting. You can gather with friends and family for a small, intimate baptism service celebrating God's grace in your life. Register | Learn More
Camp Scholarship Fund
Did you know 85% of people who come to faith in Christ do so by the age of 18? Summer Camp is a crucial time in the lives of students. By giving to the Susan Bosley Camp Scholarship Fund, you can help a student attend summer camp where they will hear life-changing messages from God's Word, be encouraged to deepen their faith and grow closer to Jesus,  make memories with friends that will last a lifetime, and come home ready to tell others about what God has done in their life that week.
Fellowship of Christian Athletes (FCA) Golf Scramble
Friday, May 14 | 7:30 AM | Edgewood Country Club, Charleston | Sign up to play or to be a sponsor by contacting Tim Britton at (304) 881-2561. As a missionary with FCA and one of Bible Center's global partners, annual events like this help to raise Tim Britton's annual support, to provide Bibles for kids and coaches, to send kids to FCA camps who cannot afford to go, to provide meals for teams as a service outreach, materials for in-school FCA clubs, and other ministry opportunities that may come up throughout the year. [More info]
Serving
---
May We Serve
May We Serve gives us the perfect opportunity to love our neighbors well in the name of Jesus. We hope you will join us! Check out this year's projects and register here.
Drivers for Celebrate Recovery
Tuesday Evenings | Volunteers are needed to pick up and drop off people from a couple of the recovery homes. If you would like to help with this ministry, please email Sheri.
Kids
---
AWANA End-of-Year Party
Wednesday, May 5 | 6:00-7:30 PM | Awana will conclude for the spring on Wednesday, May 5. Can't wait to see you there!
Puggles and Cubbies will host a closing program (downstairs) for parents to attend.
K-5th Grade will meet outside, so bring your bikes and skateboards! We will also have a blow-up obstacle course and access to the new playground. Huskey's ice cream, popcorn, and cotton candy will also be served.
Students
---
Celebrating Graduates
To submit names of any individuals in our church family who are graduating from high school, college, or graduate school, complete the appropriate form by Sunday, May 9: High School | College & above. High School graduates will be recognized on Wednesday, May 12, during HSM. Names and photos of all graduates will play prior to each service on May 23.
Bible Center School
---
Spring Open House
Wednesday, May 5 | 9 AM-2 PM | Considering Christian Education? Want to know what BCS is all about? Come check out BCS while students are in session! Tour the school, meet the faculty, and see what our students are saying about BCS. To schedule your tour, please call (304) 941-1704 and our office staff will be happy to answer your questions and help you choose a time that works best for your schedule.

BCS Employment Opportunities
Teacher for 3-year-old Preschool Class | Full-time (with benefits) | Email Preschool Director Machelle Huffman for details.
Preschool Summer Employment Opportunities | Email Preschool Director Machelle Huffman for details.
Substitute Teachers are needed at BCS (grade levels and days are flexible). Email Principal Stephanie Schafer.