"I'm trapped! How do I fight my porn habit?"
"I just discovered the secret porn life of one of my kids. How can I help them?"
"Is pornography really that big of deal? Like all other bodily functions, isn't it just part of life?"
These are just a few of many questions jostling for attention in our hearts.
In Part 1 we discussed the first two tactics for fighting porn's appeal:
Contemplate the Glory of the Lord.
Contemplate the Good of Others.
In Part 2 we considered the next two strategies for fighting porn's charm:
Contemplate the Greediness of Lust.
Contemplate the Genuineness of the Spiritual Realm.
I pray you'll find these final three mediations helpful…
#5 – Contemplate the Grandeur of the Created Realm
When a man, in particular, discusses his porn habit with me, one of my first instructions is almost always, "Tell me how much time you spend outside."
I'm not a doctor nor a psychiatrist; however, in the last two decades of doing this, I've noticed a correlation… Those who deliberately spend time outdoors seem to have a greater ability to ward off porn's allure, while those who struggle exponentially more seem to live their lives hibernating indoors saturated with sugar, grease, and artificial light.
Is this a hunch? Perhaps. Is it well-documented? Not that I'm aware. Nevertheless, in all my porn-related pastoral counseling appointments with friends and congregants, I still plan to ask, "How much time do you spend outside?"
Why?
God's creation—the billowing wind, a cool mountain stream, a mossy rock bigger than our house—has a way of centering us and reminding us that life is bigger than any fantasy we may conjure up on a 5-inch screen.
Does a little sunshine help? It couldn't hurt. What about the influx of Vitamin D or the endorphins related to being in nature? Try it. You can decide for yourself.
#6 – Contemplate the Guts of a Champion
"No cross; no crown. No guts; no glory." These are two of many often-repeated mantras you might hear at a football game or a wrestling match.
Jesus, the blue-collar and calloused-handed carpenter from Nazareth, made similar statements about our spiritual formation:
Whoever wants to be my disciple must deny themselves and take up their cross and follow me (Matthew 16:24).
Whoever wants to be my disciple must deny themselves and take up their cross daily and follow me (Luke 9:23).
For the believer, every temptation comes with the ability to resist and flee (1 Corinthians 10:13). I deeply believe this. If I didn't, I wouldn't be writing this blog.
Think with me:
Frederick the Great didn't become great by cowering in the tiny kingdom of Prussia.
Ronda Rousey didn't become the first female UFC fighter—and the first woman to be inducted into the UFC Hall of Fame—by hanging out on the couch and eating Funyuns.
Only through self-denial could Bruce Lee achieve two-fingered push-ups, one-handed pull-ups, and playing ping-pong with nunchucks.
Harriet Tubman became the Queen of the Underground Railroad by simultaneously adopting the mindset of a spy, scout, guerrilla soldier, and nurse.
Before succumbing to the temptation of pornography, ask yourself, "Are spiritual champions made through self-indulgence or self-denial?"
#7 – Contemplate the Gospel of Grace
"Wait! A seventh meditation? I thought there were only six?"
This is doubtless the most important of all. Through the gospel, we discover that the true power for transformation comes from Someone infinitely stronger than we are.
The victorious Christian life isn't for: the super-spiritual, Christians who act like John Wayne, people who have never been depressed or anxious, the fearless and tearless, people with perfect marriages or perfect children, those who never have bad breath or a bad hair day. If you can say, "I've always kept God's commandments," or, "I've always kept my New Year's resolutions," then this gospel isn't for you.
Instead, Jesus' good news is for anyone who: is tired, beat-up, or on the edge of burning out; has regrets or failed dreams; is carrying a heavy weight on your back; feels weak-kneed and knows that you don't have it all together; sees themselves as unsteady disciples who feel like the cheese is always falling off the cracker.
Now I would remind you, brothers, of the gospel I preached to you, which you received, in which you stand, and by which you are being saved, if you hold fast to the word I preached to you—unless you believed in vain. For I delivered to you as of first importance what I also received: that Christ died for our sins in accordance with the Scriptures, that he was buried, that he was raised on the third day in accordance with the Scriptures (1 Corinthians 15:3-4).
Those words were written to Christians… to you if you're a Jesus follower! Jesus not only saves us from hell, but He can save us from our habits, our hopelessness, and our hang-ups. His transformative power extends into our day-to-day lives.
Christian friend, your sins are still forgiven: past, present, and future! Jesus has risen and sent His Spirit to live in you! According to the New Testament, your identity in Christ is one of a saint—no matter what your unhealthy temptations, struggles, and habits may be.
This is good news for you and me! We can stop lying to ourselves and others. We can take off our masks and quit pretending that we're perfect. We can toss our white hats in the dumpster and rest in the fact that God knows who we really are and loves us anyway.
"Whatever our failings may be, we need not hide from the presence of Jesus. Unlike Quasimodo, the hunchback of Notre Dame, we need not hide all that is ugly and repulsive in us. Jesus comes not for the super-spiritual but for the wobbly and the weak-kneed who know they don't have it all together, and who are not too proud to accept the handout of amazing grace." –Brennan Manning
The ultimate answer for overcoming an addictive porn habit is not trying harder. It's not a skill that can be attained—like good handwriting, perfect foul shots, or a well-grooved golf swing.
Instead, spiritual power is attained by "holding fast to the word preached to you" (1 Corinthians 15:1-2). That sentence could also be translated, "Holding tightly to the gospel you already received." Like the nose of a boat remains on course in order to arrive at its desired destination, Jesus invites us to keep our hearts and minds focused on the good news of his death and resurrection.
If Jesus has saved you from hell, he can deliver you from the clutches of pornography! Believe it. Declare it. Remind yourself of it. Fight like your life depends on it.
Matt Friend, a Charleston native and tenth-generation West Virginian, graduated from the Southern Baptist Theological Seminary, has served in pastoral ministry since 2002 and at Bible Center Church since March 1, 2016 (as our sixth Lead Pastor). He and Sarah (his high school sweetheart) are raising two teenage daughters, Katie and Riley, and a son, Kadyn. Together, they are advocates for adoption and all things West Virginia. In his free time, he enjoys reading, camping, hiking, kayaking, and spending time with his family and two dogs, Queso and Wasabi.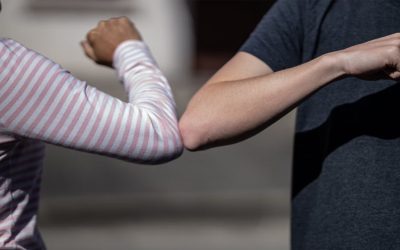 Today my son walked into school without a mask for the first time in almost two years. Instead of walking, I should probably describe him as having floated into school! When Sarah and I received the email from his principal yesterday announcing that masks are now...