Dear Bible Center family & friends,
Welcome to church! Thanks for visiting on campus, online, or on TV. We're thrilled to have you with us, especially on this Mother's Day weekend.
This holiday gives us another reason to love our great state. Like the Golden Delicious apple, or the Strawberry Festival, or the Vandalia Gathering… Mother's Day is intertwined with our West Virginia heritage. First celebrated in the early 1900s in Grafton, Anna Jarvis held a special service to thank God and honor her mother who had cared for wounded soldiers in the Civil War.
Ms. Jarvis later urged the U.S. government to memorialize the day. Her persistence eventually persuaded President Woodrow Wilson to declare it a national holiday in 1914.
On behalf of your pastoral team, please know that we love, appreciate, and pray for you on this special day. For many of us, it's a time when we visit our mothers and bring their favorite flowers. For the lady sitting beside you… perhaps not so much. Maybe you're reminded of your mother who is no longer here, or of your unfulfilled desire to be a mother (or of an adoption gone awry). Maybe your child went to heaven way too early, perhaps even prior to birth.
Please know that your joys and your burdens matter to God. Here at Bible Center, we are committed to honoring the Proverbs 31 woman along with the 1 Samuel 1 woman. Either way, our prayer is that everything about today's service will remind you of God's unconditional love.
Let me also express my gratitude for your willingness to adjust to this new service schedule with three new service times on Sunday mornings (8:45, 10:00, 11:15). With you, we desire to keep everyone safe and to provide many more opportunities for connection and service.
Thankful for my dear wife, my mom, and the many mothers in our church,
Matt Friend • Lead Pastor
@PastorMattBCC
Thursday | May 6
Sunday | May 9
8:45 AM | On Campus & Online
10:00 AM | On Campus, Online, WCHS-TV
11:15 AM | On Campus, Online
Tuesday | May 11
Wednesday | May 12
6 PM | Middle School (MSM) | Church Campus
7 PM | High School (HSM) | School Campus
Mother's Day | May 9
We hope you'll join us on Mother's Day. Bring a guest! Whether you bring your mom or daughter or a woman who's had a special impact on your life, we'd love to celebrate with you. Mother's Day (May 9) will follow the model we recently used for Christmas and Easter with all weekend services—including Thursday night, May 6—being identical.
Early Childhood Ministries (Nursery through 5 years old) will be available Sunday morning, but all other age groups are encouraged to sit with their families for the service. Base Camp, MSM, HSM will resume May 16.
Groups will not be held but will resume May 16.
Thursday, May 6
7 PM | On Campus
Sunday, May 9
8:45 AM | On Campus, Online
10:00 AM | On Campus, Online, On TV
11:15 AM | On Campus, Online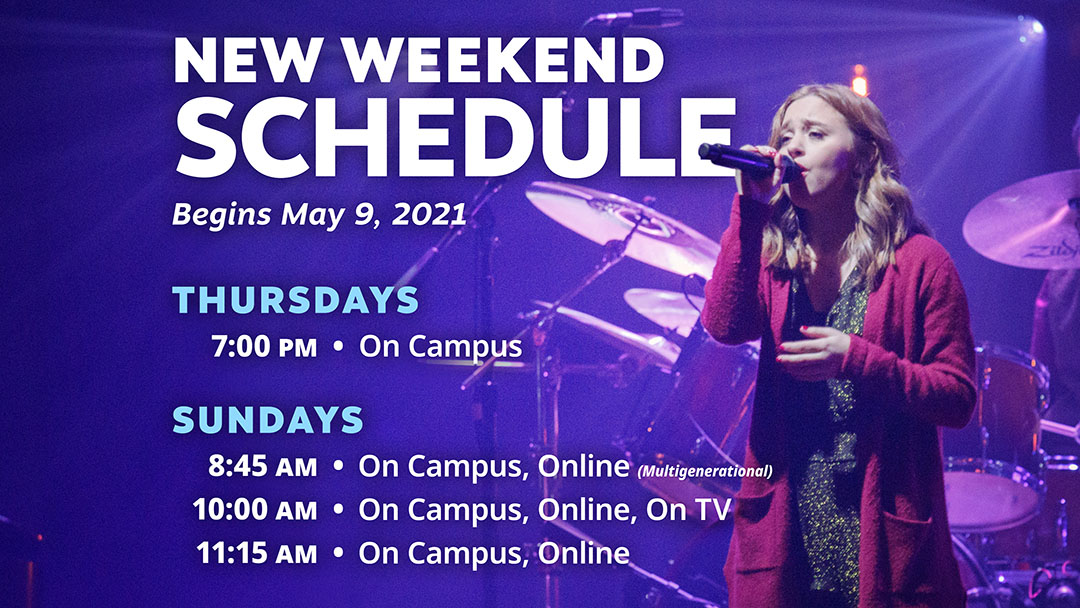 It used to be that crowded rooms were a good thing, but as we emerge from the pandemic, people seem more comfortable in smaller settings. To continue to provide the safest possible options, the most welcoming environment, and the best opportunities to connect, we will continue our three-service schedule on Sunday mornings: 8:45 (Multigenerational), 10:00, and 11:15 AM.
We believe a third service will allow us to welcome more people (fewer per service) to both our services and groups, to better connect with guests, and to help people take their next step toward making disciples—Jesus' great commission to us.
For more details on this decision and what you can expect, check out the video below.