Today's headlines overflow with Coronavirus news. Cases of COVID-19 are rising fast. Vaccine uptake has plateaued. The debate about masks abounds on every side… again.
This is a far cry from where we were back in the spring. We celebrated a declining pandemic. Many Americans felt that our country had enough velocity to escape its cycle sickness. Though experts looked anxiously to the fall, few predicted that the Delta variant would begin its ascent at the start of July. With the fourth surge underway, the U.S. is once again spiraling into a pandemic. Perhaps it never really ended.
So what will we do if the pandemic continues? Specifically, how will Christians react? In what ways must the Church of our Lord Jesus Christ respond?
For starters, we'll keep trusting God.
Will we do more than that? Absolutely. Much, much more—to be discussed in subsequent articles. However, for starters, we'll keep trusting God.
The Bible, the bedrock of our faith and practice, reminds us that God is sovereign. He has a plan for all things because He planned all things beforehand.
For the believer, this is a most comforting truth.
As the supreme ruler and king, God possesses all authority and power (Isaiah 46:9-10). He has total control and complete assurance that everything He designs will happen (Isaiah 45:5-9). He has the right to be in charge of everything because He is in charge of everything (Psalm 135:6). Nothing that He has decided will ever fail to come to pass (Psalm 33:11).
A biblical worldview teaches that God orchestrates the "good" and the "bad" for His wise and just purposes…
He makes eyes that see and ears that hear, along with eyes that are blind and ears that are deaf (Exodus 4:11).
He sometimes hardens hearts for His glory (Exodus 14:4).
He kills and gives life (Deuteronomy 32:39).
He makes some poor and others rich (1 Samuel 2:6-8).
His kingdom rules over all (Psalm 103:19).
He gives abundance and famine (Psalm 105:16).
He blesses some cities and destroys others (Amos 3:6).
He gives health to some and suffering to others (2 Samuel 12:15; 1 Peter 4:19).
He gives and takes away (Job 1:21; 2:7-10; 42:11).
In his magnum opus on God's sovereignty, Paul the Apostle writes…
Oh, the depth of the riches of the wisdom and knowledge of God! How unsearchable his judgments, and his paths beyond tracing out! Who has known the mind of the Lord? Or who has been his counselor? Who has ever given to God, that God should repay them? For from him and through him and for him are all things. To him be the glory forever! Amen (Romans 11:33-36).
We can trust God because we know all conflict and suffering will get resolved at the end of time:
And they sing the song of Moses, the servant of God, and the song of the Lamb, saying, "Great and amazing are your deeds, O Lord God the Almighty! Just and true are your ways, O King of the nations! Who will not fear, O Lord, and glorify your name? For you alone are holy. All nations will come and worship you, for your righteous acts have been revealed" (Revelation 15:3-4).
In the book of Genesis, the very first book of the Bible, we read of young Joseph who was hated by his brothers. In their anger and jealousy, they imprisoned and sold him into slavery. Doubtless, Joseph prayed to God to help him escape, but no help was forthcoming. Into slavery, he went.
Though he experienced years of bondage and misery, Joseph's character was refined and strengthened by his trials. Eventually, he rose up to become a prime minister of Egypt who saved thousands of lives and even his own family from starvation. If God has not allowed Joseph's years of suffering, he never would have been such a powerful agent for social justice and spiritual healing. What his brothers meant for evil, God meant for good (Genesis 50:20).
To my fellow Jesus-followers… Let's continue trusting our trustworthy God!
Matt Friend, a Charleston native and tenth-generation West Virginian, graduated from the Southern Baptist Theological Seminary, has served in pastoral ministry since 2002 and at Bible Center Church since March 1, 2016 (as our sixth Lead Pastor). He and Sarah (his high school sweetheart) are raising two teenage daughters, Katie and Riley, and a son, Kadyn. Together, they are advocates for adoption and all things West Virginia. In his free time, he enjoys reading, camping, hiking, kayaking, and spending time with his family and two dogs, Queso and Wasabi.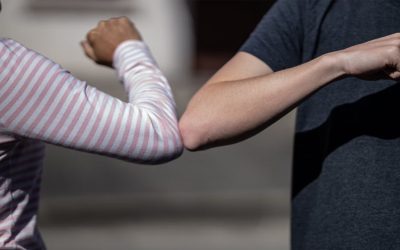 Today my son walked into school without a mask for the first time in almost two years. Instead of walking, I should probably describe him as having floated into school! When Sarah and I received the email from his principal yesterday announcing that masks are now...