In the Hunger Games trilogy, specifically in Catching Fire (the second book and movie), a confused and panicked Katniss Everdeen prepares to enter the arena of death for a second time. Haymitch Abernathy, her trainer, reminds her through liquored breath, "Katniss, when you´re in the arena, remember who the real enemy is."
That quote has flipped cartwheels in my soul this past week as I've seen the confusion and panic of the current pandemic tempt us all to forget who the real enemy is.
Your ultimate enemy is not:
Your child's principal who is trying to keep everyone safe at school without having to be sent home for another semester of quarantine.
Your boss.
That guy at work who grates on your nerves.
That family member who offended you.
Any particular politician.
In full disclosure, human relationships are hard enough without a pandemic. Sometimes bad people make bad decisions. Sometimes good people make bad decisions. Sometimes you make bad decisions. You get your feelings hurt. You hurt other people's feelings. Misunderstandings abound and the truth usually lies somewhere between two extremes… even for you. Even for me.
Toss in 18-months of mask-wearing, multiple quarantines, confusing and conflicting health reports, financial stress, dying loved ones, full ICUs, and ever-changing science… It's the perfect recipe for making you want to jump into the Hunger Games arena and start throwing axes and spears at everyone else!
However, your greatest enemy and mine is the one who goes by many names: Apollyon, Beelzebub, Lucifer, or Satan. Our great enemy is the Devil and his demonic army.
So, what will we do if the pandemic continues? Specifically, how will Christians react? In what ways must the Church of our Lord Jesus Christ respond?
In addition to trusting God and recalling the real reason behind the mess we're in…
We'll remember who the real enemy really is.
According to the biblical narrative, a storyline I believe to be true and have staked my life upon…
Our real enemy is Satan and his demonic army.
A good friend and colleague recently reminded me of this. Church history reminds us of this. The Bible reminds us of this.
Satan and his demons (angels who sinned eons ago) actively fight against the will and works of God, attempting to blind the minds of unbelievers.
According to Daniel 10, one demon held the line against one of God's good angels for three weeks until the archangel Michael came to his defense.
Jesus described Satan as an ancient foe (Matthew 13:39) and a "strong man" bent on wrecking God's house (Matthew 12:22-32; Luke 11:14-26).
Paul the Apostle portrayed the Devil as "the god of this age [who has] has blinded the minds of unbelievers so that they cannot see the light of the gospel that displays the glory of Christ, who is the image of God" (2 Corinthians 4:4).
Paul encountered many Satanic roadblocks to his ministry, even though well-intentioned people accused Paul of having wrong motives (2 Corinthians 12; 1 Thessalonians 2:18); nevertheless, he warns us that our ultimate struggle "is not against flesh and blood, but against the rulers, against the authorities, against the powers of this dark world and against the spiritual forces of evil in the heavenly realms" (Ephesians 6:12).
Likewise, the Devil and his demons seek to rob God of His glory through deceiving, accusing, lying, blinding, tormenting, and hurting the people Christ has redeemed.
This was certainly the case with God's first two created humans (Genesis 3:1-7) and sets the stage for the Satanic conflict with Job (Job 1-2).
Jesus warns us that Satan "was a murderer from the beginning, not holding to the truth, for there is no truth in him. When he lies, he speaks his native language, for he is a liar and the father of lies" (John 8:44).
Therefore, the Apostle Peter warns us, "Be alert and of sober mind. Your enemy the devil prowls around like a roaring lion looking for someone to devour. Resist him, standing firm in the faith, because you know that the family of believers throughout the world is undergoing the same kind of sufferings" (1 Peter 5:8-9).
It's not the aim of this blog to articulate all aspects of Creationism, nor is it my goal to take a side on the oft-debated (and extremely multifaceted!) minutia of Genesis creation account. (At our church, we believe God created the world and––though we love to debate the details in friendly conversation––we are content to wait for God to reveal the exact dates and undisclosed details when we get to heaven.)
However, it's worth noting that a large portion of Christianity has believed for millennia that Lucifer is responsible for much of the suffering that still echoes through our universe, including hurricanes, tornadoes, volcanoes, floods, animal death, plagues, and pandemics.
According to Genesis 3, all Christians agree that Satan's fall came before Adam and Eve's fall, though how much prior is unknown.
At some point in eternity past, Jesus saw a Satan––filled with hubris––cast out of heaven and be banished on God's perfectly created world (Isaiah 14:12-15; Luke 10:17-20; Revelation 12:7-12).
Some believe that the mandate given to Adam and Eve to take dominion over the whole earth (Genesis 1:27-28) was actually a call into the small Garden of Eden to take dominion back from Satan who had already corrupted the entire world––the just outside of Eden's walls.
The Angelic Fall Hypothesis (AFH) was/is the philosophy of writers like C. S. Lewis, J. R. R. Tolkien, Alvin Plantinga, Thomas Torrance, Hans Urs von Balthasar, and Gavin Ortlund and makes for a stimulating read.
Notwithstanding our belief about the timing of Satan's fall or its effect on our world, Satan is still a thief, a murder, a destroyer, and a liar (John 10:10). Just as Satan used his power to control natural and human forces to destroy Job's family and possessions (Job 1-2), the same possibilities abound today.
Thankfully, Satan and his demons are defeated foes who live in subjection to the sovereignty of Christ and will spend eternity in torment (Genesis 3:15; Matthew 25:41; Revelation 20:1-10). Nevertheless…
May we always remember that our real enemy is Satan.
To my fellow Jesus-followers… let's try to cut one another some slack. Don't take your frustrations out on the first person who crosses your path.
As Pastor Scott Sauls (@scottsauls) reminded us this week on Twitter, "Nearly every person you meet is insecure, overwhelmed, and under-encouraged. Consider taking some time off from telling people how disappointed you are in them. Everyone knows already that they fall short. Instead, show some compassion and be kind. People are starved for this."
A great place to begin is by remembering who the real enemy really is!
Matt Friend, a Charleston native and tenth-generation West Virginian, graduated from the Southern Baptist Theological Seminary, has served in pastoral ministry since 2002 and at Bible Center Church since March 1, 2016 (as our sixth Lead Pastor). He and Sarah (his high school sweetheart) are raising two teenage daughters, Katie and Riley, and a son, Kadyn. Together, they are advocates for adoption and all things West Virginia. In his free time, he enjoys reading, camping, hiking, kayaking, and spending time with his family and two dogs, Queso and Wasabi.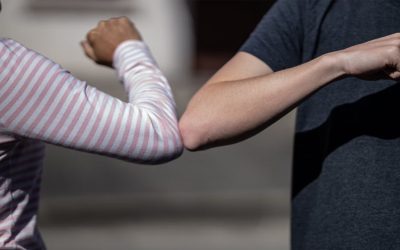 Today my son walked into school without a mask for the first time in almost two years. Instead of walking, I should probably describe him as having floated into school! When Sarah and I received the email from his principal yesterday announcing that masks are now...