"The toilet paper shortage is back." Those words coming from one of our maintenance professionals startled me as I returned from lunch yesterday. "Seriously?" I asked. "Yep," he responded while climbing out of our maintenance truck. "I just returned from Sam's and they have limited toilet paper to one package per customer."
He was right. According to Burt Flickinger on Fox Business, "The U.S. will experience another massive shortage of toilet paper soon as supply chains continue to suffer due to pandemic-related issues." Evidently, this isn't all. "Product shortages [will be] as bad as they were at the beginning of the COVID pandemic," Flickinger predicted. 
Thankfully, if our problems are limited to a toilet paper shortage, we'll be okay. We'll survive.
However, what will we do if the overall pandemic continues, with all of its dangers, toils, and snares? Specifically, how will Christians react? In what ways must the Church of our Lord Jesus Christ respond?
In addition to trusting God, recalling the real reason behind the mess we're in, remembering who the real enemy is, asking God to make us better, and praying that many unbelievers are drawn to Jesus… 
We'll keep looking forward to the day when God makes all things new.
According to the biblical narrative, a storyline I believe to be true and have staked my life upon…
There's coming a day when God will make all things new!
In the final chapter, God will faithfully complete His redemptive plan. Through the work of Christ, all of creation will one day be restored, renewed, and reconciled to Him.
God is presently at work in our hearts and in His universe, pointing to the day when all things will be made new. His redemptive plan will culminate in a redeemed people living with Him in a new heaven and a new earth—a holy and restored creation that will worship and enjoy its Creator forever.
The final paragraph of C.S. Lewis's book The Last Battle is a commentary on the close of Revelation…
"The things that began to happen after that were so great and beautiful that I cannot write them. And for us this is the end of all the stories, and we can most truly say that they all lived happily ever after. But for them it was only the beginning of the real story. All their life in this world and all their adventures in Narnia had only been the cover and the title page: now at last they were beginning Chapter One of the Great Story which no one on earth has read: which goes on forever: in which every chapter is better than the one before."
There's coming a day when God will make all things new 
Today's suffering only enhances our appetite for the future. As most stars can't be seen by the naked eye without the backdrop of the night sky, most of heaven's glories will not be appreciated without the backdrop of earthly suffering.
God seems to carve out space for eternal glory with the knife of earthly affliction (2 Corinthians 4:17). Jesus brought peace to troubled hearts by pointing to eternal reward (John 14:1-3) 
There's coming a day when God will make all things new!
Should we pray for this virus to be eradicated? Absolutely. Should we do our part to keep others safe? Without a doubt.
However, let us also remember that, unless Jesus returns, none of us are getting out of this life alive. None of us. We're all terminal. It's not a matter of if, but when.
If the Coronavirus doesn't get us, something else will. Maybe old age, cancer, pneumonia, heart disease, a car wreck, war, or murder. Only God knows the details of our last breath; nevertheless, He has revealed the big picture in the Bible… 
There's coming a day when God will make all things new.
Are you weighed down by suffering? Remember: God's story isn't over. Just as you wouldn't read or watch The Phantom of the Opera without its conclusion, I pray you'll remember the end that God has promised for those who will put their faith in Him. 
One day, hopefully sooner than later, God will make all things new: a renewed heaven and a renewed earth (Revelation 21-22). This is why Jesus came. This is why Jesus died and rose again. This is why Jesus is coming again.
John Piper reminds us of the crown jewel of heaven…
"The critical question for our generation–and for every generation–is this: If you could have heaven, with no sickness, and with all the friends you ever had on earth, and all the food you ever liked, and all the leisure activities you ever enjoyed, and all the natural beauties you ever saw, all the physical pleasures you ever tasted, and no human conflict or any natural disasters, could you be satisfied with heaven, if Christ were not there?"
In the Apostle John's gospel, Jesus is recorded to have made a profound statement followed by a pertinent question, "I am the resurrection and the life. The one who believes in me will live, even though they die; and whoever lives by believing in me will never die. Do you believe this?" (John 11:25-26).
Do you believe this? Really?
Let's keep looking forward to the day when God makes all things new. 
P.S. And go make sure you have enough toilet paper.
Matt Friend, a Charleston native and tenth-generation West Virginian, graduated from the Southern Baptist Theological Seminary, has served in pastoral ministry since 2002 and at Bible Center Church since March 1, 2016 (as our sixth Lead Pastor). He and Sarah (his high school sweetheart) are raising two teenage daughters, Katie and Riley, and a son, Kadyn. Together, they are advocates for adoption and all things West Virginia. In his free time, he enjoys reading, camping, hiking, kayaking, and spending time with his family and two dogs, Queso and Wasabi.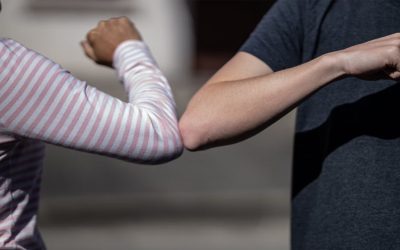 Today my son walked into school without a mask for the first time in almost two years. Instead of walking, I should probably describe him as having floated into school! When Sarah and I received the email from his principal yesterday announcing that masks are now...