Dear Bible Center family & friends,
Welcome to church! Thanks for visiting on campus, online, or on TV.
Are you in control of your life or is someone else? Do you live primarily for God's expectations or for everyone else's? Occasionally, even the best Christians can focus so much on being loving and giving that they forget their own limits.
Have you ever found yourself wondering…
Can I say no and still be a loving person?
How do I answer someone who wants my time, love, energy, or money?
How do I stand up to hurtful behavior or abuse?
Why do I feel guilty when I consider setting boundaries?
In today's message, I'll give you biblically based answers to these and other tough questions. God's Word will show us how to set healthy boundaries with our spouses, children, parents, extended family, friends, coworkers, and even with ourselves.
If you're new to our church, today's message is part of an overall 10-week "Family Bundle" series. Convinced that healthy families are the backbone of a church on mission, this fall we're bundling family discipleship in a way everyone can use. So far, we've studied the priority of family discipleship, focused on gospel-centered marriage, recommitted to invest in our children and grandchildren, learned how to thrive in a digital world, debunked many of the cultural myths surrounding singleness, surveyed what God's Word teaches about sexual identity, and appreciated God's perspective on mental illness.
May the Holy Spirit of our Lord continue to work in our hearts today!
Thankful to be on this journey with you,
Matt Friend
Lead Pastor
Thursday | October 28
Sunday | October 31
(Kids/Students Schedule | Groups Schedule)
8:45 AM | On Campus & Online
10:00 AM | On Campus, Online, WCHS-TV
11:15 AM | On Campus, Online
Tuesday | November  2
Wednesday | November 3
6 PM | Awana (2 yrs old-5th Grade)
6 PM | Middle School (MSM)
7 PM | High School (HSM) | School Campus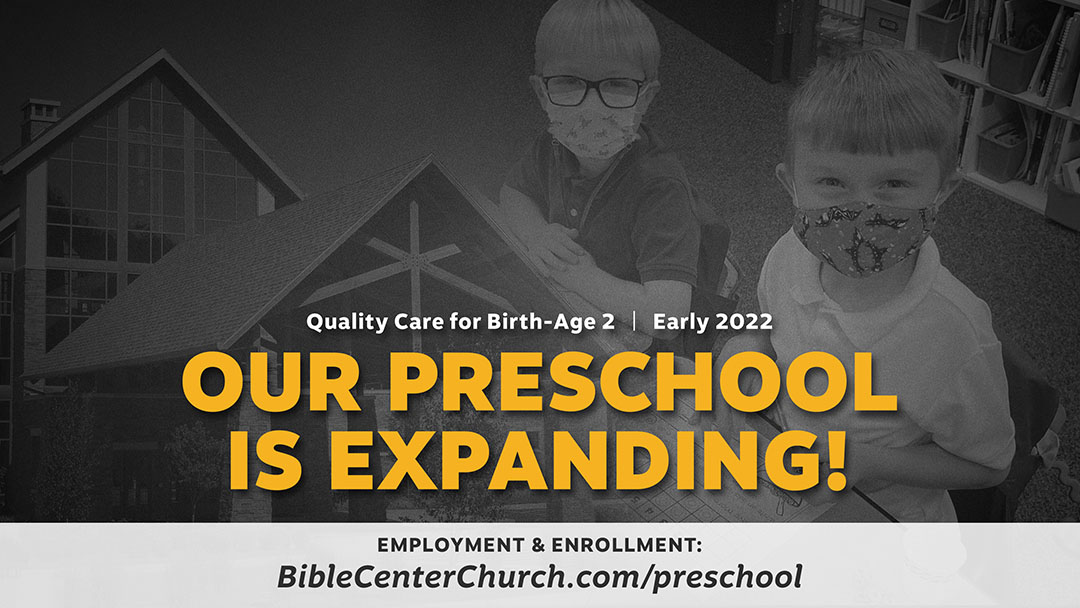 Preschool Expands, Includes Infant & Toddler Care
Bible Center's Preschool program will be expanding in early 2022 to include quality child care from birth to 2 years old, and we're looking for team players who are passionate about building into future generations by caring for young children while inspiring a love for learning. Application and child enrollment information can both be found here.
Stay Up to Date with the Saturday Round-Up
A weekly email delivered to your inbox with the weekend bulletin, Pastor's blog, upcoming events, and the latest news.