Dear Bible Center family & friends,
Welcome to church! Thanks for visiting on campus, online, or on TV.
This weekend we launch our 14-week "Wholly Transformed" series, walking verse by verse through the New Testament book of James.
Imagine living with Jesus—literally, in the same house—for 10-20 years. Do you think it would change you? It certainly transformed James, Jesus' half-brother and author of the book of James. (You can read more about his life in Mark 6:3, Acts 12 & 15, 1 Corinthians 15:1-7, and Galatians 1-2.)
The book of James is a power-packed summary of everything Jesus is and all that Jesus taught. It reads like the book of Proverbs and Jesus' Sermon on the Mount (Matthew 5-7), condensed and rolled into one. It's chock-full of down-to-earth illustrations and memorable one-liners with one goal: to wholly transform us into the image of Christ.
James wants us to bear the marks of genuine disciples who love God, love each other, and love our neighbors. Through this little book, God invites us to live whole lives where our actions are completely integrated and always consistent with the beliefs and values we've received from Jesus.
Thankfully, God is on a mission to make fractured people whole, and we are part of His mission! Throughout this series, let's commit to bringing our fractured selves to Jesus—week after week and day after day—for healing and transformation.
Plan to join us for this entire series! Bring friends and other family members! (Each message will contain an explanation of Jesus' good news.) Take notes and ask Jesus to give you "ears to hear," resolving to follow Him afresh and anew!
Still on the journey with you of being wholly transformed,
Matt Friend
Lead Pastor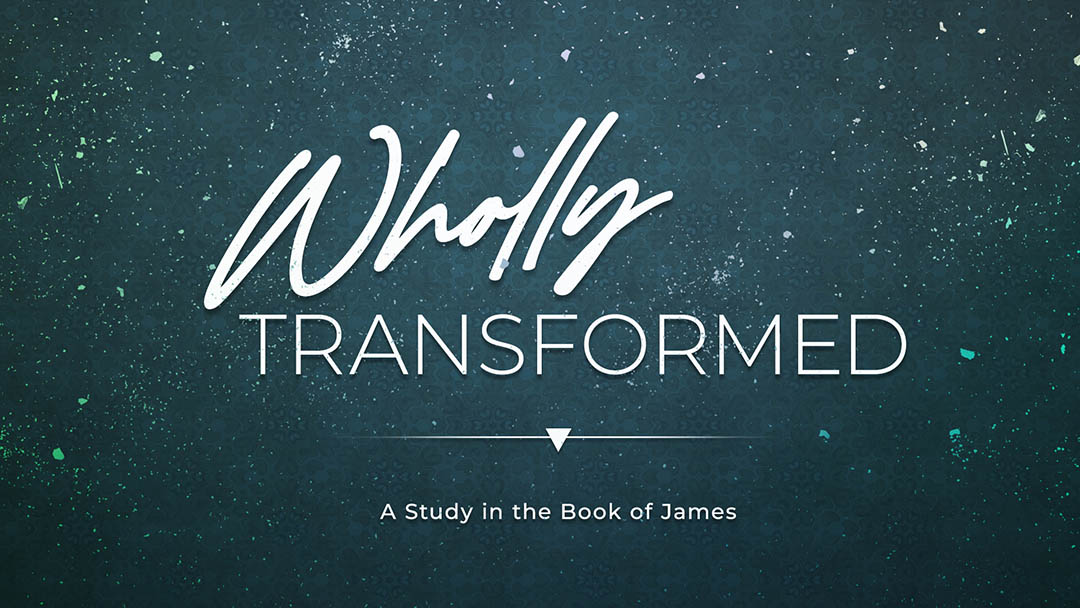 Church Life
---
Bible Readers' Reception
Wednesday, January 19 | 6-7 PM | Room 3101/02 | Did you read through your Bible in 2021? So far, our count is well over 100 and still growing. If so, join Pastor Matt for a casual reception. We'll have light snacks and drinks, and Pastor Matt will lead a fun discussion before rolling out a slower, more meaningful through-the-Bible-in-three-years plan for you to consider. (We'll be rolling out the same plan for the entire church afterward.) There's no need to RSVP, but we do hope you'll plan to attend!
Baptism Sunday
February 27 | 12:30 PM | Ready to go public with your faith in Jesus? Get baptized! On Sunday, February 27, your friends and family can gather in the Worship Center after the morning services (12:30 PM) to see you baptized. This special, intimate baptism service is for anyone who is ready to take the next step in their journey with Christ. Let Pastor Matt know here that you're ready to take this next step in your spiritual journey. Want to learn more about baptism? Check out the brief video and pamphlet on baptism here. February 27 will be a special day!
Line Dancing Class
Tuesdays | January 18-May 24 | 6-8 PM | Room 1122/23 | Join us for Line Dancing Class! Not only is it fun, but it's also great exercise for the body and brain! Registration is required since the class size is limited. Contact Ann McGrath (instructor) with questions. The cost for this semester (for all 15+ sessions) will be $15 per person or $30 per family unit.
Belong
---
Moms with Full Plates Group
Begins Friday, January 21 | 6-8 PM | 1st & 3rd Friday each month | Home of Aryelle Shields | Calling all busy and overwhelmed moms! Dinner will be provided. Contact Aryelle at (304) 844-4807.
Kids
---
Nerf & Pizza Night
Wednesday, January 12 | 6 PM | K-5th Grade | We'll kick off the new year with loads of fun… invite a friend, and we'll see you there!
Parent Breakfast
For all parents of K-5th grade kids | Sunday, January 23 | 10:00 & 11:15 AM | Room 1122/23 | Families are invited to enjoy a free breakfast hosted by the Children's Ministry! Hang out with other parents and savor delicious food as Pastor Steve shares news and information about new discipleship materials. For planning purposes, registration is preferred.
Students
---
Emerge WKND (Winter Retreat)
Friday-Sunday, January 21-23, 2022 | Grades 6-12 | Students, our next big event is coming up soon, and we can't wait to see you there! It is sure to challenge students in their faith and take our small groups to a new level. Fun activities, serving opportunities, and group time. Sign up now! For questions, email Pastor Josh or Pastor Ryan.
College & Young Adults
---
Save the Date!
Friday, January 28, 2022 | 8:30 PM-Midnight | at Bible Center School | Open Gym, Music, Food, Board & Video Games | Invite your friends and plan to join us for a night of fun at the Bible Center School campus. For more info, contact Emma Neill: (603) 937-0160 or Jagur Smith: (304) 437-3408.
Bible Center school
---
Employment Opportunity
We are now hiring a Middle School English teacher! Looking for a qualified, self-motivated person who has a love for teaching English and Reading. Applicants must be willing to teach all learners and create an environment where students thrive through engaged learning. Please email Principal Schafer for more information.
Bible Center Preschool
---
Employment Opportunities
In early 2022, Bible Center's preschool program will expand to include children from birth (6 weeks old) to 2 years old. We are looking for team players who are passionate about building into future generations by caring for young children while inspiring a love for learning. We are currently receiving applications for open positions.
Complete the application here. Jane Jackson-Fowler, Director of Preschool Ministries, will follow up with applicants. Positions available:
1 Lead teacher
1 Aide/Assistant Teacher
Stay Up to Date with the Saturday Round-Up
A weekly email delivered to your inbox with the weekend bulletin, Pastor's blog, upcoming events, and the latest news.