Today my son walked into school without a mask for the first time in almost two years. Instead of walking, I should probably describe him as having floated into school!
When Sarah and I received the email from his principal yesterday announcing that masks are now optional, we conversed, "Could the pandemic really be nearing the end?"
With doctor friends on both sides of the mask/no-mask issue, we have no political dog in the fight, and we have the highest respect for both sides. However, as I dropped him off at school and drove away, it caused me to ask…
 "As God's people, how would He have us emerge from this pandemic?"
Psalm 34 answers the question well.
#1 – Let's Thank the Lord
I will extol the Lord at all times; his praise will always be on my lips. I will glory in the Lord; let the afflicted hear and rejoice. Glorify the Lord with me; let us exalt his name together. I sought the Lord, and he answered me; he delivered me from all my fears. (Psalm 34:1-4 NIV)
King David wasn't emerging from a pandemic when he wrote Psalm 34; however, he had just barely escaped with his life from his enemies. (You can read the story behind Psalm 34 in 1 Samuel 21:10-22:1.) Most likely, he wrote this song in a cave while hiding from those who sought to kill him.
In spite of his difficult circumstances, David glorified and thanked the Lord. May I encourage you to do the same, no matter how difficult the last two years have been?
#2 – Let's Remember He Controls All Things
This poor man called, and the Lord heard him; he saved him out of all his troubles. The angel of the Lord encamps around those who fear him, and he delivers them. Taste and see that the Lord is good; blessed is the one who takes refuge in him. (Psalm 34:6-8 NIV)
David was at a low point—as you may be after two years of uncertainty, illnesses, regulations, masks, quarantines, and political turmoil. Yet, he knew God controlled all things. In fact, David could see (by faith) that God ordered angels to encamp about him.
What kind of spiritual intervention has God done for you over the last two years? In the midst of natural, physical, psychological, and economic hardships… Can you see where his holy angels might've protected you in some way?
#3 – Let's Fear the Lord
Fear the Lord, you his holy people, for those who fear him lack nothing. The lions may grow weak and hungry, but those who seek the Lord lack no good thing. Come, my children, listen to me; I will teach you the fear of the Lord. Whoever of you loves life and desires to see many good days, keep your tongue from evil and your lips from telling lies. Turn from evil and do good; seek peace and pursue it. (Psalm 34:9-14 NIV)
Fearing the Lord is not synonymous with being scared of God. Passages like Psalm 130:4 speak of a fear of God that results from His forgiveness. According to its usage throughout the entire Bible, the fear of the Lord is when we relate the knowledge of God to our own lives. This is what King Solomon meant when he said the fear of the Lord is the beginning of wisdom (Proverbs 9:10).
What lessons has God taught you throughout the pandemic? Where did you fail and succeed? Where do you need to slightly adjust or even radically change as a man, woman, parent, spouse, leader, or friend?
Make. those. changes! Lift your eyes from the morass of this pandemic and long for the good days! Resolve to "keep your tongue from evil and your lips from telling lies. Turn from evil and do good; seek peace and pursue it" (Psalm 34:13-14).
#4 – Let's Go Deeper in Prayer than Ever Before
The eyes of the Lord are on the righteous, and his ears are attentive to their cry… The righteous cry out, and the Lord hears them; he delivers them from all their troubles. The Lord is close to the brokenhearted and saves those who are crushed in spirit. (Psalm 34:15-18 NIV)
Has the pandemic left you feeling crushed in spirit? The word literally refers to "being beaten with hammer, like metal on an anvil."
Though the pandemic isn't over—however you emerge from it—let me encourage you to retain those prayer rhythms you've started during the quarantine. Pour your heart out to the Lord. Get honest with God. Remove the proverbial mask and be real with God in prayer.
#5 – Let's Find Our Identity and Safety in Him
The Lord will rescue his servants; no one who takes refuge in him will be condemned. (Psalm 34:22 NIV)
How is this kind of security and confidence possible?
All the credit goes to the "Righteous Person" mentioned in verse 19.
About 2,000 years ago, there was a Righteous One who experienced many sorrows on our behalf.
He lived a perfect life, though ravaged by temptation and suffering.
This Righteous One gave his life as our substitute, absorbing our penalty of sin on the cross.
Like a perfect sacrificial lamb, this Righteous One "had not one of his bones broken" (v. 20), proving himself to be the Lamb of God who takes away the sin of the world.
Three days later this Righteous One, Jesus of Nazareth, arose from the grave and (soon thereafter) ascended into heaven to intercede for you and me in the midst of our sin and suffering.
Let's emerge from this pandemic bolstered by the following promise…
Who shall separate us from the love of Christ? Shall trouble or hardship or persecution or famine or nakedness or danger or sword? As it is written: "For your sake we face death all day long; we are considered as sheep to be slaughtered." No, in all these things we are more than conquerors through him who loved us. For I am convinced that neither death nor life, neither angels nor demons, neither the present nor the future, nor any powers, neither height nor depth, [NOR A PANDEMIC,] nor anything else in all creation, will be able to separate us from the love of God that is in Christ Jesus our Lord. (Romans 8:35-39 NIV)
Matt Friend, a Charleston native and tenth-generation West Virginian, graduated from the Southern Baptist Theological Seminary, has served in pastoral ministry since 2002 and at Bible Center Church since March 1, 2016 (as our sixth Lead Pastor). He and Sarah (his high school sweetheart) are raising two teenage daughters, Katie and Riley, and a son, Kadyn. Together, they are advocates for adoption and all things West Virginia. In his free time, he enjoys reading, camping, hiking, kayaking, and spending time with his family and two dogs, Queso and Wasabi.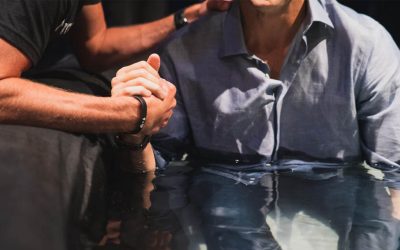 Baptism. Jesus-followers have been celebrating it for nearly two millennia. "We baptize you in the name of the Father, the Son, and the Holy Spirit," the church exclaims. At that moment, the new Jesus follower is plunged beneath the water and quickly brought up again...