SUNDAY | MARCH 27
Worship | 8:45, 10:00, 11:15
(Speaker: John King)
TUESDAY | MARCH 29
WEDNESDAY | MARCH 30
6 PM | Awana (2 yrs-5th Grade)
6 PM | Middle School (MSM)
7 PM | High School (HSM) | BCS Campus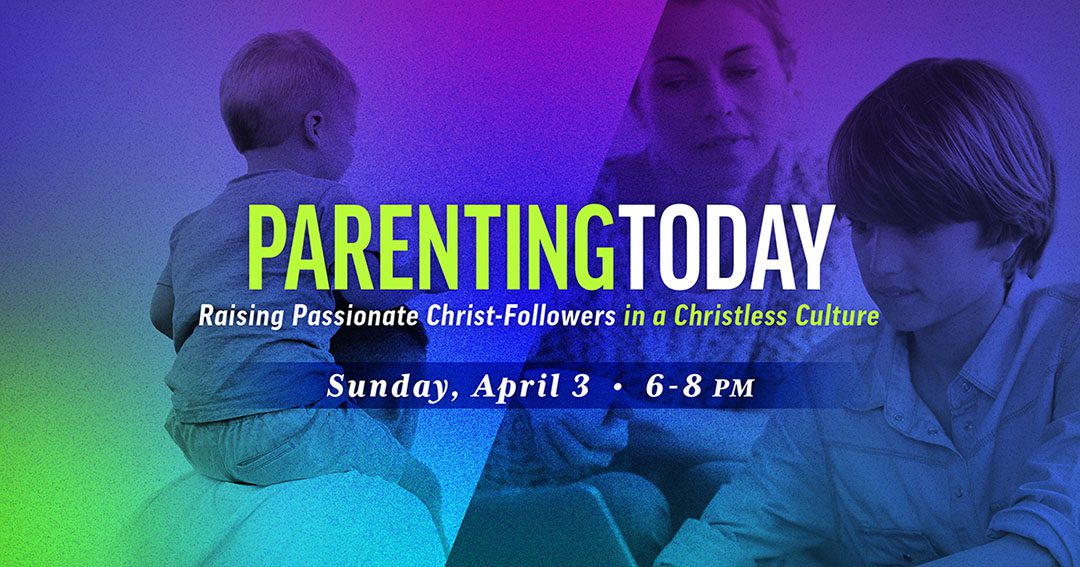 Parenting Today | April 3 | 6-8 PM
With each generation, parenting seems to become more and more difficult. Voices and influences in our children's lives multiply, distractions are everywhere, and there's no shortage of things competing for their attention. In the middle of it all, how can we teach them to know and love God? How do we build Christlike character into them? How do we reach their hearts and prepare them well for adulthood in today's world?
Our family ministry team will host a panel discussion and Q&A time that you won't want to miss!
For planning purposes, please register if you need child care.
Easter Egg Hunt | Saturday, April 9 | 10 AM-Noon
Help welcome the community to the Easter Egg Hunt! Opportunities to serve at the event include parking lot attendants, egg re-stockers, greeters, student helpers, and more. We'd love to have you join us this year!
Church Life
---
Women's Spring Event
Friday/Saturday, April 22-23 | Auditorium | Bible Center is excited to present the IF:Gathering 2022 conference. Jennie Allen, Sadie Robertson Huff, Jackie Hill Perry, Christine Caine, and other speakers will encourage us as we watch the conference on the big screen in the auditorium. Come join us as we gather together to worship, hang out with friends, and grow in our relationship with God and others. [More info & regsitration]
Camp Scholarship Fund
Did you know 85% of people who come to faith in Christ do so by the age of 18? Summer Camp is a crucial time in the lives of students, and many teens make decisions to follow Jesus or to renew their commitment to Him during that week. The Susan Bosley Camp Scholarship fund is designed both to keep costs lower for students and to help students in need so that camp can be a reality for any student who wants to go. To contribute to this fund, click here, or mark your gifts "camp fund."
Students
---
Summer Camp Registration
Sunday, March 27 | Registration for Emerge Camp will open Sunday! Enjoy a discount for signing up between March 27-April 10. We can't wait to see what God has in store this year!
Serve
---
Special Events Child Care Team
A team is being developed to provide childcare for special events. If you love kids and would like to make a little extra money, complete this form. Contact Julianna Vogt for more information. Adults and teens are welcome.
Stay Up to Date with the Saturday Round-Up
A weekly email delivered to your inbox with the weekend bulletin, upcoming events, and the latest news.