About the Series
April/May 2021
Are you certain of your salvation? Would you benefit from more spiritual confidence, knowing your sins have truly been forgiven? Does your spiritual journey need some encouragement?
God wants all Christians to have the assurance of their salvation. In his first epistle (near the end of the Bible), the Apostle John makes an ironclad case for how we can know–that we know–that we know we are genuine Jesus-followers. This book lays out irrefutable evidence that's not based on an experience we've had or a prayer we've prayed. Instead, assurance of salvation is based on real-time, observable indicators and the eternal promises of God.
The evidences of genuine conversion are the same now as they were 1,900 years ago: confession of Jesus' Lordship, continual repentance, allegiance to core Bible doctrines, desire for obedient living, loving others, forgiving others, and fervent devotion for Christ.
With truth in the driver's seat, it's our prayer that you'll feel pursued, humbled, loved, accepted, determined, assured, encouraged, and confident.
See what great love the Father has lavished on us, that we should be called children of God! And that is what we are! The reason the world does not know us is that it did not know him. Now we are children of God, and what we will be has not yet been made known. But we know that when Christ appears, we shall be like him, for we shall see him as he is. All who have this hope in him purify themselves, just as he is pure.
Going Deeper
Going Deeper studies are designed to help us go deeper into knowing God and applying His Word by exploring all of Scripture–seeking to help us know and live out the whole counsel of God.
This study on the book of 1 John explores themes like fellowship with God, fellowship with other believers, identifying true believers vs. unbelievers, descriptions of believers, identifying antichrists, sanctification, preservation of the Saints, and confidence for those who are in Christ.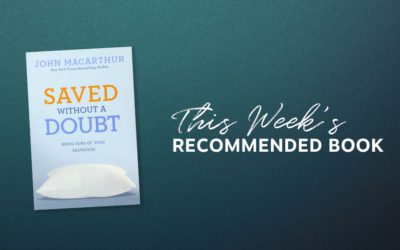 This Week's Recommended Book May 30, 2021 - Series: Are You Certain? Book: Saved without a Doubt: Being Sure of Your Salvation by John MacArthur
read more