About the Series
March/April 2017
Are you ever discouraged? Could you use a little more hope?
Most of us desire more hope. Hope impacts our health, work, education, and personal meaning. Modern science proves that it even affects our ability to heal. Hopeful patients often have higher levels of dopamine, endorphins and other neurochemicals which promote well-being and energy for living.
If you're a car enthusiast, hope is your emotional engine. It's the gasoline that fuels the rest of life. If you're an Emily Dickinson follower, you remember, "Hope is the thing with feathers that perches in the soul and sings the tune without the words and never stops at all." Star Wars fans, you'll never forget the first time you saw Luke Skywalker find "A New Hope" in Episode IV. The Apostle Paul connects faith, hope and love in his first letter to the young Corinthian church (13:13).
Hope is directly related to our sense of possibility. The greater our perception of possibility, the greater our hope. Hope answers the question, "Why bother?"
Join us for this 9-week series as we study key New Testament texts that inspire us with gospel hope.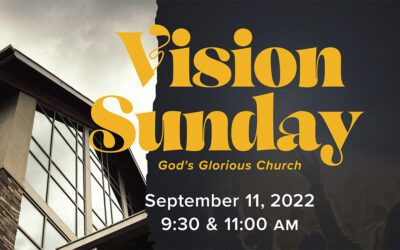 September 11 On September 11, we will launch Vision 22/23. This year's theme, God's Glorious Church, is built around Ephesians 4 and will focus on becoming a more unified, equipped, and mature church for the glory of God and with an increasing impact on our state....
read more