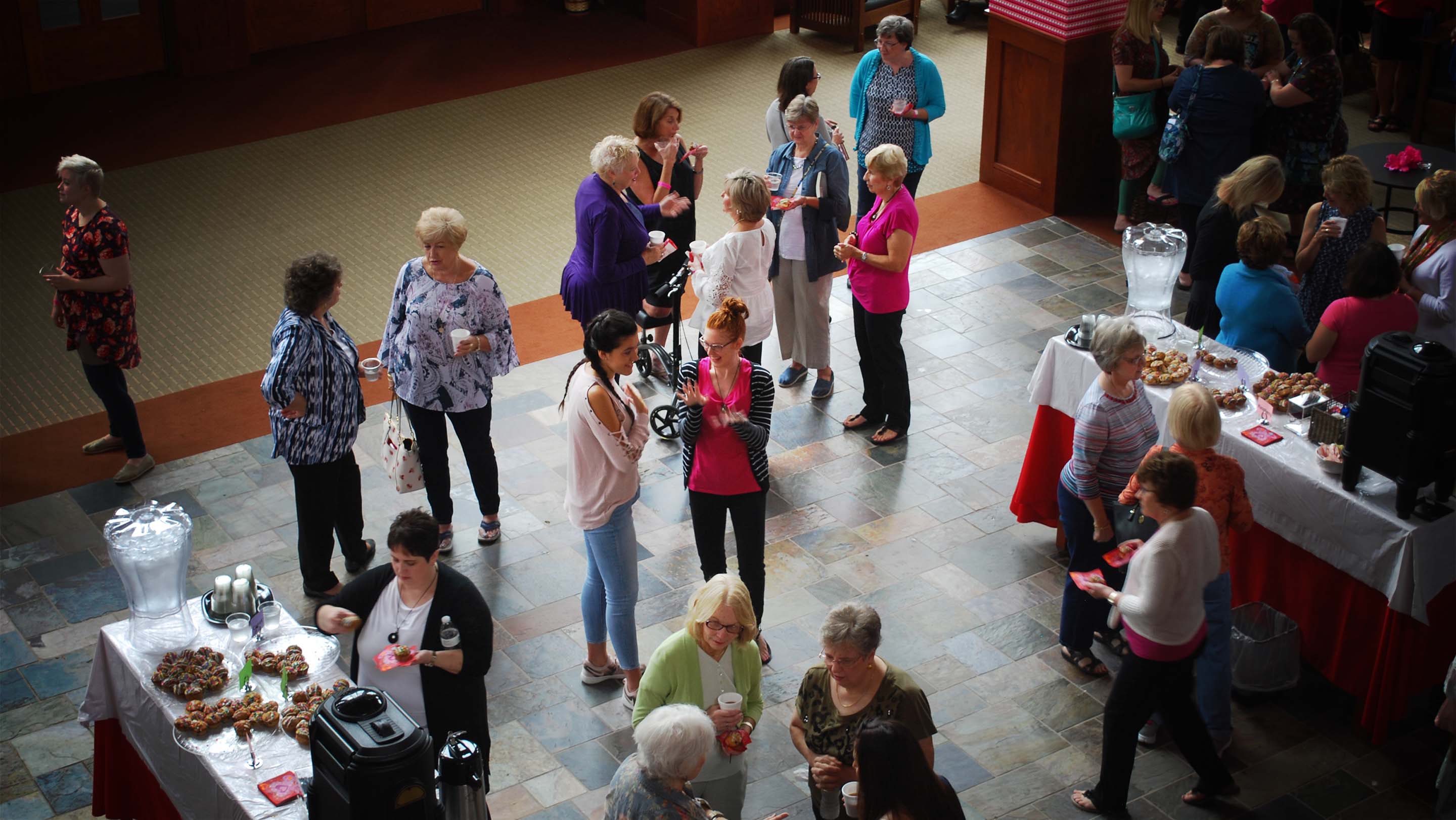 This season is an excellent time to get out with others and make new friends. We all need our squad, our team, our girls, our circle, our people, or whatever you call them. This year, we are encouraging the church family to Make Spiritual Friends. There is great encouragement to be found in doing life with people who will walk along side you in your walk with Jesus. Ecclesiastes 4:9 says, "Two people are better off than one, for they can help each other succeed" (NLT).
Women's Ministry at Bible Center is all about friend-making with our Girlfriends Grow 2gethers, Girlfriends Give 2gethers and Girlfriends Get 2gethers. We definitely want you 2B 2gether!
Plan now to attend the ones you can with the intent of making new friends.
Love, prayers and friendship to each of you,
Carolyn McMillen
 Grow 2gether • Get 2gether • Give 2gether
Girlfriends Get 2gether
When Women Come Together to Have Fun!
Various events are scheduled throughout the year. We love for you to invite friends or neighbors to hang out with us, so watch the website or bulletin for upcoming events.
Girlfriends Grow 2gether
When Women Come Together to Study the Word of God

Groups: Many small groups meet throughout the week for community, Bible study, and fun. Check out our groups and find one that fits your schedule.
We'd love to have you!
Women's Groups
- SUNDAY -
Charleston Ladies' Group
Sundays, 5 PM
BCC – Room 3104
Cathy Colby: (304) 767-5099
Toney/VanHorn Group
Sundays, 6 PM
308 Winona St., So. Chas.
Paula Toney: (304) 346-0431
- MONDAY -
Young Women's Group
Mondays, 6:30 PM
BCC - Room 2104
Meredith Chapman
(304) 382-8718
Circle of Friends Book Club
2nd Monday, 7 PM
Sharon Lunsford
- TUESDAY -
WOW Prayer Group
Tuesdays, 7:15 AM
Southridge Starbucks (Mountaineer Blvd.)
Carolyn McMillen: (304) 389-2311
Lisa Pack Book Study*
Tuesdays, 9:30 AM
BCC – Room 3105/06
(304) 552-4500
Working Women's Bible Study
2nd & 4th Tuesdays, 6:30 PM
BCC – Room 3101/02
Jess Backus: (304) 941-2836
- WEDNESDAY -
Mom's Bible Study (Kids Welcome)
Wednesdays, 10 AM
BCC – Living Room (2101)
Jess Backus: (304) 941-2836
Kristin Reynolds & Heather Griffith Group
1st & 3rd Wednesdays, 6:15 PM
BCC - Gathering Space
(304) 744-0686
- THURSDAY -
Carolyn McMillen Group
Thursdays, 6:45 PM / Room 3102
(304) 389-2311
- FRIDAY -
Prayer Group for Moms of High Schoolers and College Students
Fridays, 8:30 AM / Pack residence
Lisa Pack: (304) 552-4500
Holiday Hope Totes
This holiday season, we will be gathering Hope Totes for our continuing ministry to children in Foster Care. They will be distributed by BCC's own Foster Closet, which is open to all foster families and agencies. During the month of December, these can be dropped off at the church. See the Bible Center Women Facebook group for details of the suggested contents or email: biblecenterwomen@gmail.com.
Baby-Changing Hut team
Join the team of ladies who host this hut at various community events.
Leader: Cindy Mulanax