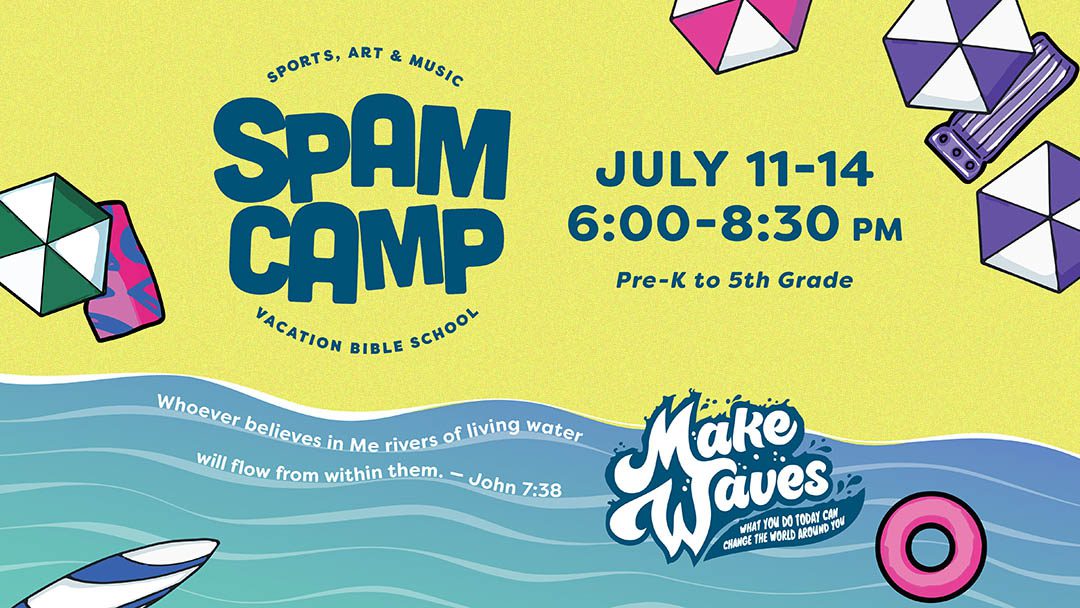 VBS will be as exciting as ever this year! In addition to great worship and challenging lessons on how to grow our faith in Jesus, kids will have the opportunity to choose an activity to focus on throughout the week. Learn a new skill or enhance an interest you already have while connecting deeper with friends and leaders. We're calling it SPAM Camp Sports, Art, and Music)!
Simply choose the activity for the week, and click the appropriate link to sign up.
6:00-6:30 | Opening Rally
6:30-7:55 | Chosen Activity
8:00-8:30 | Closing
Choose your activity for the week and sign up!
Have Fun!
We can't wait to see you! Once you arrive on July 11, our team of volunteers will get children checked in and make sure they know where to go.
Soccer | Led by Josh Willetts and Cole Malcolm
We have a ton of great coaches who are excited to work with your students and share their God-given soccer gifts and talents! We expect to have players of all different skill sets and will modify our coaching playbook for all levels of experience. We intend to cover many aspects of the game including dribbling, passing, shooting, ball control, and team play. Remember your soccer cleats, shin-guards, water bottle, and soccer shoes. Whether you have never played the great game or are a multi-year experienced player, we want to invite you to come join us on the soccer field for a action-packed week at VBS Make Waves!
Basketball | Led by Wes Watson
It is our goal to present the gospel in a fun and constructive way while teaching fundamental basketball. ALL kids from Kindergarten to 5th grade are welcome and encouraged to sign up. Skill level or experience does not matter. It is our goal to lead the kids to Jesus, while enjoying the amazing game of basketball. It is truly an honor to be able to be part of Bible Center and to teach the kids about our amazing Lord and Savior.
Cheerleading | Led by Cindy Mulanax
Come and see how we can use cheer to "make waves" and change the world around us for Jesus! Put on your tennis shoes and your best smile and join us at SPAM camp. We will have a blast working on team building, basic stunting skills, jumps, a cheer and a dance routine.
Art (K-3rd) | Kim Banyai and Jen Minturn
We were made in the image of God, our Creator, so in this group we will be creating! We will make some artwork using watercolor and acrylic paint, as well as fun mixed media projects. We look forward to creating with you!
Bike Park | Led by David Statler
Bike VBS will promote biking handling skills, assessing each child's skills, and giving them tips to enhance their riding ability. Riders will be encouraged to practice their skills by riding in a fun environment with other kids. Come ride bikes with us!
What is VBS SPAM Camp?
Each night will have a high energy exciting 30-minute opening and a closing program filled with worship and Bible teaching with a high-energy interactive game. In between the opening and closing will be an hour and a half focused on training on the event you choose.
SPAM (Sports, Arts, and Music) Camp will give kids the opportunity to choose their own adventure for the week. Learn to be a better soccer or basketball playerm, or become the next BMX rider and join our bike park team.
Get ready to be a high-quality cheerleader in our cheerleading camp taught by a cheerleading coach Cindy Mulanax! Maybe you are more of an artist? Sign up to be part of the art or music camp.
Whatever you choose this year, VBS SPAM Camp is designed to help you grow in Jesus and become better in life—in either Sports, Art, or Music.
Who can attend?
Children (Kindergarten-5th grade) are welcome to attend. You don't have to attend Bible Center to come. Invite friends, and come have fun!
What if none of the SPAM camps fit my child?
We are working hard to provide adventures and recreation in addition to the camp options.
Can parents stay during VBS?
Yes! Parents are welcome to stay and watch what their kids are doing and learning.