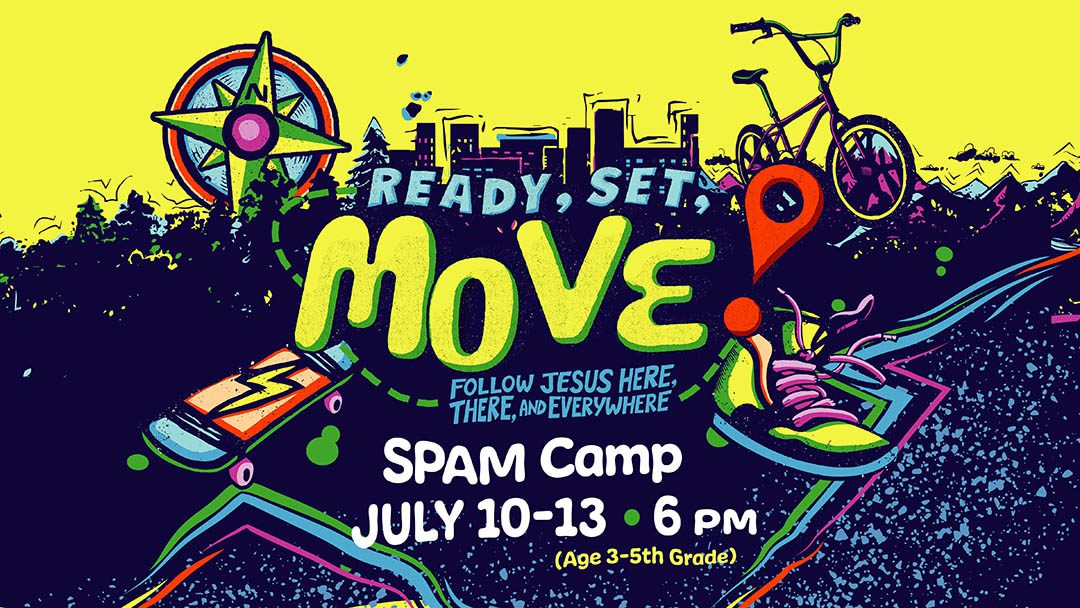 SPAM Camp will be as exciting as ever this year! In addition to great worship and challenging lessons on how to grow our faith in Jesus, kids will choose an activity to focus on throughout the week. Learn a new skill or enhance an interest you already have while connecting deeper with friends and leaders. 
Early Childhood (Age 3 to PreK)
Will meet on the 1st floor for a program tailored to their age group. They'll enjoy music, crafts, lessons, and lots of activities just for them.
Kindergarten-5th
Simply choose the activity for the week, and sign up. (Children will stay in the same activity for the week.) Soccer, basketball, cheerleading, karate, bike park, art, or music.
Schedule
6:00-6:30 | Opening Rally
6:30-7:55 | Chosen Activity
8:00 | Pick-Up for Early Childhood
8:00-8:30 | K-5th Closing
Choose child's activity for the week and sign up!
Note: Age 3-Preschool will have activities separate from SPAM Camp (geared toward their age group) and don't need to choose an activity.
Be part of the team.
It takes a small army to make SPAM Camp happen. We'd love to have you as part of our volunteer team to help our activity leaders. There are many ways to jump in, so come join the fun!
Have fun!
We can't wait to see you! Once you arrive on July 10, our team of volunteers will get children checked in and make sure they know where to go. Allow a few extra minutes on the first night.
What is SPAM Camp?
Each night will have a high energy exciting 30-minute opening and a closing program filled with worship and Bible teaching with a high-energy interactive game. In between the opening and closing will be an hour and a half focused on training on the event you choose.
SPAM (Sports, Arts, and Music) Camp will give kids the opportunity to choose their own adventure for the week. Learn to be a better soccer or basketball player, or become the next BMX rider and join our bike park team.
Get ready to be a high-quality cheerleader in our cheerleading camp taught by a cheerleading coach! Maybe you are more of an artist? Sign up to be part of the art or music camp.
Whatever you choose this year, SPAM Camp is designed to help you grow in Jesus and become better in life—in either Sports, Art, or Music.
Preschool-age children will enjoy music, crafts, Bible stories, and loads of fun and engaging activities.
Who can attend?
Children (Age 3-5th grade) are welcome to attend. You don't have to attend Bible Center to come. Invite friends, and come have fun!
What if none of the SPAM camps fit my child?
We are pleased to offer several options this year and hope that your child will be able to enjoy one of them.
How much does it cost?
SPAM Camp is $10, which includes all activities, supplies, and a shirt (K-5th).
Can parents stay during SPAM Camp?
Yes! Parents are welcome to stay and watch what their kids are doing and learning.