Member Statement of Faith
(In Progress)
Bible Center has a 77-year history of being Bible-centered. As has been the practice in the global Church for two millennia, our congregation has found it helpful to summarize our core beliefs into various statements of faith. The foundation for all BCC doctrinal statements can be traced back to the one that appears in the first church bulletin on March 7, 1943. Multiple revisions have taken place over the years to provide clarification to the ever-changing winds of doctrine (Ephesians 4:14).
Lead Pastor Matt Friend and Elder Chairman Paul Legg discuss why it's time for an update, what the process has been like, and what we can expect in the updated Member Statement of Faith.
Why is it time for an update?
We desire a more robust statement of faith. Several sections of our current doctrinal statement are nearly 50 years old, and much more needs clarified in our day and age than it did 50 years ago. We can no longer assume that people today understand key truths that Christians understood 50 years ago. For instance, the word "gospel" doesn't appear in our current statement anywhere. There's only one short sentence about Jesus, which we feel should be increased. Our current statement refers to Jesus as a little "d" deity instead of a big "D" Deity, coequal with the Father. Our current statement mentions the timing of Creation, but it says nothing about Who did the creating, why God created, or the importance of a literal Adam and Eve who lived in a literal Garden of Eden. Again, all these things were understood by BCC believers 50 years ago, but we can no longer make these assumptions when biblical illiteracy is on the rise.
We want to create a Member Statement of Faith so robust that it can be used for Bible studies and summarized into a doctrinal primer for our children and grandchildren.
We want to answer the question definitively, "What must a person not deny in order to be a member of Bible Center?" In other words, we desire to make the gate to our church no narrower than the gate to heaven. Obviously, there is much that a person doesn't have to fully know or understand in order to be a Christian, but there are very clear truths in Scripture  that a person cannot deny and still call himself/herself a Christian. Our new doctrinal statement addresses these important truths.
In an effort to address "the other side of the coin" to #3 above… we don't want to exclude gospel-loving people from the membership of our church. Everyone has personal preferences and opinions on peripheral matters, especially on issues where the Scriptures are not dogmatic and where the global Church has held differing views (in good conscience) two millennia. With the newest update, our Elders, Pastors, and I desire to answer the question, "What beliefs would Jesus have us unequivocally require for membership in our particular church?"
This is part of our overall strategy to create a healthier, replicable church DNA. In order to one day export and multiply healthy campuses and churches that deeply value the core doctrines of the faith, we must first be a church that can identify the core doctrines of the faith.
This update to our current doctrinal statement has been talked about among our Elder Board for at least two decades. To our knowledge, Pastor Matt Friend is the third Senior Pastor who has felt burdened to do this (preceded by both Pastors Shawn and Eric). Making this change now will greatly benefit the long-term future of Bible Center Church.
The process so far...
In addition to being discussed among BCC leaders for over two decades, and being part of his candidating discussions with the Search Committee and Elder Board prior to Pastor Matt's arrival almost five years ago…
Our Elders officially launched this process with a resolution in February 2019.
Our previous Elder Chairman, Mike John, notified the congregation at our March and June 2019 Member Meetings.
Our current Elder Chairman, Paul Legg, updated the church at our November 2019 Member Meeting, and again, at our online Member Meetings in June and November of 2020.
Our Elders registered a unanimous vote in August 2020 to move forward with the rollout and congregational approval process.
What to expect through March 2021
Pastor Matt will be preaching (devotionally) through each of the doctrines, spanning five sermon series with unique emphases. After each sermon, our Communications Director (Jessica VonCrist) will post the corresponding sectional update to our website for your prayerful review and study. Our kids and students will be learning the same truths in their classes, and Pastor Mike Graham will be posting updated/revised Core Classes that correspond with that Sunday's doctrinal truth.
Mark your calendars for four fireside chats where anyone can come and ask questions of our Pastors and Elders. We plan to host each public form on Sunday evenings (6 PM) in the lobby unless the crowd size requires us to move into the auditorium for social distancing.
October 18
November 22
January 24
February 28
As a capstone to this process, world-renowned theologian, author, and church historian, Dr. Gregg Allison, will join us March 19-21 to teach all weekend through our new Member Statement of Faith from the perspective of historical theology, answering: "What has the global Church believed about these things for 2,000 years?"
Lord willing, at our March 28th Member Meeting, we'll vote on the final draft of our new Member Statement of Faith and (separate) Distinctives, with humble and prayerful hopes of replacing our current doctrinal statement (Article III of our current church constitution).
Are we drifting from our roots?
Not at all. Actually, our Elder Board desires to clarify our identity as a conservative, non-denominational, evangelical church.
As seen in our original doctrinal statement from the bulletin of our first service (March 7, 1943), we were founded on the core doctrines of Scripture… avoiding preferential nuances and distracting opinions.
With the new Member Statement of Faith, we desire to return to our roots with a significantly bolstered doctrinal statement that addresses the biblical illiteracy of our day and age.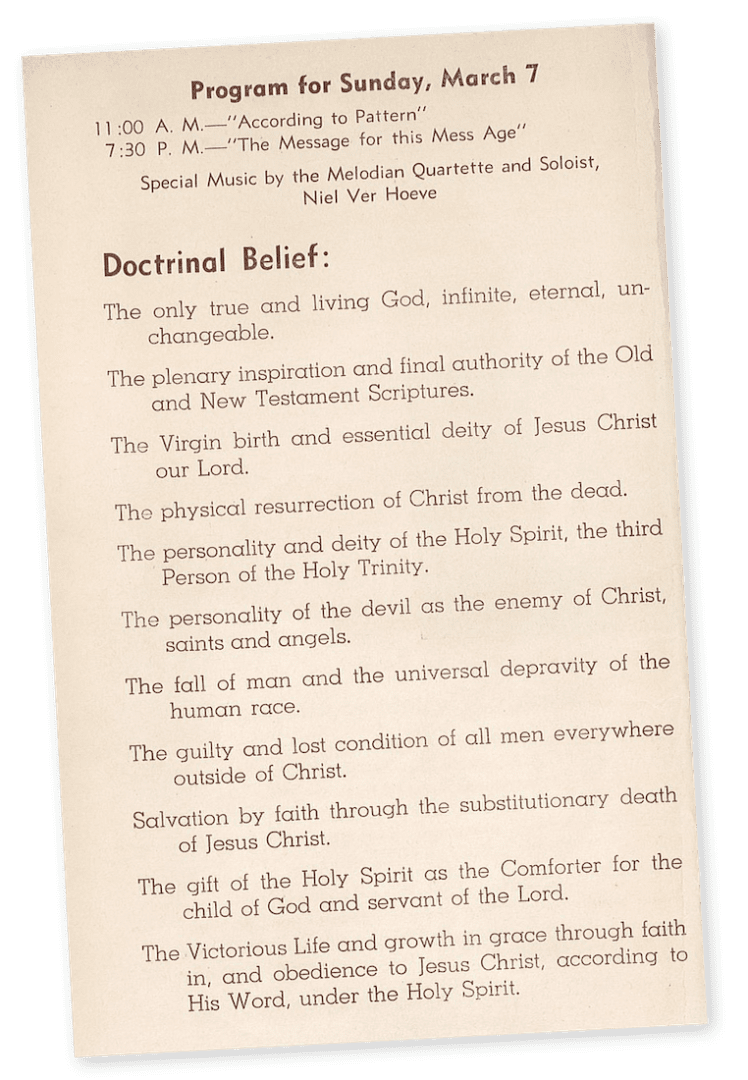 Member Statement of Faith
God's Word
We believe the whole Bible—all 66 books—to be the inspired Word of God. Zechariah 7:12; Matthew 5:17-18; John 10:35; Acts 4:24-26; 1 Corinthians 14:37; 2 Timothy 3:14-17; 2 Peter 1:20-21; 3:15-1
We believe the Bible to be inerrant, accurate, and true in the original manuscripts, infallible, and trustworthy in everything. The Bible doesn't affirm anything that is contrary to fact. Numbers 23:19; Psalm 12:6; Proverbs 30:5; John 17:17; Romans 1:2; Titus 1:2; Hebrews 6:18
The Bible alone is our final source of authority and is sufficient in matters of faith and practice; therefore, it guides our discussions of purpose, doctrine, morals, church membership, church governance, and ministry. Deuteronomy 30:15-20; 1 Thessalonians 4:2; 2 Thessalonians 3:14; 2 Peter 3:15-16
God's Word is essential for showing and knowing the way of salvation, for maturing in the faith, and for discerning God's will. It is necessary for the equipping, growth, and transformation of every gospel-believer. Therefore, it is the centerpiece of our preaching, teaching, singing, and counseling. Psalm 19:7-11; Matthew 4:4; Romans 10:13-17; Colossians 3:16; 1 Thessalonians 2:13; 2 Timothy 3:15-17; Hebrews 4:12; 2 Peter 1:3
The good news of God's redemptive plan through Christ is the central and dominant theme of the Bible—in both the Old and New Testaments—and in human history. God's Word unveils God's plan through creation, the fall, salvation, transformation, and restoration—impacting the individual, the Church, and the world. Genesis 3:15; 12:1-3; Luke 24:13-45; Galatians 3:16, Hebrews 9:15; Revelation 21:3-6
Though not exhaustively, God has revealed Himself truly, clearly, and progressively through His Word so that, with God's help, its teachings can be understood and applied. Deuteronomy 30:11-14; 31:9-13; John 14:26; Romans 15:4; 1 Timothy 4:13; 2 Timothy 4:1-2
The Triune God
There is one God, creator, sustainer, and ruler of all. Deuteronomy 6:4; James 2:19
God is three persons: Father, Son, and Holy Spirit. Genesis 1:26; Matthew 28:19; 1 Peter 1:2
Each person is fully God—co-eternal, co-equal, and co-existent. Genesis 1:1; John 1; Acts 5:3-4
The three persons of the Trinity are one in essence, yet distinct in person, dwelling in perfect harmony as three in one, mutually glorifying and loving one another. Genesis 1:26; Matthew 3:16-17; John 14-17; Ephesians 4:4-6; 1 John 4:7-8
Our Triune God has created all things, and by nature, He transcends His creation and dwells eternally outside of time, space, and matter. He is infinite in His holiness, perfection, and glory. 1 Kings 8:27; Psalm 102:25-27; Isaiah 48:11; John 17:5; Acts 17:24-25; 2 Peter 3:8; Revelation 21:22-27
By choice, God is fully present within His creation, displaying His goodness, love, wisdom, justice, mercy, and grace. Exodus 34:6-7; John 3:16; Philippians 4:5; Colossians 1:17
God created all things for His glory, and He providentially rules over all He has made. The skies proclaim His glory, His people are redeemed for His glory, and forever we will praise His glory. Exodus 20:4-6; Isaiah 43:7, 21, 25; 48:11; Psalm 19:1-2; Matthew 10:29; John 17:1-5; Acts 4:27-28; Hebrews 1:1-3; Revelation 5:9-10
God the Father
1. The Person of the Father
God the Father is sovereign over all things. He is immortal, unseen, living in unapproachable light, a consuming fire, the only wise God. 1 Chronicles 29:11-12; Psalm 103:19; Romans 11:33-36; 1 Timothy 1:17; 6:15-16, Hebrews 12:29
He is the Father of our Lord Jesus Christ, the Father of mercies, and the God of all comfort. Luke 10:21-22; John 14:9-13; 2 Corinthians 1:3-4; 1 Peter 1:3
2. The Work of the Father
In love, God sent His only begotten and beloved Son, and together with the Son, He gave the Holy Spirit. John 3:16; 14:16; 17:5, 24; 20:21
While holy and just, God also displays His grace and mercy by saving and adopting all who come to Him through faith in Jesus Christ. John 1:12-14; 16:23-28; Romans 8:14-15; Galatians 3:26; Ephesians 1:3-10; 1 Peter 1:3-5
God the Son
1. The Person of Christ
Jesus is God's eternal Son, uncreated and co-equal with the Father and the Spirit. He shares the same nature, attributes, and perfections as God the Father and God the Spirit. Jesus and the Father are one. Jesus is the radiance and revelation of the Father's glory, an exact representation of Him, and it is Jesus who has made the Father known. Isaiah 9:6; 40:3; Matthew 3:3; 22:41-46; John 1; 6:38; 8:56-59; 10:30-33; 20:25-31; Romans 9:5; Colossians 1:15-20; Titus 2:13; Hebrews 1; 2 Peter 1:1; Revelation 19:16
Through the power and work of the Holy Spirit—in the incarnation through the virgin birth—Jesus fully took on human nature, including a human body and a human experience while living a sinless life. Isaiah 7:14; Matthew 4:1-11; Luke 1:26-35; 2:52; John 11:35; 12:27; 2 Corinthians 5:21; Hebrews 2:14-18; 4:15-16; 7:26; 1 Peter 1:19; 2:22
Jesus is fully God and fully man. Both natures are unified in Christ without confusion or the minimization of either nature. Micah 5:2; Luke 24:36-42; Galatians 4:4; Philippians 2:5-11; Colossians 2:9; Hebrews 4:15; 1 John 1:1
2. The Work of Christ
Jesus actively lived a perfect life and died on the cross, standing in our place, to bear the full weight of God's wrath against our sin and to satisfy the Father's holy justice and righteous standard. Jesus offers forgiveness, righteousness, and adoption to all who—by grace through faith—receive Him as Savior and Lord. Isaiah 53:4-6; John 1:12; Romans 5:6-8; 8:1; 10:9-13; 1 Corinthians 15:3; 2 Corinthians 5:21; Ephesians 1:5-6; 2:8-9; 1 Peter 2:24
He gave Himself to redeem us and purify for Himself a chosen people for His own possession, a royal priesthood, zealous for good works, who declare the worth of their Savior through obedience, selflessness, praise, and worship. Ephesians 1:3-14; Titus 2:1-14; 1 Peter 1:13-22; 2:9-10
Christ's death made reconciliation possible between God and sinful people. Through the blood He shed on the cross, all believers have peace with God, and all creation will one day be restored and renewed. Romans 5:1; 8:18-21; Colossians 1:20; 1 Timothy 2:5; Revelation 21:1-5
Jesus bodily rose from the dead, was publicly seen by many, and dealt a death-blow to God's enemies—achieving ultimate and cosmic victory over sin, death, Satan, and demons. Jesus ascended to the Father in heaven, lives to mediate for all believers, and will one day return in glory. Genesis 3:15; Psalms 16:10; 110; Matthew 16:21; 28; Mark 16:1-8; Luke 24; John 20-21; Acts 1:1-11; Romans 6:1-10; 8:1-2; 1 Corinthians 15; Ephesians 4:7-16; Colossians 2:15; 1 Timothy 3:16; Hebrews 1:3-4; 2:14-15; 1 Peter 1:3; 1 John 3:8
Jesus, under the New Covenant, functions as prophet, priest, and king to accomplish our salvation. As a prophet, He reveals God and His ways. As a priest, He mediates between God and His people. As a king, He rules over all creation. Deuteronomy 18:15-18; Psalms 89:26-37; 110; Jeremiah 31:31-34; Luke 1:32-33; Acts 3:22-24; 13:22-23, 32-53; Ephesians 1:19-23; Hebrews 7-10
Jesus was sent by the Father to seek and save the lost. In the same way, under His authority and with His active presence, Jesus sends out His followers to continue His mission of making disciples who make disciples. Matthew 28:18-20; John 20:21; Acts 1:8; 2 Timothy 2:2
God the Spirit
1. The Person of the Holy Spirit
The Holy Spirit is a divine person—not a power, force, or influence. As a member of the Trinity, He fully shares in all divine perfections, attributes, and nature. He is to be worshipped, obeyed, trusted, and served along with God the Father and God the Son. Matthew 28:19; Acts 5:1-9; 1 Corinthians 3:16; 2 Corinthians 13:14; 1 Peter 1:1-2
Though one in essence with the Father ("Spirit of God") and the Son ("Spirit of Christ"), the Spirit is distinct in person, relation, and role. Romans 8:9-10
The Spirit proceeds from both the Father and Son. Psalm 104:30; John 14:26; 15:26; 16:7
2. The Work of the Holy Spirit
The work of the Spirit is to manifest the presence of God in the world and especially in the Church. He works in, with, and through the preaching, teaching, and sharing of God's Word to convict the world of sin, to call the lost to salvation, to discipline wandering hearts back to Jesus, to mature believers in grace and truth, and to unify the Church. Genesis 1:2; John 3:1-8; 15:26-27; 16:7-15; 2 Corinthians 3:18; 13:14; Ephesians 4:1-6; Philippians 2:1-2
The Holy Spirit regenerates, indwells, and seals believers in the body of Christ at the moment of salvation until Jesus' return. Jeremiah 31:31-34; John 1:33; 7:37-39; 14:16-17; Acts 1:4-5, 8; 2:1-4, 33; Romans 8:9-11; 1 Corinthians 6:19-20; 12:13; 2 Corinthians 1:21-22; Galatians 3:1-3; Ephesians 1:13-14; 4:30; Titus 3:5
As our Counselor and Helper, the Spirit enlightens and guides believers in our understanding and application of God's Word. He continually renews, leads, fills, assures, and empowers us to love and obey. John 14:26; 15:26; 16:7, 13-15; Romans 8:14-16; Galatians 5:16-26; Ephesians 4:22-24; 5:18-21; Colossians 3:16
The Spirit testifies to our adoption, strengthens us in our weaknesses, and intercedes for us in prayer. He joins with Christ to justify, wash, and sanctify every believer. Romans 8:14-16, 26-27; 1 Corinthians 6:11; Galatians 4:4-7; 5:16-26; Ephesians 6:18; Jude 20
The Spirit unifies gospel-believers, gives us gifts for ministry, and produces fruit in our lives for the maturing and building up of His Church. Romans 12:4-8; 1 Corinthians 12-14; Galatians 5:22-26; Ephesians 4:1-16; 1 Peter 4:8-11
God's Creation
The Triune God—distinct from His creation and out of nothing—created everything visible and invisible by the power of His spoken word. By Him, through Him, and to Him are all things. Genesis 1-2; Nehemiah 9:5-6; Psalms 33:4-9; 90:1-4; 102:25-27; Isaiah 45:5-18; John 1:1-14; 8:58; Acts 4:24; 14:15; 17:24-28; Romans 4:17; Colossians 1:15-20; Hebrews 11:3; Revelation 10:6
God created out of the superabundance of His love and holiness. His creation, and everything in it, exists to proclaim His greatness, goodness, and glory. Genesis 1-2; Exodus 20:11; Job 38:1-42:6; Psalms 19:1-6; 33:6-9; 96:11-13; 136:5-9; 148; Isaiah 6:3; 43:7; Romans 1:20; 11:33-36; Ephesians 1; 1 Timothy 4:1-5; 6:17; Revelation 4:11
As described in the 6-day Genesis account, God delights to interact with and sustain His creation. Genesis 1-2; 3:8-9; 2 Chronicles 16:9; Job 12:10; 33:4; Psalms 103-104; 107; 136; 139; Matthew 6:25-34; Acts 17:24-28; Colossians 1:15-17, Hebrews 1:3
Adam and Eve were personally created in the image of God. Jesus validated them as historical figures in a literal Garden of Eden. They stewarded God's holy creation and enjoyed pure and unhindered fellowship with God and one another. Genesis 1:26-31; Matthew 19:3-5; Luke 3:38; Acts 17:26; 2 Corinthians 11:3
Angels & Demons
God created angels as moral, intelligent, and powerful spiritual beings without physical bodies. He assigned them to worship and serve Him and to minister to all believers. Job 38:4-7; Matthew 4:11; Luke 2:8-15; 24:39; John 20:11-13; Acts 10:1-31; Hebrews 1:6-7, 14
Satan and his demons (angels who sinned) actively fight against the will and works of God, attempting to blind the minds of unbelievers. Isaiah 14:12-15; Ezekiel 28:12-19; Daniel 10; 12:1; Matthew 12:22-32; 13:39; Luke 10:17-20; 11:14-26; 2 Corinthians 4:4; Ephesians 6:12; 1 Thessalonians 2:18; 1 John 3:8
Satan and his demons seek to rob God of His glory through deceiving, accusing, lying, blinding, tormenting, and hurting the people Christ has redeemed. Genesis 3:1-7; Job 1-2; John 8:44; 1 Peter 5:8-9; 1 John 3:8; Revelation 12:7-12
Satan and his demons are defeated foes who live in subjection to the sovereignty of Christ and will spend eternity in torment. Genesis 3:15; Job 1-2; Matthew 25:41; Colossians 2:15; 2 Peter 2:4; Jude 6; Revelation 14:11; 20:1-10
Humanity
God intentionally created man and woman in His image, sharing in aspects of His spiritual, relational, rational, moral, emotional, and royal image, making us—of all creation—most like Him and most capable of glorifying Him, even in our physical bodies. Genesis 1:26-28; 2:15-18; 5:1-3; 9:6; Psalms 8; 139:13-16; Isaiah 43:7; James 3:9; 1 Peter 2:9
As image-bearers of God, each person is loved, designed with beauty, created with a purpose, and is inherently and eternally valuable. All people reflect aspects of God's nature and are to be treated with dignity. Genesis 1:26-28; 9:6; 139:13-18; Isaiah 44:24; Jeremiah 1:5; Matthew 7:12; Mark 12:31; John 3:16, Romans 5:8, 1 Timothy 2:4; 1 Peter 2:17; 2 Peter 3:9
Adam and Eve were created male and female with distinction, similarity, and interdependence for the sake of genuine union. Genesis 1:27-28; 2:15-25; Galatians 3:26-29; Ephesians 5:21-33
Human beings consist of a material (body) and immaterial (soul/spirit) aspect. During this earthly existence, both are inseparably united. Genesis 2:7; Luke 10:27; 
Adam and Eve are humanity's first parents. Adam, described as the head of the human race, represented all of humanity in the Garden of Eden. Genesis 3:20; Romans 5:12-21; 1 Corinthians 15:20-49
Unity
As the Father, Son, and Holy Spirit have enjoyed eternal community with one another, God invites all believers to make every effort to preserve the unity of the Spirit through the bond of peace. Psalm 133:1; John 13:34-35; 17:11, 20-23; 1 Corinthians 12:12-13; Galatians 3:26-29; Ephesians 4:1-6
Jesus taught that some doctrines carry more weight than others, clearly indicating that there is a hierarchy of doctrinal significance. As outlined in this Membership Statement of Faith, doctrines plainly identified by Scripture as fundamental or essential include those required for saving faith, those closely connected to the gospel, and those we are forbidden to deny under the threat of condemnation. Matthew 23:23-26; John 17:3; Romans 4:4-5; 1 Corinthians 15:3-4; 16:22; 1 John 1:6, 8, 10; 4:1-3
When an issue is a matter of personal preference or has various legitimate interpretations, we show grace and seek the good of others without requiring everyone to agree. We aspire to live, "In essentials unity, in non-essentials liberty, in all things charity." Romans 14-16; 1 Corinthians 10:24; Colossians 3:12-15; 1 Timothy 1:3-7; 4:1-11; 6:2b-5, 20-21; 2 Timothy 2:14-17, 23-26
〉Bible Center School
A ministry of Bible Center Church, Bible Center School is a fully accredited preschool, lower, and middle school program providing an exceptional educational experience in preparation for the secondary level and college.