Friday, February 28 • 7-9 PM • 3rd-5th Grades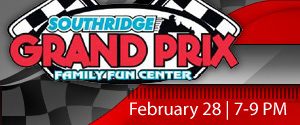 Price Includes: 1 Go Kart Ride, 1 Laser Tag, Pizza and Pop.
Cost: $15 person*
*Video games are not included in price; bring extra money if you want to play video games.
We will meet at South Ridge Grand Prix. Invite your friends!
Sign up
Complete the form, and return to Pastor Thompson by Wednesday, February 26.
[gview file="https://www.biblecenterchurch.com/wp-content/uploads/2014/02/14-Grand-Prix-Outing.pdf"]