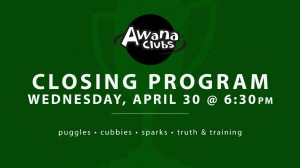 Plan now to attend this special evening!
Wednesday, April 30 • 6:30 PM
Kids have been working hard this year, and summer is almost here! That means the AWANA Awards Night and Closing Program is coming up!
Each clubber will be rewarded for his or her accomplishments from their respective clubs, and we'd love for you to come and support them. Clubbers will be participating in the program throughout the evening as well.