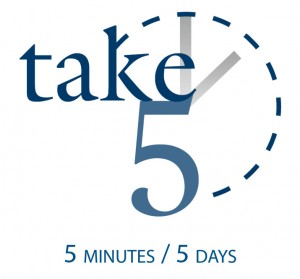 Richard & Michelle Thompson • Children's Ministry Pastor & Early Childhood Director
This week, Michelle and I would like to share with you some thoughts from the longest chapter in the Bible – Psalm 119. Take the time this week to read through the whole Psalm.
Monday: May We Live What We Believe
Psalm 119:1-8
This Psalm starts with the same word that the whole book starts with: "blessed." If there's any word that we would want to describe our life, "blessed" should be it! But, how do we receive God's blessing? Verse 5 (NLT) says this: "Oh, that my actions would consistently reflect Your decrees! Then I will not be ashamed when I compare my life with Your commands." God is in the business of blessing people, and He honors those that honor Him. For me, the toughest word in there is "consistently." Like arm-wrestling a statue, I should never budge from the way that God commands me to live my life. May all my actions, all the time, reflect God to my family, my co-workers, and everyone else I meet.
For Today: Thank God for His grace to live a blessed life and for His mercy when we fall short!
Tuesday: Defense Wins Championships
Psalm 119: 9-16
With a house full of boys, sports were no strangers to us. As the cliché says, defense plays a strong part of any team's success. Today's verses tell us something similar about our own lives. The Devil has got a pretty good offensive strategy. He likes to trick, confuse, twist, distract, and make us feel guilty and doubtful. How can we beat him? How can we resist temptation? How can we live a clean life? Defense. Defense is not a lazy thing. Notice the actions in these verses. Keep, guard, seek, declare, fix. God calls His people to defensive action! Verse 14 takes on a big challenge, stating that God's Law is more precious to the psalmist than riches. Do we have that kind of faith? Do we have a faith full of action against evil and full of love for our Savior?
For Today: What defensive steps are you taking to ward off temptation? Are you fixing your eyes on God's ways or are you forgetting His Word?
Wednesday: God's Enduring Faithfulness
Psalm 119: 89-9
What do you think of when you hear the word "faithful" or "faithfulness"?  What comes to our mind is a continuing reliance upon what a person has said or does.  One of our sons was recently married, and he made promises in his marriage to be faithful to his wife.  The vows that he and she said before God and witnesses are to be kept. If you make a promise to us, then we count on you to keep your word, being faithful to it.  If we make a promise, then we will do all we can to fulfill it.  We want to be faithful in our words and actions. God's faithfulness endures to all generations, meaning what He has said will come to be.  His words are eternal, and it's impossible for God to lie.  God wants us to believe Him in all things.
For Today: Thank God for His enduring faithfulness and mercies that are new every morning!
Thursday: The Lighted Way
Psalm 119: 105-108
When I was a boy, I grew up camping.  My parents would take my siblings and me camping each summer, and I loved it.  There is nothing like smores, mountain pies, and hotdogs over the open fire.  If you have never been camping as a family, you have missed out on something great!  If you have camped, then you know what I'm talking about! While camping in the early years, before we had a camper with a toilet, some campgrounds had a path that was lit to help us get to the bathroom in the dark.  Other times, all you had was a flashlight to keep you from stumbling and getting to the much needed destination. In today's reading, there are only four verses, but verse 105 is a great verse to memorize.  It tells us that God's Word is a lamp and a light.  You see, we are all on a path called life, and sometimes, we're not sure where that path will take us.  It's like being in the dark or stumbling along the way, but God promises to keep us on the right path by reading and doing His Word!
For Today:  Which path are you on?  The one that leads to happiness and success, or the one that is unsure and lonely?  Read God's Word as your lamp and light, and He will bless you for it.
Friday: Righteousness Rules
Psalm 119: 137-144
Within the Constitution of the United States of America, we have what is called the Bill of Rights.  There are 10 amendments in which we all have heard discussed in various ways or quoted when needed most. We live in a culture where many people want to exercise their rights!   While we would agree that there are appropriate situations where rights should be defended, let us not forget that God's righteousness is not a light thing.  In today's reading, God is the standard of righteousness, and His Word conveys that God's law is true, forever, and supposed to be a Christian's delight.  Have you ever thought about that fact that each word God speaks is right–the standard from which we believe all righteousness should develop?  God truly knows what's best for us, and He has given us His right–the right to know, understand, and act properly.
For Today:  God wants His children to respond in righteous ways, and not react in our human, sinful ways.  Is God's Word a delight to you, or do you question His character?