Study Begins January 14
Looking for a great study and fellowship? We are pleased to introduce you to our next book, If: Trading Your "If Only" Regrets for God's "What If" Possibilities, by Mark Batterson.
Come join us at one of our nine locations. The relationships formed in these ManUp! groups are priceless! Good book, good coffee and good community!
About the Book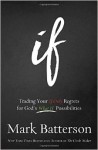 If is a powerful little word. Some people are stuck in "if only," trudging through lives marked with regret. But God wants us to live lives marked with possibilities, with the "what if" attitude that looks forward to the future with confidence. Why? Because the answer to "If God is for us, who can be against us?" is "No one." God is always on our side. Every day, in every way.
With his trademark enthusiasm and contagious joy, Mark Batterson helps readers overcome feelings of guilt, fear, and doubt because in Christ there is no condemnation. Unpacking the promises of Romans 8, he shows readers that they are more than conquerors–right now and forever. And because of that, the possibilities for their lives are limitless.
Weekly Meeting Times
Various days and locations are available. Check the Men's Ministry page for details.
Book Availability
Books are currently available from the Oakhurst Campus. You may call Christine at 304-346-0431 or send an email to request a book to be left at the receptionist desk (Oakhurst Campus). You may also contact your book leader to purchase your book.