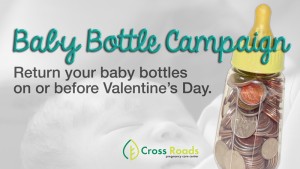 With your pocket change, you can help save the lives of unborn babies in Charleston…
Bible Center Church and the Cross Roads Pregnancy Care Center are teaming up to help women who face unplanned   pregnancies. The mission of the Pregnancy Center is to educate, minister and support these women so that they choose life for their babies, all while learning about the love of Christ.
Please take at least one baby bottle per household, fill it, and return it no later than Sunday, February 14 (Valentine's Day). Filled bottles will be accepted at the Southridge Info Desk and at the Oakhurst Campus Front Desk.
Your gift will make an eternal difference for young mothers and their precious babies. For additional information go to Cross Roads' website at CrossRoadsPCC.com.
If you have any questions, contact Pastor Tanzey.