Sunday, May 15 • 6-7 PM • Southridge Campus, Worship Center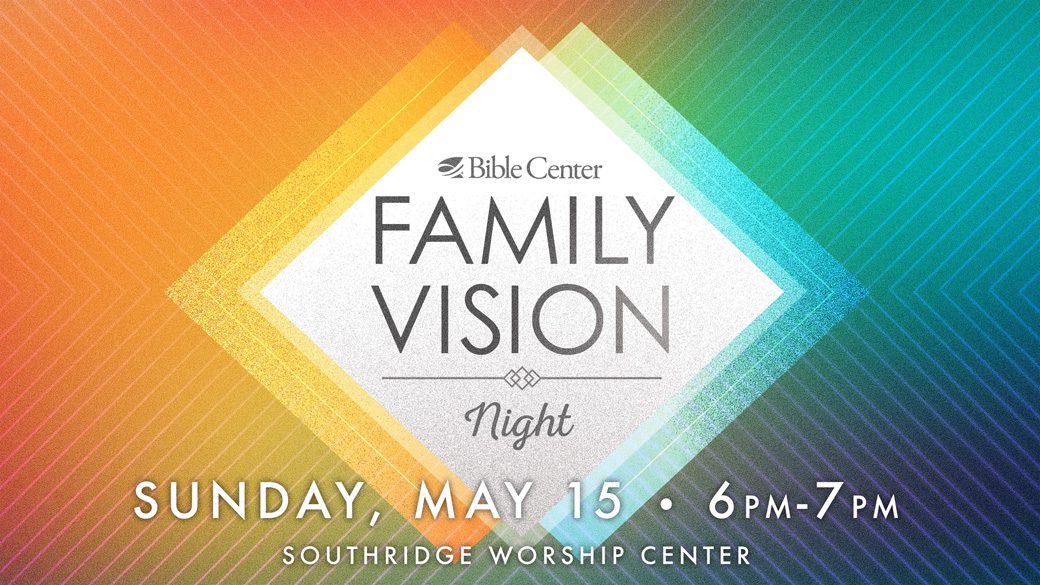 WHAT: Join us for an evening of celebration, vision, financial briefing and stories of grace. Pastor Matt Friend will share his two-year vision for Bible Center. In addition, all pastors will be present for a Q & A session.
WHEN: Sunday, May 15 at 6-7 pm
WHERE: Southridge Campus Worship Center
WHO: Anyone who calls Bible Center Church their church home (plus the kids!)
ATTIRE: Casual
PLUS: Bring your favorite dessert to share and any questions that you may have for the pastors.
Dear Bible Center family,
Carl Sandburg once said, "Nothing happens… but first a dream."
Since March, I have been looking for an opportunity for us all to gather to celebrate the past, clarify the present, and cast vision for the future. Sunday's Family Vision Night provides this opportunity!
All regular attenders who consider Bible Center his or her church are invited to gather from 6–7 PM in our Southridge Campus Worship Center…
Our worship pastors will be leading us through a few songs together.
Our staff will be sharing stories of God's grace (humorous & serious).
I'll share a summary of my 2-year vision.
We'll enjoy a Q & A with our pastors.
Over the years, I hope for this to be a quarterly event. It's a great time for our whole church to be under one roof at the same time and get on the same page with everything related to mission, budget, dreams and goals.
I hope you can join us this Sunday evening at 6 PM. We'll have hot coffee waiting, but please bring your favorite dessert to share for a time of fellowship for anyone who can stay afterwards.
Your brother,
Matt
—
Matt Friend
BIBLE CENTER CHURCH
Senior Pastor
@PastorMattBCC