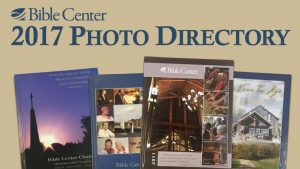 Join us as we connect our families together. Be a part of the next Bible Center photo directory and reserve a date for your photo shoot!
Receive a free 8×10 photo and directory with your sitting.
Active military, first responders and senior citizens receive a 20% off discount on purchases.
Generational photos and non-Bible Center attenders are allowed to be included in your photo shoot. Bring the special people in your life to your appointment.
Bring props, such as a musical instrument, to your shoot.
The first step is to schedule your portrait session.  A photo session about 15-20 minutes to have several pictures taken, choose which one you like, decide if you would like to purchase extra copies or poses, and make sure all your information is correct.
Session Dates
Weekdays: 2:00 – 8:40 PM • Saturdays: 10 AM – 4:40 PM
July 15-16, 25-26
September 6-10, 13-17
Oct 4-8 & 11-15
Schedule your session
Choose the number of people being photographed.
Choose a date/time, and complete the sign-up.
Service Opportunity
If you would like to serve by volunteering at the check-in tables for the photo sessions, please fill out the Communication Tab. Note: You would be volunteering on behalf of Bible Center, not the photography company.
Want to know more?
[su_youtube url="https://www.youtube.com/watch?v=aIhmTRT8bRY"]