Pastor's Letter
Dear Friends,
Good morning, and welcome to Bible Center! If you're new here, please make yourself at home. We hope you'll stop by the Living Room and receive our gift of appreciation.
Today is a special day… It's baptism Sunday!
What is baptism? Like communion, baptism is a sacred symbol of God's grace toward us. At baptism, we are choosing to publicly associate ourselves with the life, death, burial and resurrection of Jesus.
Baptism doesn't save us from our sins, but it demonstrates the salvation that has come about through the turning to, and trusting in, the Lord Jesus Christ, our Savior. The old self of unbelief is buried, while the new self of faith and obedience is raised to walk in new life!
Over and over again in the New Testament, especially in the Book of Acts, we see new believers choosing to be baptized. It was always a celebratory event. Let me invite you to applaud, cheer and celebrate after each person is baptized today.
If you have questions about future baptisms, or would like more information, please check the "Baptism" box on the Communication Tab connected to this bulletin. Feel free to drop it in the offering basket later in the service, or place it in either of the Response Boxes located beside the fireplace. We will be happy to follow up.
I look forward to celebrating these baptisms with you today!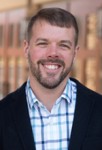 Matt Friend • Senior Pastor
@PastorMattBCC
Next Sunday's Message:
"You Never Serve Alone"
Psalm 84:9-10
Announcements
Got Questions?
If you're new, have questions, or need help with registration, giving, or BC Central, hosts and hostesses are available. Look for them in the black shirts standing under the (?) sign at the Info Desk. They'll be happy to assist you!
Bible Center Cares
As flood relief efforts continue, please let us know of any Bible Center attenders who have been impacted by the flooding. We want to make sure no one is overlooked. Mark the Communication  Tab, write in the names of those impacted (which may include you) and the best way to contact these individuals. Please also include your name and contact information in case we have any questions.
Ongoing Flood Relief
Want to serve our flooded neighbors, but aren't sure where or how? Sign up to serve in specific ways at HelpElkRiver.com. Your availability will be paired with a household in need.
New Member Applicants
The Board of Elders is pleased to present Shannon & Renetta Adkins; Milton & Atlas Back; Casey Legg; and Kathryn Legg to the church family for membership. Active members are invited to provide feedback to the Elders by the end of Wednesday, July 20. The Elders will then vote during their next meeting.
Tuesday Morning Ladies' Bible Study
July 12-August 16 • Tuesdays • 9:30-10:45 AM • Southridge Campus, Rm. 2104 • Counter Culture by David Platt • How does God's Word equip us to respond to the social issues of our day? Join us for this 6-week study, led by Jane Schultz.
Vacation Bible School Volunteers Needed
Starts tonight through July 14 • 6-8 PM • To volunteer, go online to BibleCenterChurch.com/ register. You may also check the box on the Communication Tab.
Keep Up With the Latest Church News
If you would like to get weekly updates, please go to BibleCenterChurch.com and enter your email address at the bottom of the page.
Cancellation
The OWLS Ice Cream & Bingo, originally scheduled for Friday, July 15, has been canceled.
Bible Center Bikers 1st Ride
The Bible Center Bikers' first ride, a lunch ride to Pomeroy, OH, has been rescheduled to Saturday, July 16. We will meet at Bible Center Church (Southridge Campus) at 10:30 AM and pull out at 11 AM. If you are interested or have any questions, contact Kent Rymer at jkrymer@gmail.com or (304) 610-3159. Join us on the road for fun and fellowship!
Camp Donations
Every year we have kids who need financial assistance to go to Bible camp. If you'd like to help, send your gift to Bible Center and mark it "Junior Camp." Donations can also be made online.
Bible Center School Yard Sale
Saturday, July 16 • 8 AM-2 PM • $25/table • RAM Center • Proceeds benefit Bible Center School and BCS Cheerleading. If you want to rent a table or have questions, email Jessica Bacchus or go to BibleCenterSchool.com/yardsale.
BCS Summer Craft & Vendor Show
Saturday, July 30 • 10 AM-4 PM • Oakhurst Campus, RAM Center • Love to shop? Love to look at unique things? Then come to the Craft & Vendor Show and help support Bible Center School at the same time! Cheerleaders will also be selling delicious concessions to pay for new uniforms. So invite your friends, like our Facebook page (facebook.com/bcscraftshow) and bring the whole family!
BCS Bus Drivers Wanted
Bible Center School is looking for bus drivers to transport students to and from southern WV on school days. A CDL is not required. There are 2 pick-up spots along the Rt. 119 route. If you're interested or have questions, contact Josh Bacchus at (304) 346-0431. You may also check the box on the Communication Tab.