Beginning this Week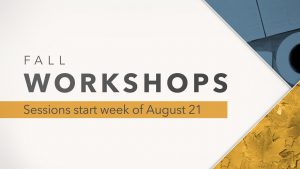 Workshops are Bible Center's short-term evening classes aimed at developing more maturing followers of Jesus Christ by educating followers in various aspects of life. Most are 2-6 weeks long.
These classes are offered on multiple nights of the week to allow more people to attend who may not be able to attend on Wednesday evenings. It will also allow more people to volunteer in children's and youth ministries on Wednesdays by enabling them to participate in a Workshop on another night of the week, if they choose.
[Download Complete Fall Schedule]
Workshops begin and end continuously throughout the semester. Below are the workshops starting this month.
Workshops Beginning in August
– Wednesday, August 24 –
Leadership 1: How to Lead Your Group Toward Outreach
Pastor Matt Friend • Aug 24 – Sep 14 • Room 3101/02 (Attend 1 of the 4 dates available)
Ultimately, being a Christian leader is all about developing disciples of our Lord. Groups that succeed are groups that intentionally follow Christ's model of a small group of learners who want to become more like Jesus. Come be part of this…
Why Did Jesus Come?
Mike Kaufman • Aug 24 – Sep 14 Room 3103
We are going to examine Jesus' own words explaining why He came to earth over 2,000 years ago. Do the reasons He came make a difference in your life now?
What is the Church? (Part 1)
Josh Hanks • Aug 24 – Sep 28 • Room 3104
Join us as we answer the following questions from the Bible…
How does God define the church?
Why does our mission statement include "To glorify God…"?
Why is Bible Center Bible-Centered?
Where does the Holy Spirit fit at Bible Center?
Why do we have a church covenant & membership?
Where does the church fit on God's calendar?
Fight Back with Joy (Margaret Feinberg)
Carolyn McMillen • Aug 24 – Sep 28 • Room 2104 (Women's Workshop)
Learn to practice joy, defiant joy. Sooner or later, we find ourselves on the battlefield of life and struggle to know how to respond.  But God says, "Do not be afraid or discouraged because of this vast army. For the battle is not yours, but God's" (2 Chronicles 20:15). On that fateful day, King Jehoshaphat and his army marched forward rejoicing. though we can choose from many weapons, God wants to empower us to fight back with joy. Join Margaret Feinberg for this 6-session Bible study that will help you embrace a life that's richer and fuller than you've ever known before – a life radiant with joy.
– Thursday, August 25 –
The Bible & Interpretation 1
Pastor Chad Cowan • Aug 25 – Sep 29 • Room 3104
Is the Bible the final authority in all matters? What is tradition and what role does it play? Just how did we get our Bible? In this first section of the Bible and Interpretation, we'll discuss how the Scriptures were passed down to us, and why it matters!
– Tuesday, August 30 –
Song of Solomon – Committed Marriage: A Biblical Love Story for All Couples
Pastor Bill Tanzey • Aug 30 – Sep 20 • Living Room
Learning About Marriage from the Song of Solomon.
Come join us as we discover  biblical principles for marriage from the Song of Solomon. This Bible book is perhaps the most misunderstood book in God's Word, yet found within it is a treasure trove of teaching about God's plan for the marriage relationship. Everyone is invited!