Pastor's Letter
Dear Friends,
Welcome! We're thrilled you've joined us for worship.
Today is my last day away on family vacation. I look forward to driving back into the West Virginia hills, settling back into the office tomorrow, and gearing up for a great fall season with you and our staff team. I've really missed you this week!
It's an honor to introduce today's speaker, Pastor Bob Spradling, Bible Center's 3rd Senior Pastor (1968-1994). Pastor Spradling grew up in my hometown of St. Albans and gave a large portion of his life to the greater Charleston area.
When he first came to Bible Center, the church met in the building on the Boulevard. However, in 1973, he led the growing congregation to build a new building on Corridor G (that is now our school campus), across from Ashton Place.
What impresses me the most was his commitment to shepherd this church through highs and lows, marriages and funerals, seasons of blessing and seasons of challenge. When he retired (after nearly three decades of pastoral ministry here), he could point to many who had come to know Jesus as Savior and had grown immensely in their faith.
You'll be blessed by his message on The Prayer of Jabez, which kicks off our 4-week series on Praying with Jabez & Jesus. I'll be listening with you online.
If you are new here, please introduce yourself to him. If you previously sat under his ministry, please take a moment to tell him how he encouraged your faith.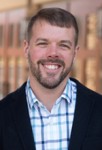 Matt Friend • Senior Pastor
@PastorMattBCC
Next Sunday's Message:
"Praying with Faith and Flexibility"
Matthew 6:9-10
Announcements
Phone Number Changes
Bible Center School and Preschool now have new phone numbers. Please save these numbers in order to dial directly:
School: (304) 941-1704
Preschool: (304) 941-1710
Wednesdays in August
For the next two Wednesdays, we will be meeting in Room 3105/06 for prayer meetings. Join us as we lift up our community and each other in prayer. Refer to the "Summer at Bible Center" insert for more information.
AWANA Volunteers
Do you enjoy working with children? Do you like being active and seeing a side of church that you don't often see? Then be an AWANA Volunteer! Duties vary and you can serve 1-4 times per month. You'll be blessed by helping the next generation of Christians grow in the Lord! A free background check is required. If you're interested or have questions, check the box on the Communication Tab.
Promotion Sunday
All children will be promoted to their next class on Sunday, August 14.
Missions Committee Meeting
Sunday, August 14 • 2:30 PM • Room 2104
Girlfriends Serve 2gether
Ok Girlfriends…volunteers are needed for the Fall Event. Could you serve by greeting, decorating, helping the W.A.R. boutique or by serving refreshments? Let us know by signing up at the table in the Gathering Space or by filling out the Communication Tab. Then check your email for your assignment and join us on Sunday, August 14 at 3 PM in Room 3105/06 for an All-Volunteer Meeting.
Baptismal Class
Monday, August 15 • 6:30 PM • Room 2104 • If you are interested in being baptized, we ask that you attend this special Baptismal class. Come prepared with your salvation testimony written out and bring a current photo or be prepared to have one taken. The next baptism service, which will be on September 11, will be an outdoor baptism! For questions, contact Pastor Richard Thompson or check the "Baptism" box on the Communication Tab.
Mini-Bus Drivers Wanted for Bible Center School
Retired? Want to help the school, but don't know how? BCS is looking for mini-bus drivers to transport students to and from southern WV on a rotating basis. A CDL is not required. There are two pick-up spots along the Rt. 119 route. If you're interested or have questions, contact Josh Bacchus at (304) 941-1704. You may also check the box on the Communication Tab.
AWANA Club (K-5th Grade)
Club starts August 17, and meets Wednesday evenings at 6:30-8 PM. If you would like to enroll your child in AWANA, check the box on the Communication Tab or contact Pastor Thompson.
Bible Center Bikers Ride 'n Dine
Saturday, August 20 • 10:30 AM pull out • Southridge Campus parking lot • Join us for a great ride and fellowship to Fayetteville, WV! All riders are welcome and we will have lunch there. For more information, email Kent.
OWLS Baked Steak Luncheon by "TopSpot"
Sunday, August 21 • 12:30 PM • Oakhurst Campus, RIM • $11 • TopSpot, named one of the 101 Unique Places to Dine in WV, will be catering. Also needed are 25 dessert entrées. Sign up at BibleCenterChurch.com/register or fill out the Communication Tab on or before Friday, August 12.
Hymn Sing
Sunday, August 28 • 6 PM • Gathering Space • Come out for a night of worship as we sing some of our favorite hymns together!
Girlfriends Grow 2gether: An Epic Adventure
September 16-17 • The early bird price for both days is $40 and includes a $10 coupon for the WAR Boutique. For Girlfriends ages 12-21, pay your age only! Rates go up after August 15, so stop by the table in the Gathering Space today!
Save the Date: OWLS Events
Friday, October 14 – Trip to American Mountain Theater in Elkins, WV
Thursday, December 1 – Trip to the Greenbrier Resort in White Sulphur Springs, WV
Saturday, December 10 – Christmas Baskets assembly and delivery