Saturday, August 27 • 5-9 PM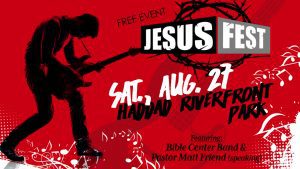 Join us for this evening of worship as our own Pastor Matt Friend speaks (7:35 PM), and Bible Center Band plays (6:35 PM). The event features the JJ Weeks Band (presented by NewLife 94.5). Additional musicians include the Martin Luther King, Jr. Male Chorus, Union Mission's Foundations Choir, and more!
Find out more about this free event [here].