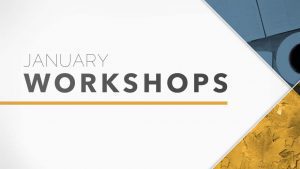 Various evenings • 6:45 – 7:45 PM
Workshops are Bible Center's short-term evening classes aimed at developing more maturing followers of Jesus Christ by educating followers in various aspects of life.
These classes are offered on multiple nights of the week to allow more people to attend who may not be able to attend on Wednesday evenings. It will also allow more people to volunteer in children's and youth ministries on Wednesdays by enabling them to participate in a Workshop on another night of the week, if they choose.
All times are 6:45-7:45, unless noted.
Tuesdays • starting January 10th
Griefshare
Sue Peros • 6 PM • Living Room (ends February 14)
GriefShare is a friendly, caring group of people who will walk alongside you through one of life's most difficult experiences.
The End Times
Dr. Gerry White • Room 3104 (ends February 7)
Curious about the end times? This class will take an in depth look at five of the major events of the future: the Rapture, the Tribulation, The Great White Throne Judgement, Heaven and Hell.
Women's Bible Study
Susan Beeler • Room 2104 (January 24-March 28)
The Promised One: Seeing Jesus in Genesis, by Nancy Guthrie • The Promised One provides a fresh look at the book of Genesis, leading readers in discovering how its stories, symbols, people, and promises point to Christ. Over ten weeks of study, participants will see Christ as the agent of creation, the offspring who will crush the head of the serpent, the ark of salvation, the source of the righteousness credited to Abraham, the substitutionary sacrifice provided by God, the Savior to whom the whole world must come for life, and much more.
Wednesdays • starting January 11th
When Sinners Say "I Do" – Confessions from Real Life Marriages
Matt & Sarah Friend and Josh & Angela Hanks • Room 3101/02  (ends February 8)
When a couple says "I do," they arrive at the altar toting some surprisingly large luggage. Using the book When Sinners Say "I Do," this Workshop takes a brutally honest, 5-week look at the realities of marriage and how the gospel can transform us all.
Missional Motherhood
Jessica Backus and Kristin Reynolds • Room 2104  (ends February 8)
There's no such thing as "just" a mom. This class will take a close look in the Scriptures for the mission of God in motherhood. Using Gloria Furman's book on motherhood, this course will open our eyes to God's life-giving promises—promises intended to empower each and every woman as she makes disciples in her home, in her neighborhood, and around the world.
Thursdays • starting January 12th
Everything You Wanted to know about Salvation
Chad Cowan • Room 3105/06 (ends April 13)
Predestination? Calvinism? Can we lose our salvation? In this in-depth class, we'll tackle some of the most difficult doctrines of salvation, and see how other denominations view salvation.