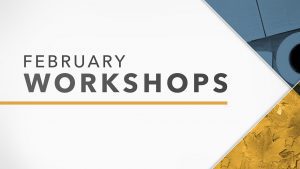 Various evenings • 6:45 – 7:45 PM
Workshops are Bible Center's short-term evening classes aimed at developing more maturing followers of Jesus Christ by educating followers in various aspects of life.
Workshops beginning this month are listed below.
All times are 6:45-7:45, unless noted.
Tuesdays • February 14 – March 14
Spiritual Warfare
Mike Kaufman • Room 3104
What is spiritual warfare, and what does the Bible say about it? Specific subjects to be covered will include: knowing our enemy, the armor of God, and the role of prayer.
Wednesdays • February  15 – April 12
Financial Peace
Romie Mundy • Room 3101
Dave Ramsey video series • Financial Peace is a biblically based, video curriculum that teaches its audience how to handle money God's way. In the Fall of 2013, Bible Center graduates of FPU paid off an average of $2,050 in debt and saved $2,100 in only the first 90 days!
Thursdays • February 16 – April 13
All Things New
Carolyn McMillen • Room 2104
Bible study and cooking class • All Things New covers topics like opening wide your heart in the midst of hurtful relationships and what it means to embrace the lost and lonely as ministers of the new covenant. Each of us has a message to proclaim and live by: Because of Jesus the old you is gone, the new you has come. The recipes are Kelly's own and each week we will learn some of the basic skills needed to prepare the recipe and then taste a finished product. This book is part of the "Living Room" series.