What is baptism?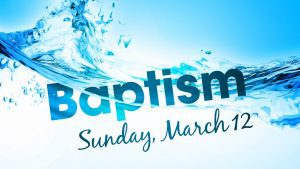 Baptism is simply the public act of identifying yourself with Jesus Christ–that you are His believer and that you now follow Him.
Is baptism necessary for salvation?
No, it is not. By God's grace, salvation is received only through your faith in Jesus and His work on the cross that saves you (Eph. 2:8-9).
Then why get baptized?
All Christians are to be baptized for a few important reasons:
It symbolizes our rebirth into a new kind of life (2 Cor. 5:17)
We are following Jesus' example (Matt. 3:13-16)
It shows that we are part of the same family of God (1 Cor. 12:13)
It is commanded of us in the Great Commission (Matt. 28:19)
What's the next step?
Pastor Matt will lead our next baptism service on March 12.
If you would like to be baptized, have additional questions about baptism, or want to learn more about knowing Jesus as Savior, our pastors would be happy to speak with you! A pastor will be available at the front of Worship Center and in the Living Room immediately after this service. Or you may call the church office at (304) 346-0431, fill out a Communication Tab or contact us online.