Pastor's Letter
Dear Friends,
Welcome to Bible Center! Thanks for being with us today.
What are your daily routines? Of course… making coffee is first. After that, maybe you also check Instagram, catch up on your NCAA basketball scores, take your medicine, make your bed, clean up the kitchen or read the news.
Jerry Bridges suggests one more: "Preach the gospel to yourself daily."
Why would we need to remind ourselves of the gospel daily? "Sometimes the first duty of intelligent men," George Orwell noted, "is the restatement of the obvious." Mahaney writes, "If there's anything in life we should be passionate about, it's the gospel. And I don't mean passionate only about sharing it with others; I mean passionate in thinking about the gospel, reflecting upon it, rejoicing in it, allowing it to color the way we look at the world and all of life."
This month's HopeFull series centers around Jesus' good news. The Apostle Paul reminded the early church, "Christ died for our sins in accordance with the Scriptures, he was buried, and he was raised on the third day" (1 Corinthians 15:3-4).
Picking up a copy of Pastor Bill Tanzey's book, When God Sings, is a great way to remind yourself of the gospel. From Zephaniah 3:17, he points out that God sings over his children. Copies are available for purchase in the Gathering Space. Let me invite you to visit the table and knock out your Christmas shopping early this year!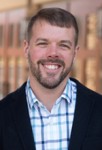 For the City,
Matt Friend • Senior Pastor
@PastorMattBCC
Next Sunday's Message:
God is With Us
Romans 1:1-17
Announcements
Got Questions?
If you're new, have questions, or need help, hosts and hostesses are available. Look for them standing under the (?) sign at the Info Desk. They'll be happy to assist you!
Teaching Position Open at BCS
Bible Center School has an opening for a Computer teacher. This position is for 3 days per week. Interested parties should contact Principal Josh Bacchus or call the school office at (304) 941-1704.
Easter Service Times
Our Sunday service times will continue as normal (9 AM & 10:45 AM) for the immediate future; however, on Easter Sunday (April 16) we are pleased to announce an additional service at 7:30 AM in the Worship Center, identical to the others.
Tuesday Morning Ladies' Bible Study
Now until May 2 • 9:30-11 AM • Rm. 2104 What Love Is by Kelly Minter • The letters of 1, 2 & 3 John define love in the person of Jesus and call us to love like He loved. Led by Lisa Pack, join us in discovering what love truly is.
Food Items Needed For Crossroads
Sign up on BC Central or contact Sheri Skidmore to donate items for the Union Mission Crossroads Dinner & Gospel Service. The dinner will be prepared on Thursday, March 23 solely from the food collected here. All items must be received by the end of the day, March 22. Volunteers are also needed to prepare and to serve.
Sparkie Sport Night (K-2nd Grade)
Friday, March 24 • 5-7 PM • Quantum Sports (58th St. in Kanawha City) • $5 • Mark your calendar for a great night of fun. Details are on the church website and a permission slip went home with your Sparkie.
OWLS Lunch 'n Snack Pack Fill Up
Saturday, March 25 • 10 AM-2 PM •  The RIM at Bible Center School • Free pizza lunch • Registration is required. Contact Judy Mercer if you have any questions.
Keep Up With the Latest
If you would like to get weekly news updates and be notified of last-minute schedule changes, or if you have questions about your BC Central account contact Jessica VonCrist.
Spotlight Night (3rd-5th Grades)
Friday, March 31 • Any 3rd -5th grader is invited to attend our Spotlight Night here at church. The event costs $5 each and includes the food, fun, and crazy rounds of Hide-N-Seek in our wooded North area. Don't forget to bring your flashlight! A flyer is available on our website and one was sent home with your child.
Alpine Bible Camp (8-11 years old)
If you couldn't make the meeting concerning some changes to Alpine Bible Camp, please contact Pastor Thompson, or call the church number above. Applications are available online or at North and South Check-In Stations. Camp this year will be July 17-21. The deadline for registration is April 23 and space is limited.
Get Ready For Spring Training!
If you're interested in playing softball, Bible Center is now enrolling new players for men's and women's teams. Last season's players are automatically enrolled. Sign up sheets are at the Info Desk, and you may also sign up through the app. If you have any questions, email Dick Riffe, or call (304) 346-0431.
OWLS Music Through the Ages
Friday, April 7 • 6 PM • The RIM at Bible Center School • $5 Pay at the door • Enjoy music from your earlier years! The OWLS will be playing various musical guessing games at the next get-together. Burgers, hot dogs, and root beer floats will be served. You may opt to bring a side item or dessert as well. Registration is required for this fun, first-time-ever, fellowship event. Sign up anytime via Communication Tab or by contacting Judy Mercer.
Night of Worship
Friday, May 5 • 7 PM • Join Bible Center Band for a night of singing, a night to celebrate, a night to worship.  This is a free event at the Southridge Campus.  Doors open at 6:30 PM, and families are welcome!
Save the Date: Hymn Sing
The Hymn Sing that was postponed due to bad weather has been rescheduled to May 21 at 6 PM. Please join us in another night of worship!