Pastor's Letter
Dear Friends,
Welcome to Bible Center! It's a joy having you with us.
As our 75th Anniversary draws closer (March 2018), it has been fun to dig through Bible Center history. Hanging on my office wall are the contents of hidden cornerstone memorabilia from our early location at 1418 Kanawha Boulevard. According to the church constitution from that time period, our official name was–and continues to be–"The City Bible Center." However, we referred to ourselves as "The City Bible Center Gospel Church." This same name can be seen in old pictures taken from our 1940's rented location on Hale Street (at the bottom of the Southside Bridge where City National Bank is now located).
The gospel is the heart of our current HopeFULL sermon series. We are walking through 10 New Testament passages that describe the gospel–Jesus' good news.
This morning you'll hear more good news: First, we'll share encouraging financial news that will strengthen us for years to come. Second, today is also the roll-out of our Beans and Rice initiative. We'll say more during the service, but in summary, let's try to eat less-expensively this week and bring the balance for a special benevolence offering next Sunday. All the proceeds will first go to serve hurting people within our church–at the discretion of our Benevolence Committee.
What do we want Charleston to think when they think of Bible Center Church? Good news! Specifically, we want the city to know the good news of Jesus.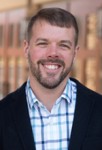 For the City,
Matt Friend • Senior Pastor
@PastorMattBCC
Next Sunday's Message:
Jesus Checked All the Boxes for Me
Hebrews 4:1-16
Announcements
Church Business Meeting
Sunday, April 9 • Following each morning service, a brief business meeting for the members of the church will be held.
Good Friday Service & Communion
April 14 • 7 PM • You're invited to bring the entire family as we observe Good Friday–the day that Christ was crucified and died for our sins. The evening will consist of music, a brief message from Pastor Matt, and communion. Please join us as we remember this important day.
Easter Service Times
On April 16, Easter Sunday, we are pleased to announce an additional service at 7:30 AM in the Worship Center, identical to the 9 AM and 10:45 AM services.
Tuesday Morning Ladies' Bible Study
Now until May 2 • 9:30-11 AM • Rm. 2104 What Love Is by Kelly Minter • The letters of 1, 2 & 3 John define love in the person of Jesus and call us to love like He loved. Led by Lisa Pack, join us in discovering what love truly is.
Teaching Position Open at BCS
Bible Center School has an opening for a Computer teacher. This position is for 3 days per week. Interested parties should contact Principal Josh Bacchus or call the school office at (304) 941-1704.
Spotlight Night (3rd-5th Grade)
Friday, March 31 • All 3rd-5th graders are invited to attend our Spotlight Night here at church. The event costs $5 each and includes the food, fun, and crazy rounds of Hide-N-Seek in our wooded North area. Don't forget to bring your flashlight! A flyer is available on our website and one was sent home with your child.
Alpine Bible Camp (8-11 years old)
If you couldn't make the meeting concerning some changes to Alpine Bible Camp, please contact Pastor Thompson or call the church number above. Applications are available online or at North and South Check-In Stations. Camp runs July 17-21. The registration deadline is April 23 and space is limited.
Keep Up With the Latest
If you would like to get weekly news updates, be notified of last minute schedule changes, or if you have questions about your BC Central account contact Jessica VonCrist.
OWLS Music Through the Ages
Friday, April 7 • 6 PM • The RIM at Bible Center School • $5 Pay at the door • Enjoy music from your earlier years! The OWLS will be playing various musical guessing games at the next get-together. Burgers, hot dogs, and root beer floats will be served. You may opt to bring a side item or dessert as well. Registration is required for this fun, first-time-ever, fellowship event. Questions? Contact Judy Mercer.
Sparks Family Picnic (3rd-5th Grade)
Friday, April 21 • 6:30 PM • Coonskin Park, Gorman Shelter • $5 per person • The entire family is invited to this time of fellowship and fun, which includes food, drinks, desserts, and games. For more information, check the BCC website or the flyer that was sent home with your Sparkie. The last day to register is Wednesday, April 19.
Save the Date: Night of Worship
Friday, May 5 • 7 PM • Join the Bible Center Band for a night of singing, a night to celebrate, a night to worship. This is a free event at the Worship Center. Doors open at 6:30 PM, and families are welcome!
Save the Date: Hymn Sing
The Hymn Sing that was postponed due to bad weather has been rescheduled to May 21 at 6 PM. Please join us in another night of worship!
Get Ready For Spring Training!
If you're interested in playing softball, Bible Center is now enrolling new players for men's and women's teams. Last season's players are automatically enrolled. Sign up sheets are at the Info Desk, and you may also sign up through the app. If you have any questions, email Dick Riffe, or call (304) 346-0431.