Saturday, March 18 • 9 AM – 1 PM
[su_vimeo url="https://vimeo.com/206449211″ width="480″ height="280″ autoplay="yes"]
Are you a group leader here?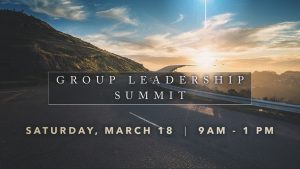 Do you lead or host an ABF, Community Group, or one of our ManUP! or women's groups, or just curious about it? If so, you're invited to the Group Leadership Summit–a day of training and encouragement! Pastor Matt and Pastor Bill want to equip you to lead your group in care, outreach, and discipleship.
Think of it as a learning lab!
It's our joy to welcome back Pastor Mike Graham from Louisville, KY. For over a decade he has launched, multiplied and pastored groups of all shapes and sizes.
What else do I need to know?
The Summit takes place in Room 3105 (top floor, same side as the elevator). There is no charge for this meeting; however, registration is required. Please sign up online or on the app. Breakfast and lunch will be provided, so come hungry! If you have any questions, contact Pastor Matt Friend or Pastor Bill Tanzey; or call the church office at (304) 346-0431.
Registration
Please register here so we can have printed materials, along with complementary breakfast and lunch, prepared for you.
Hope to see you there!