Bible Center Church is partnering with Union Mission Ministries and Lighthouse Ministries in Lakeland, Florida to provide much needed supplies to the victims of hurricane Irma.
Union Mission's goal is to fill 3 semi trailers full of the supplies listed below. PLEASE NOTE: The team in Lakeland has given Union Mission specific items that they desperately need. If you choose to help, please provide just the items listed.
Timeline
Donations of supplies to send to Florida will be received now through September 28th. The trucks will start heading south that weekend.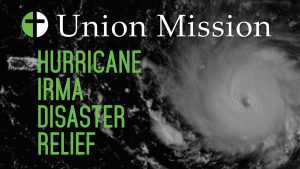 Immediate needs:
Bleach
Brooms
Mops
Lysol
Toilet Paper
Contractor Trash Bags
Sunscreen
Bug Spray
Tarps
Drop-off
If you would like to help, you can drop off your supplies at Union Mission's warehouse (the last large brick building on the left as you drive up South Park) at 700 South Park Road, Charleston WV Monday through Friday 8:00 AM to 4:30 PM. Any supplies dropped off at Bible Center Church will be taken to Union Mission, where the semis are located.
All items donated in addition to the specific items listed above and all donations received after September 28 deadline will be used to assist those served by Union Mission Ministries.