A Special Needs Room & Equipment…
As we minister more intentionally to families of children with special needs, we will be outfitting a designated classroom with equipment and safety items.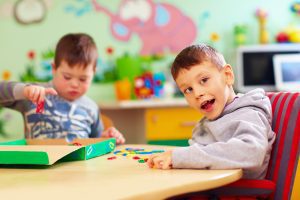 How You Can Help…
There are a number of ways you can give to this upcoming ministry:
Through the Bible Center app;
On BibleCenterChurch.com/give (choose Christmas Card Offering); by
Placing your gift in the offering basket during services; or by
Mailing or submitting a Christmas card with your donation in it.
Be sure to specify "Christmas Card Offering" on your gift.
Funds given beyond what's needed will be used to help launch this ministry and to build an accessible playground on the South lawn.
Below: The Ladybug Room as it appears currently.