Pastor's Letter
Dear Friends,
Welcome to 2018! I'm glad you've chosen to spend this Sunday with us.
This year the world anticipates: The Winter Olympics in Pyeongchang; Prince Harry's marriage to Meghan Markle; the birth of Prince William and Duchess Catherine's third child; the "Frozen" Broadway musical; The World Cup; flights to the moon for regular folks per the Moon Express; flights to Antarctica (as if it's not cold enough here!); Tesla's electric semi-truck; the 100th anniversary of the end of WWI and the 50th anniversary of the Civil Rights Act of 1968.
We're also praying for a colossal year for our church and city. Our vision is to be a church Charleston can't live without. (This includes our tri-county region, but "Charleston" is easier to say.)
We plan to launch a ministry to families with special needs and an adoption/foster care advocacy office. To create even more relational environments, we intend to build a park and fitness trail in the green space near our entrance, along with a fenced playground outside our children's ministry area.
On March 4th, we'll celebrate Bible Center's 75th birthday! Our three previous Senior Pastors have agreed to come back and speak, and we'll commemorate with picnics and parties on our campus and in downtown Charleston. Later in the spring, we're launching an effort to make sure we're a church Charleston can't live without for the next 75 years.
Whether you're recovering from a difficult 2017 or eagerly launching into 2018, pray that this will be a year to remember for you, your family and your friends!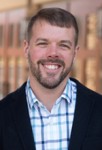 For the City,
Matt Friend • Senior Pastor
@PastorMattBCC
Next Sunday's Message:
When Jesus Flips Your World Upside Down
Luke 9:23-27

Announcements
Bible Center in 5
After every service, a staff member will take 5 minutes to share our church's vision and mission. If you're new, please meet at the front right of the Worship Center.
Pastoral Q & A
Each Sunday in January • 12-1 PM • Pastors Matt and John will be hosting a Q & A to launch the new year with strength. Come hear their heart for 2018 vision. Email questions to John King at JKing@BibleCenterChurch.com, or text your questions to (304) 984-6772.
Offering Envelopes
Today is the last day to get your personalized offering envelopes, which are in the Gathering Space. If you would like a set made, or if you miss getting them today, contact Kim Alvis.
Fitness with Friends
Jan. 9 to Feb. 15 • 6-7 PM • Bible Center School RAM Center • This women's exercise class will be held on Tuesdays and Thursdays for 6 weeks. Cost: $25. Come get fit with friends! Sign up by Jan. 13.
Dude Night
Friday, January 12 • 6:45-9:30 PM • Featuring… DadDudes comedy group! • FREE! • Snacks included • Fun definitely included • Other surprises throughout the night • Bring other dudes!
Snow Tubing (3rd-5th Grades)
Friday, January 12 • Join us for tubing fun at Winterplace! The $40/child cost includes tubing and a meal. Buses will depart Bible Center School at 3:30 PM and return around 11:30 PM. For questions, contact Pam Howie. Register by Wednesday, Jan. 10.
Beach Camp (6th-12th Grades)
June 18-22 • Myrtle Beach, SC • We are partnering with Student Life Beach Camp for four days of worship and Bible study in the sand and surf! Experience a combination of God's beautiful creation and an unforgettable time in Christian community. Anyone interested should attend our parent meeting on Sunday, Jan. 14, at 4 PM in the Worship Center. Register online.
Poinsettia Pick-Up
Thank you to all who helped decorate the church with beautiful poinsettias this year. Today is the last day to pick up your poinsettia. They are available throughout the Gathering Space. If you didn't order one last month, but would like one, please see Paula Toney.
45+ Singles Dessert Social
Saturday, Jan. 13 • 6:30-8:30 PM • Rm. 3101
Census
We need your help! Because we want to have your information correct in our database and in order to plan more effectively for ministry, please complete a census card (one per household), available in the chair pockets. Thank you!
Hymn Service Launch
Sunday, January 21 • 8-8:50 AM • Rm. 3105/06 (The Chapel) • Join us for a weekly worship service with traditional hymns accompanied by the piano. Pastor Matt will preach the same message as in the 9 AM and 10:30 AM services. Invite a friend who may feel more at home with this style.
Food Needed for UM Crossroads Dinner
Donate online, on the BCC app, or contact Sheri to volunteer, provide supplies or make a monetary donation for the dinner which will be held on Thursday, Jan. 25. Volunteers should arrive at 4 PM (new time) to help serve & clean-up.
Special Needs Ministry Info/Training Meeting
Sunday, Jan. 28 • 11:45 AM • A short meeting will be held for anyone who would like information about serving in our Special Needs Ministry. No experience required. We are looking for classroom buddies, teachers, greeters/administrators, and musicians of all ages. There are opportunities to serve weekly/monthly on Sundays and/or Wednesdays along with special events throughout the year. Register if you plan to attend.
Save the Date!
Girlfriends Get 2gether: Keep Calm & Color On: Friday, Feb. 2 • 7 PM • Relax, unwind, and color! Details to come.
Pastor Matt's Books
If you'd like to see a list of all the books Pastor Matt has recommended in his sermons, go to BibleCenterChurch.com/books.