Pastor's Letter
Dear Friends,
If you're reading this before the service begins—feel free to relax, grab a cup of coffee, introduce yourself to someone nearby, and let the service speak to your heart.
Is there a neighbor, friend, coworker, or family member you could invite back next Sunday? Three identical Easter services (7:30, 9:00, and 10:30 AM) provide a great opportunity to invite someone to church.
As always, we'll have incredible music led by our worship team and a Bible message focused on Jesus' relentless love. This year, I'll be telling the resurrection story in a new way.
As we invite folks this week, let's remember last week's quote from Katie Wetherbee & Jolene Philo: "Inclusion has to be more than just geography. It has to be cardiology, studied and felt in the heart." In other words, inviting someone into our auditorium is vastly different than inviting them into our lives. Jesus modeled this when He ate with His friends, partied with His neighbors, and walked slowly with those who needed Him most.
What neighbor, friend, coworker, or family member comes to mind? Consider inviting them to next Sunday's service and sharing Easter lunch afterward. Some have already told me they plan to enjoy breakfast beforehand. One of our young dads has 16 friends and family members committed to come with him next Sunday! The ushers will be handing out Easter invite cards at the doors as you exit, so feel free to take as many as you'd like.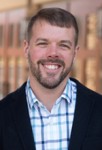 #ForCharlieWest,
Matt Friend • Senior Pastor
@PastorMattBCC
Announcements
Sunday All-in Launch Volunteers
Volunteers are needed for the All-in launch Launch Service on April 29 at the Municipal Auditorium. To sign up, text "Allin" to (304) 244-3298.
Bible Center in 5 (BC in 5)
Whether you're a first-time guest or you've been attending for a while, you're invited to meet Jane Jackson-Fowler at the Connect Table in the Gathering Space after the 9 or 10:30 services. She is available to answer questions or to help you get more connected.
One-Line Constitutional Revision
Our Elders have voted to remove the following (Article V. C. 3. c.): "An individual cannot serve more than six years in any combination of church offices before a sabbatical of at least one year must be taken." While a leader is still limited to six consecutive years on any one Board, this revision allows a retiring Deacon to be nominated as an Elder, should it be the Lord's will. Pastor Matt and the Elders are available to answer questions in the Gathering Space and/or at front of the Worship Center after each service between now and April 15.
New Workshop: How to Share Your Faith
Mar. 28, Apr. 11, and 18 • 6:30 PM • Rm. 3105/06 • Do you struggle to share your faith with someone? We all do! In this class, you'll learn both the message and the method of evangelism, so you can feel confident when sharing your faith. Led by Nick Munoz.
Men's Breakfast at Shoney's
Tuesday, Apr. 3 • 7:30 AM • Dutch treat • Guest speaker: Mike Graham, Group Life Pastor. All men are invited!
Fitness with Friends (Ladies)
Tuesdays & Thursdays • Apr. 10-May 17 • 6-7 PM • Lunchroom (A-209), Bible Center School • Ladies, bring your mats and get fit for spring at this 6-week yoga class, led by Poozie Null. Cost is $25. You may join anytime throughout the session. Register online or on the app.
We'd Love to Pray With You!
For prayer and counsel, please join Pastor Dick Riffe in our prayer room, located toward the back of the Worship Center. At the conclusion of the 9 and 10:30 AM services, the side doors will open and all are welcome.
Celebrate, Charleston! Special Needs Prom
Friday, April 13 • 7-9 PM • Enjoy a fun evening of friendship, music, dancing, and food to celebrate with students ages 14+ who are affected by special needs. In partnership with the Charleston Police Department and Chick-fil-A Southridge, Bible Center host a prom for students affected by special needs. If you'd like to register as an attendee or as a volunteer, go online or on the app. Contact Emily King  for more info. Doors open 6:30 PM.
Alpine Camp (Ages 8-11)
July 23-27 • It's that time again! Summer camp will be here before you know it. Registration forms and $50 deposit are due by Sunday, Apr. 22. Space is limited. Forms are available online or in BASE Camp.
Save the Date: How to Study Your Bible Workshop
Friday, May 18 • 6:30-9 PM • Worship Center • Learn how to get the most out of reading your Bible. Everyone is invited to this 1-day workshop. Activities for students and children will be provided on the first floor.
All-in Email List
Sign up for Pastor Matt's weekly "All-in" email update on the App under Events & Sign Up > Subscribe.
Pastor Matt's Books
If you'd like to see a list of all the books Pastor Matt has recommended in his sermons, go to BibleCenterChurch.com/books.