Dear Friends,
Welcome to church!
Today is sermon #4 in our 6-week Relationship Goals series, walking verse-by-verse through Solomon's Song of Songs. Let me invite you to listen or watch the first three messages on our app or website.
By way of review, Solomon and his young bride enjoyed God's gift of attraction (chapter 1), strengthened their friendship through a season of dating/courting (chapter 2), experienced a royal wedding of epic proportions (chapter 3), and relished in their wedding night (chapters 3-4). Our story picks up today with their first recorded conflict. Amazingly, 20% of Solomon's Song of Songs involves conflict!
How do they view their conflict? How do they resolve it? How does God invite us to view and resolve our disagreements today: in our homes, at work, at church, with friends, with extended family members? That's what we'll study today from chapters 5-6.
You're invited back next Sunday to hear Pastor Shawn Thornton speak on the importance of life-giving words in all our relationships. Shawn served as Bible Center's 4th Senior from 1997 until 2008 upon being called to Pastor Calvary Community Church in Westlake Village, CA. You won't want to miss his message!
PG-13 Advisory – Due to the nature of Solomon's Song of Songs, parental discretion is advised. If you haven't yet done so, please check your children into our children's ministry department downstairs. Leaders are waiting and happy to assist.
Growing with you,
Matt Friend • Senior Pastor
@PastorMattBCC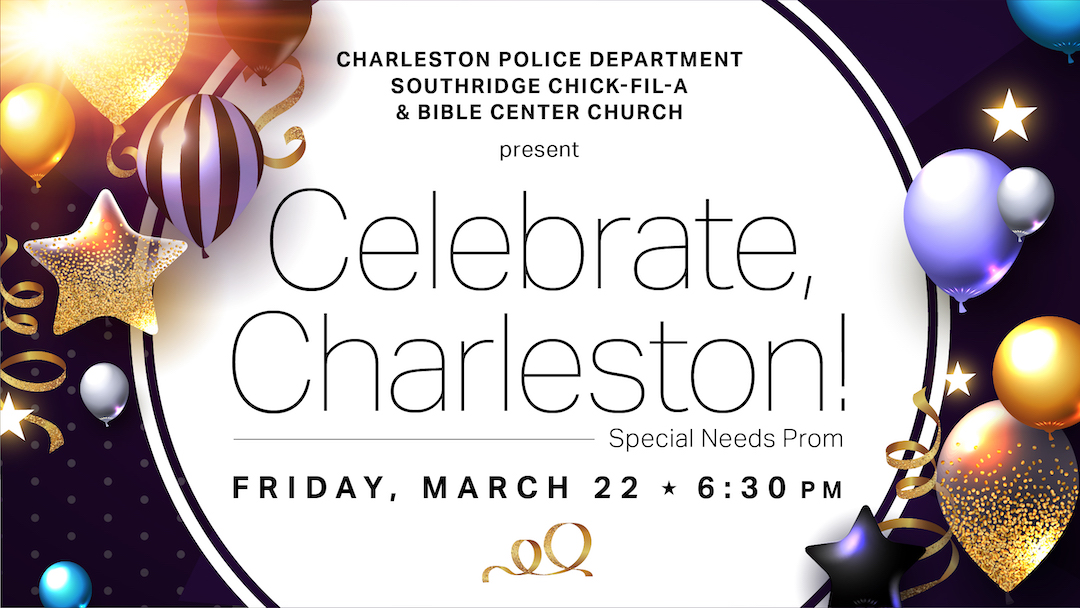 Charleston Police Department, Chick-Fil-A, & Bible Center Church present:
Celebrate, Charleston! Special Needs Prom
Friday, March 22  ⎢  6:30-9PM
Enjoy a fun evening of friendship, music, and dancing. Bible Center is pleased to host the second annual prom for those affected by special needs. Register to attend or volunteer. For questions, contact Special Needs Director Emily King.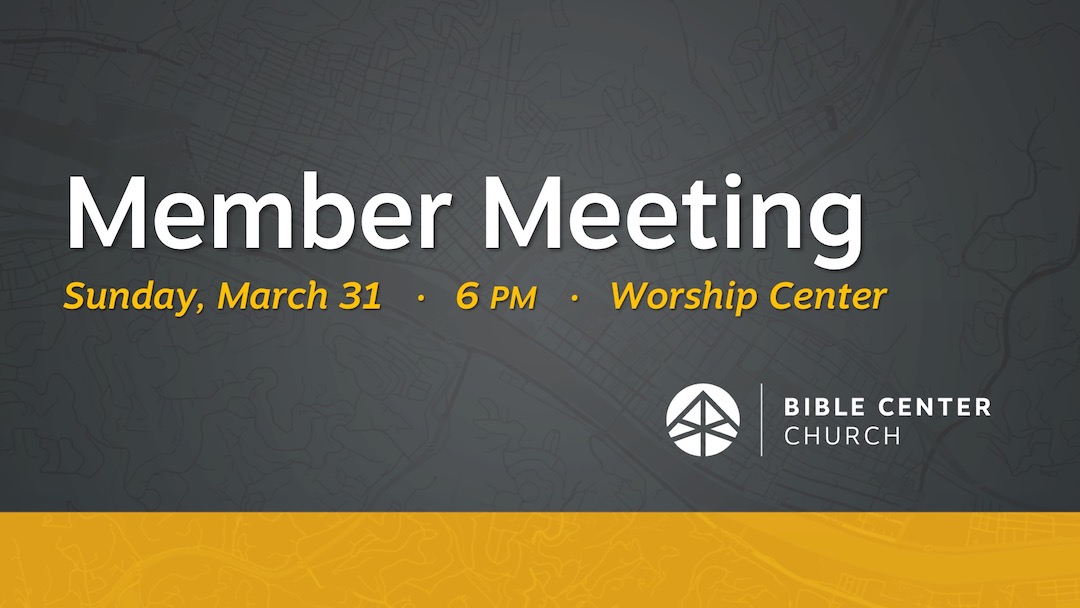 Sunday, Mar. 31 • 6 PM • Worship Center
Make plans to join us as our Senior Pastor and Elder Board share their hearts and clarify our vision for the decades ahead. In addition to our other communications (bulletin, app, social media, website, All-in! email), these meetings help explain the Why? behind what we do. Regular attenders interested in membership are invited. We'll also celebrate Pastor Caleb's (belated) 10-year staff anniversary with cake and ice cream!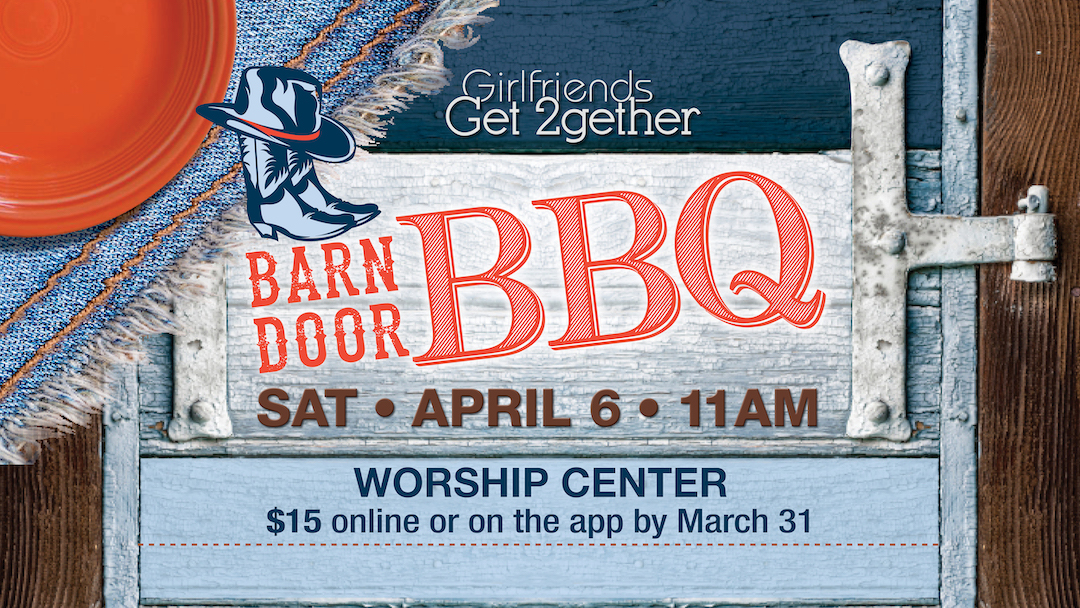 Barn Door BBQ Women's Event
We're bringing the barn indoors for a fun lunch with a farmhouse chic theme. Invite a friend or neighbor to join us.  Let's reach every neighborhood in our city! Learn more, and sign up today!
CHURCH LIFE 
GO Team Moldova Info Meeting
Sunday, Mar. 17 • 10:15 AM & 12:15 PM • Front of Worship Center • A meeting will be held for this summer's Global Outreach (GO) Team (Jun. 27-Jul. 8). Join Pastor Ted as he leads his 20th team to Moldova, the poorest country in Europe. Contact Ted with questions.
God Almighty Core Class (Part of the Bible Doctrine Series)
Mar. 21 & 28 • 6:15 AM, 12, or 6:15 PM • Registration Preferred • Study Guide $5
Info Meeting: Israel Trip 2020
Pastor Matt & Sarah would love for you to join them in Israel for 10 days in February of 2020! Plan to attend the info meeting with Matt and Shawn on Sunday, Mar. 24, at 5 PM in rm. 3105/06.
Community Easter Egg Hunt
Think Trunk or Treat, only in the Spring! We need your help to welcome our community for our Easter Egg Hunt on Saturday, Apr. 20 from 11 AM-1:30 PM. Held in partnership with Chick-fil-A and V100. Sign up on the website or app to help. Individually wrapped candy can be dropped off in the Gathering Space. For questions, contact Jane.
---
CHILDREN AND STUDENTS
Celebrate, Charleston! Special Needs Prom
Friday, Mar. 22 • 6:30 PM • Enjoy a fun evening of friendship, music, and dancing. Register online. For questions, contact Special Needs Director Emily King.
Beach Camp (Current 6th-12th Graders)
June 17-21 • Students are invited to worship and Bible study in the sand and surf! Experience a combination of God's beautiful creation during this life-changing week. A $60 deposit is due by Mar. 24. Register online.
AWANA: Carnival Night (Grades K-5)
Wednesday, Mar. 27 • 6:30 PM • Step right up! Join us for food, games, and fun–invite your friends, too!
---
BELONG
Fitness With Friends: Led by Poozie Null (Women's)
Mondays & Thursdays • Mar. 18-May 2 • the RIM, School Campus • $30 • Online or app registration. Contact Paula Toney for questions.
New Divorce Group Coming Soon
Monday, April 1 • 6 PM • 1st & 3rd Mondays of each month • At the home of Jeff McLaughlin (33 Coventry Woods, So. Chas., 25309, (681) 205-3906) • For those who have gone through divorce and find themselves asking, "Where do I go from here?" This group is not for those considering or currently in the midst of divorce, but for those needing support and encouragement after a marriage has dissolved. For questions, call/text Dan Miller (304) 549-9982 or Bob Jones (304) 741-4380.
Save the Date: Global Leadership Summit
Thursday & Friday, Aug. 8 & 9 • Fresh, actionable and inspiring leadership content from a world-class faculty. No matter where your influence is—in your family, school, work or church—you are invited to learn how to maximize it.