Dear Friends,
Welcome to church! I'm so glad you're here. I hope you'll grab a cup of coffee and make yourself at home. You're among friends.
Today we continue our 6-week series, walking verse-by-verse through Solomon's Song of Songs.
Last Sunday we learned that intimacy, attraction, and relationships are God's gifts to us (1:1-6). Today we'll study one of the most beautiful, romantic, dating conversations ever penned (1:7-3:5). This story includes something for everybody––single or married, dating or engaged, young or old. Over the next four weeks we'll discuss:
March 10: Enjoy Better Sex (3:6-5:1)
March 17: Pursue Peace (5:2-6:13)
March 24: Choose Life-Giving Words (Proverbs) – Pastor Shawn Thornton
March 31: Want More (7:1-8:14)
Are you satisfied with your social life? Your dating life? Your married life? Your sex life? Join me in asking God to transform our relationships.
You'll also want to check out the many relationship resources available on our website and app (Relationship Resources). There you'll find book recommendations, videos, gift ideas, conferences ideas, and even a cruise recommendation!
PG-13 Advisory – Due to the nature of Solomon's Song of Songs, parental discretion is advised. If you haven't yet done so, please check your children into our children's ministry department downstairs. Leaders are waiting and happy to assist.
With you for gospel-centered relationships,
Matt Friend • Senior Pastor
@PastorMattBCC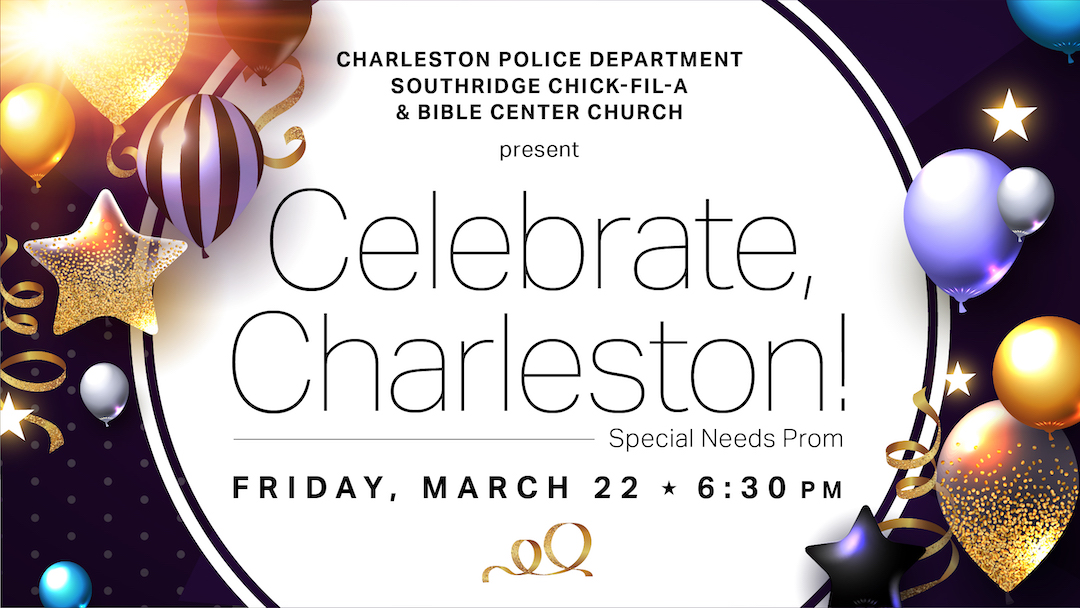 Charleston Police Department, Chick-Fil-A, & Bible Center Church present:
Celebrate, Charleston! Special Needs Prom
Friday, March 22  ⎢  6:30-9:00 PM
Enjoy a fun evening of friendship, music, and dancing. Bible Center is pleased to host the second annual prom for those affected by special needs. Register to attend or volunteer. For questions, contact Special Needs Director Emily King.
CHURCH LIFE 
Baptism Class
We are currently scheduling baptisms for several Sundays in March and April. If you're interested in being baptized, plan to attend the baptism class today after either service (10:15-10:45 AM or 12:15-12:45 PM) in the Living Room (rm. 2101), just down the hall from the fireplace. Pastors Matt Friend and Steve Neill will explain what baptism is and will be available for questions.
Nominating Committee
Church members are invited to submit names for consideration for the positions of Deacons and Elders for the new fiscal year starting July 1. Email Jane, submit a Connection Card, or use the app.
Celebrate Recovery: Open House
Tuesday, Mar. 5 • 7 PM • Everyone struggles with something—guilt, abuse, anger, drugs/alcohol—to name a few. Don't suffer alone; gain support from people who understand, and meet others who struggle with the same things. Confidentiality is a priority. Visit BibleCenterChurch.com/CR, or contact Pastor Ted Tanzey, a licensed counselor.
Upcoming Core Class: God Almighty (2nd in the Bible Doctrine Series)
Mar. 14, 21 & 28 • 6:15 AM, noon, or 6:15 PM • Study guide: $5, 50 Core Truths (used for all 2019 Core Classes): $20 • Register online or on the app. Contact Sheri Skidmore with questions.
Member Meeting
Sunday, Mar. 31 • 6 PM • Worship Center • Make plans to join us as our Senior Pastor and Elder Board share their hearts and clarify our vision for the decades ahead. In addition to our other communications (bulletin, app, social media, website, All-in! email), these meetings help explain the Why? behind what we do. Regular attenders interested in membership are invited. We'll also celebrate Pastor Caleb's (belated) 10-year staff anniversary with cake and ice cream!
---
SERVE 
Union Mission Crossroads
BCC will be serving two meals per month at Crossroads. Partner with us to show the love of Christ. Servers are needed on Mar. 7 & 28 (arrive at 4 PM) in addition to donated items and monetary contributions. Sign up online or contact Sheri Skidmore.
---
BIBLE CENTER SCHOOL 
BCS Annual Fundraiser: Technology Vision 2020
Thursday, Mar. 14 • 6-7:30 PM • Great things are happening! Our fundraiser will focus on taking students to the next level in learning through new technologies like 3D printing and AR/VR tools. Join us for fun and the opportunity to see and experience these new resources firsthand. Everyone will be encouraged to donate online as we continue to pursue academic excellence.
---
STUDENTS 
Beach Camp (Current 6th-12th Graders)
June 17-21 • Students are invited to worship and Bible study in the sand and surf! Experience a combination of God's beautiful creation during this life-changing week. A $60 deposit is due by Mar. 24. Register online.