Dear Friends,
Today is the final sermon in our 6-week Relationship Goals series, walking verse-by-verse through Solomon's Song of Songs. Feel free to watch or listen to the first five messages on our app or website.
By way of review, Solomon and his young bride have enjoyed God's gift of attraction (chapter 1), grown through a season of dating/courting (chapter 2), experienced a royal wedding of epic proportions (chapter 3), relished in their wedding night (chapters 3-4), and survived their first argument (chapters 5-6). Our story concludes today with their determination to never settle for the status quo (chapters 7-8). Today's message applies to all our friendships and relationships.
If you're a member here or have plans to be in the future, join me this evening (6 PM) for our spring Member Meeting. We're a family, so this is one of those times when we gather as a committed, covenant family in the auditorium as if it were one big living room. We're working hard to keep the program to an hour, but feel free to bring an iPad or coloring book for the little kids. The more babies the better!
I'll be sharing a few things the Lord has placed on my heart for our upcoming year, and our Elder and Deacon chairmen will also provide an update. We'll conclude the meeting with cake and ice cream to celebrate Pastor Caleb's belated 10-year staff anniversary, so please consider bringing a note of appreciation for him and Tiffany.
PG-13 Advisory – Due to the nature of Solomon's Song of Songs, parental discretion is advised. If you haven't yet done so, please check your children into our children's ministry department downstairs. Leaders are waiting and happy to assist.
Love,
Matt Friend • Senior Pastor
@PastorMattBCC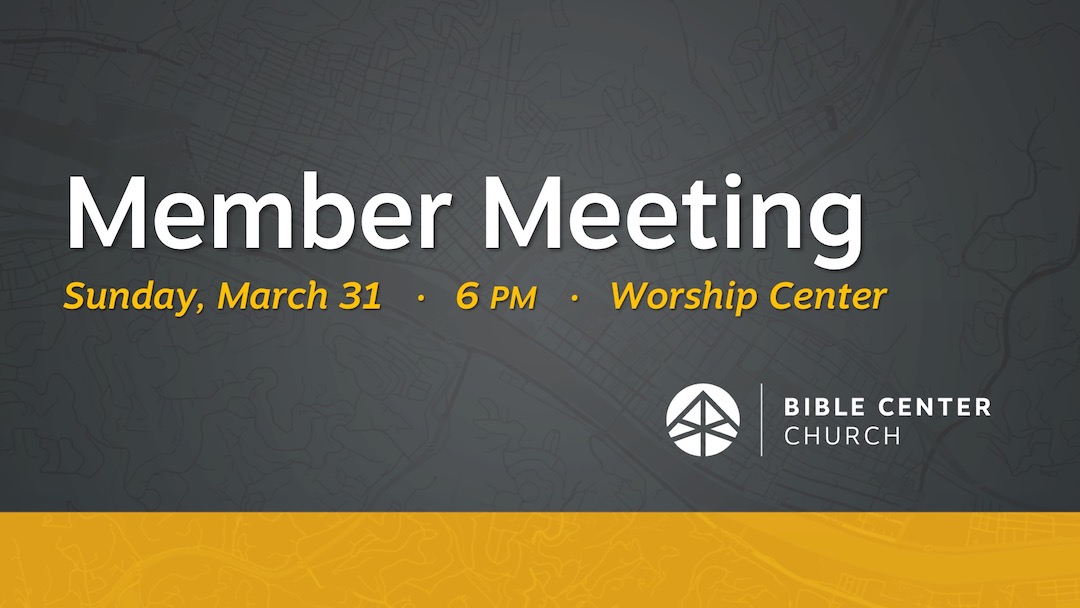 TONIGHT • 6 PM • Worship Center
Make plans to join us as our Senior Pastor and Elder Board share their hearts and clarify our vision for the decades ahead. In addition to our other communications (bulletin, app, social media, website, All-in! email), these meetings help explain the Why? behind what we do. Regular attenders interested in membership are invited. We'll also celebrate Pastor Caleb's (belated) 10-year staff anniversary with cake and ice cream!
Help us welcome our community!
Sign up to: 
• Donate candy (drop off in the lobby). How much? Think Trunk or Treat, but in the Spring!
• Stuff eggs on April 13 at 9-11 AM.
• Help with set-up & tear-down, parking, prizes, first aid, face-painting, refreshments, the Petting Zoo, and more!
For questions, contact Jane.
CHURCH LIFE 
God's Creation Core Class (3rd in the Bible Doctrine Series)
1 NIGHT ONLY: Friday, Apr. 12 • 6:30 PM • Worship Center
God spoke it all into being, and He sustains every molecule and every galaxy! How can everything be so beautiful and broken at the same time? Join us as Pastor Mike tells us what the Bible says about angels, demons, the world, and man (dignity & depravity). God's Creation Study Guide $5. Registration Preferred.
Good Friday Communion Service, April 19
Join us for a time to reflect on Christ's death as we prepare to celebrate His resurrection. Gluten-free communion wafers and juice will be available at the bookcases on both sides of Worship Center for you to pick up if needed.
Matt Maher Concert
Thursday, April 25 • 7:30 PM
Come for an intimate evening of praise and worship to our Lord. Matt and his friends will encourage and uplift you with songs like, "Lord, I Need You," "All The People Said Amen," and "Your Grace Is Enough." Tickets on sale now. Doors open 6:30 PM.
---
 BELONG
Girlfriends Get 2Gether: Barn Yard BBQ (Women)
Saturday, Apr. 6 • 11 AM • Worship Center
We're bringing the barn indoors for a fun lunch with a farmhouse chic theme. Invite a friend or neighbor to join us. Let's reach every neighborhood in our city! You can wear boots, blue jeans and pearls, or even your favorite cowgirl hat. Enjoy corn hole, giant Jenga, and even a line dancing lesson if you're game. Purchase your tickets by Mar. 31 online, on the BCC app, or in the Lobby. $15, full lunch included.
New Divorce Group
Monday, April 1 • 6 PM • 1st & 3rd Mondays of each month • At the home of Jeff McLaughlin (33 Coventry Woods, So. Chas., 25309, (681) 205-3906)
For those who have gone through divorce and find themselves asking, "Where do I go from here?" This group is not for those considering or currently in the midst of divorce, but for those needing support and encouragement after a marriage has dissolved. For questions, call/text Dan Miller (304) 549-9982 or Bob Jones (304) 741-4380.
Men's Breakfast
Saturday, Apr. 6 • 8 AM • Ryan's Buffet (Southridge) • All men invited!
Speaker: Bob Jones, BCC Deacon. Dutch treat.
GEMS Luncheon: Lunch & Lemonade (Widows)
Saturday, Apr. 27 • 12:30 PM
Special entertainment by SH-BOOM. RSVP by Apr. 10. Contact Judy for questions.
---
CHILDREN AND STUDENTS

AWANA Save the Dates:
• April 17 – No AWANA (Easter Break)
• April 24 – Closing Program
Egg Hunt Stuffing Party (Middle & High School)
Saturday, April 13 • 9-11 AM • Gathering Space
Need some community service hours??? Help stuff eggs for our Easter Egg Hunt! Just show up.