It's 3 AM and you're still awake. You've tried everything to fall asleep, but you can't. Netflix is playing your favorite sit com on repeat, but you're still wide awake.
Could it be because of something you ate for dinner? Possibly. Should you have eaten the pickle and peanut butter pizza as a bedtime snack? Probably not.
But there's something else gnawing at your soul… fear. You're afraid. Waves of terror crash upon the beach of your mind:
Will I still have my job a year from now?
Who will help my hurting child?
Will I ever find Mr. Right?
How can I ever afford to pay all my bills?
Will my marriage survive this month?
How can these fears—or a thousand like them—be overcome?
The #1 way to overcome any fear is to fear something else even more.
How did we overcome the fear of going to school as children? We learned to fear something greater: growing up without an education.
How do we (still!) overcome the fear of going to the dentist? By fearing the decay and loss of all our teeth.
The people in our church have come to believe the words of the Bible that teach, "The fear of the Lord is the beginning of wisdom." It's not that they are fearful in the sense of being scared, but they are learning to respect, reverence, and honor God as a strong, caring, Heavenly Father who promises to protect and care. Jesus put it this way:
Therefore I tell you, do not worry about your life, what you will eat or drink; or about your body, what you will wear. Is not life more than food, and the body more than clothes? Look at the birds of the air; they do not sow or reap or store away in barns, and yet your heavenly Father feeds them. Are you not much more valuable than they? Can any one of you by worrying add a single hour to your life?
And why do you worry about clothes? See how the flowers of the field grow. They do not labor or spin. Yet I tell you that not even Solomon in all his splendor was dressed like one of these. If that is how God clothes the grass of the field, which is here today and tomorrow is thrown into the fire, will he not much more clothe you—you of little faith? So do not worry, saying, "What shall we eat?" or "What shall we drink?" or "What shall we wear?" For the pagans run after all these things, and your heavenly Father knows that you need them.
But seek first his kingdom and his righteousness, and all these things will be given to you as well. Therefore do not worry about tomorrow, for tomorrow will worry about itself. Each day has enough trouble of its own. –Matthew 6:25-34
God created all things. Though fear sometimes gets the best of us and we all doubt His promises, Jesus offers us fulfillment, forgiveness, and peace through His death and resurrection.
Though fear sometimes gets the best of us and we all doubt His promises, Jesus offers us fulfillment, forgiveness, and peace through His death and resurrection.
Click To Tweet
One day in the future, fear will knock at our doors no more. God promises to make all things right in the world to come. Whether that's your conclusion or not, maybe the best thing you can do today is try seeking the Lord. Whisper a prayer to Him… or shout if you want to. Ask Him for a healthy, eternal fear (respect, trust, awe) so that every other fear can be kept at bay. Tell Jesus you want Him to be the Lord of your life.
If your experience is like so many others, this will feel more like love… and perfect love casts out fear.
Perfect love casts out fear. -1 John 4:18
Click To Tweet
Matt Friend serves as the Senior Pastor at Bible Center Church and is a native of Charleston, WV who loves to read and run. He and his wife (and high school sweetheart!), Sarah, are raising two teenage daughters, Katie and Riley.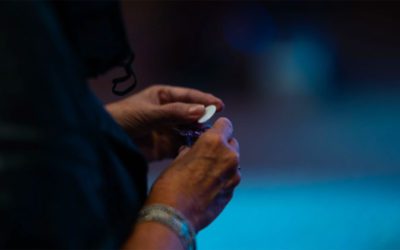 he church service is almost over. Stomachs are growling, infants are weepy, and the clock is ticking. It's at this point every week that I ask the congregation to take a minute of prayerful contemplation and self-examination, and then I...