Dear Friends,
Welcome to church! With this year's Trunk or Treat only a week away, Sarah and I are thrilled to host a trunk with our community group and enjoy this event with our entire church family. Why host this event again this year? Because…
It gives us all an opportunity to make new friends. Last year we hosted several thousand people, most of whom were children.
It's a living billboard for the love of Jesus. City and cultural rhythms like holidays give us the opportunity to connect with people where they live.
It gives us an opportunity to share the gospel. Our Gospel tracts will be given again this year.
It gives us an opportunity to leave the classroom and serve real people. People will only care how much we know when they know how much we care.
It positions us in the long line of church history. Did you know that Halloween (All Hallows Eve) was first a Christian idea? Halloween can be for us—like the early Christian church—an open door for sharing Christ. Halloween is not a time to curse the darkness, but a time to light a candle.
We'll have fun together. God invented fun, and He encourages us to enjoy life's simple pleasures. Even unbelievers were attracted to Jesus' joy.
Plan to attend! Decorate your car! Donate bags of candy! Involve your family or community group! Volunteer to serve!
With you for the gospel and for the city,
Matt Friend • Senior Pastor
@PastorMattBCC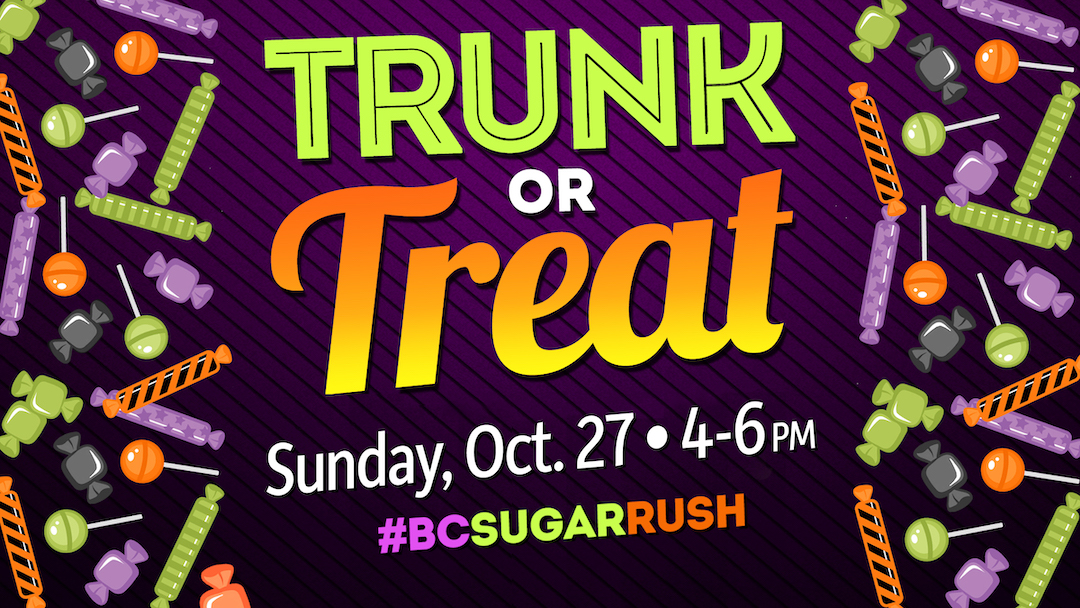 Trunk or Treat | Sunday | October 27 | 4-6 PM
Trunk or Treat will be here soon, and Bible Center and V100 Radio are excited to welcome the city once again! Here are the ways in which you can welcome new parents and kids:
Decorate a car
Candy donations
Guest info
First-aid
Fire pit/marshmallow roasting
Set-up or Tear-down
Parking & traffic flow
Candy runner
Drop off candy any time in the lobby. Invitations are available at the Info Desk. Take as many as you need!
CHURCH LIFE
Info Meeting: Israel Trip 2020
Tonight• 4 PM • Rm. 3101/02 • Pastor Matt & Sarah would love for you to join them in Israel on Feb. 11-21! Details at
BibleCenterChurch.com/events.
Core Class: Salvation
Thursdays, ends November 7 • 6:15 AM, Noon, or 6:15 PM • Room 3105/06 • No sin is too great and no person is too broken for the saving work of Jesus. How does an act from 2000 years ago change me today? How does saving faith continue to transform me daily? Registration preferred. Workbook: $5.
You're Invited!
Saturday, November 2 • Gathering Space • The family of Hazel Hess invites you to her 90th birthday celebration. Drop in any time between 2-4 PM.
---
SCHOOL
BCS Employment Opportunities
Lunchroom Supervisor • Library Helper • Aftercare Attendant (appropriate for high school or college student) • Aftercare Coordinator (Part-time) • Email Principal Stephanie Schafer.
Save the Dates!
BCS Veterans Day Program: November 11 • 10 AM • Bible Center Church
Annual Fundraiser Gala: January 31 • 6 PM
---
BELONG
Find Belonging in a Group
Group leaders will be available at the Group Wall after both services for anyone who'd like to know more about smaller settings for study, fun, and friendship.
Cozy Around the Campfire (Women)
Friday November 8 • 7 PM • Free • Join us at the fire pit for an evening of singing, story-telling, and roasting hot dogs and marshmallows. Bring a lawn chair, blanket, and friend! RSVP by Nov. 1.
---
SERVE
Family Ministry Volunteers
Would you like to change the world? Want to make an eternal difference in the life of a kid or student? Stop by our table in the lobby to find out how! Opportunities are available to serve—birth-12th grade and Special Needs.
The Maker's Center Work Days
October 26 • 8 AM-4 PM • 602 Patrick St., Charleston • Painting, cleaning, demo, removing trash, etc. Drop by for an hour, or stay all day!
---
FAMILY
Info Meeting: Spring Break Mission Trip (High School)
Today after both services—15 minutes max! • High School Room (2104) • Parents, we'd love to have your student join us in Jamaica this spring on our mission trip! Find out what we'll be doing, how much it will cost, and more!
HSM PRTY  (High School)
Tonight • 6-8 PM • At Mitri & Heather Ghareeb's home. Everyone's welcome! Contact Pastor Matt for the address.
HSM Leadership Retreat (High School)
October 25-27 • $30 due today • Paddle board, kayak, fish, and swim in the Greenbrier River! We'll leave the school campus at 5 PM and return to the church at noon. Questions? Email Pastor Matt. Registration available now.
Insomnia (High School & Middle School)
Friday, November 15 • 9:30 PM-7 AM (Saturday) • Bible Center School • Join us for escape rooms, Sky Zone, bowling, swimming, and more! Sign up today. Questions? Contact Pastors Matt or Josh. Cost: Now-Nov. 8: $50; Nov. 8-14: $60.
Parent Workshop: How to Talk to Your Kids About Sexuality
Wednesday, October 23 • 6-7:30 PM • Middle School Room (1105/06) • Led by Pastor Steve Neill, this evening will be geared toward parents of young kids through teenagers with the goals of removing fear and giving confidence when presenting a biblical worldview of sex and sexuality to your kids.
Child Dedication
Sunday, November 10 • Register online or on the app today. For questions, email or text Jess Backus (304) 941-2836).