Dear Friends,
Welcome to church! We're so glad you're here.
Today is a big day… not only for our furry friend to the north, Punxsutawney Phil, but also for us. It's our privilege to celebrate Bible Center School Sunday with so many of our school families in attendance.
BCS launched in 1981 to assist parents in pursuing academic excellence for their children—and to develop students with passionate hearts fully surrendered to God, minds trained to think biblically, and hands ready to serve others. For 39 years, God has grown us in that mission.
Today I'll be sharing a message titled, Praying for Bible Center School. Why would God invite us all to pray for BCS? How can we all specifically pray for BCS?
I realize we all have different relationships with BCS. Some have sent all their children and grandchildren to BCS, and wouldn't think of any other school. Others have felt led of God to send their children to other good public and private schools, or to take advantage of the many home school options available. For some, their kids have long passed school age. Others faithfully serve as teachers and administrators in other good schools. My simple goal today is for us to unify around Jesus' invitation to pray.
Let me invite you to join us back here next Sunday as we launch our new spring series titled, Snapshots of Spiritual Friendship. Join us each Sunday as we catch a glimpse of the practical side of Christianity.
Love in Jesus,
Matt Friend • Senior Pastor
@PastorMattBCC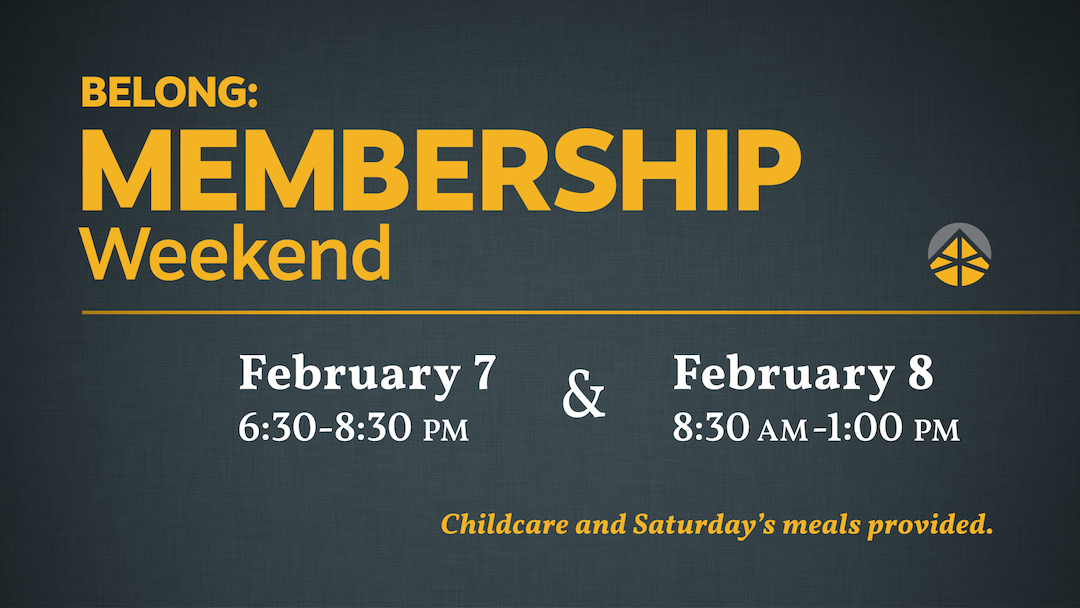 Belong: Membership Weekend
Friday, Feb. 7, 6:30-8:30 PM
Saturday, Feb. 8, 8:30 AM-1:00 PM
Learn more about BCC, what we believe, the Ministry Staff, or becoming a member! Joining the church is not required at the end of the event, nor will pressure to join be placed on you. In the future, if you do decide to join, you'll already have the required class completed!
Free event.

Registration preferred. Spouses, register separately.

Saturday's meals provided.  

Child care provided. Only 1 person needed to input child info.

Contact Jane  with questions. 
Church Life
Celebrate Recovery: New Time (with Light Dinner)
Beginning February 4, CR will start at 5:30 PM with dinner. Large group: 6:30 PM; small groups: 7:30 PM; dismissal: 8:30 PM. Email Poozie for info. CR is for everyone with hurts, habits, or hang-ups.
Baptism Class
Wednesday, February 5 • 6:30-7:30 PM • Rm. 3104 • While children's and student ministries enjoy their scheduled programming, Pastor Matt will teach a class for anyone interested in baptism (what it is, what to expect, etc.). Simply show up or email questions to Pastor Matt. Our next Baptism Sunday is February 9.
Open House: Bible Center School (Preschool – 8th Grade)
Thursday, Feb. 6 • 6 PM • School campus (1111 Oakhurst Dr., across from Ashton Place) • BCS has begun enrolling for Fall 2020, and everyone's invited to the Open House! Meet the faculty and staff, and tour the facility! Call the school office for questions (304-941-1704). Note: Preschoolers enroll throughout the year.
Financial Peace – Free 1st Session
Sundays, February 9-April 5 • 6:00-7:30 PM • Dave Ramsey & Team will walk you through budgeting, dumping debt, planning for the future, and more. Register today! Not sure if you're ready to dive in? Preview the first session for free! Questions? Contact Jane.
Spiritual Gifts Workshop
Saturday, February 22 • 9 AM-12:30 PM • $10, lunch incl. • What are spiritual gifts? Does everyone have one? What is yours? How can you find your sweet spot in ministry? All these questions will be discussed and answered—don't miss out! Led by Pastors Mike and John. Registration preferred.
---
Serve
Supplies Needed for Crossroads Dinners
Sign up online to contribute food items, paper products, or make a monetary donation for dinners at Union Mission. Your contributions provide two meals/month. Contact Sheri for more info.
---
Kids
Sunday Funday (4th & 5th Grades)
February 23 • Approx. 12:15 PM • Bring money for food. • All 4th- and 5th-grade children are invited to SkyZone! Children will meet at BASE Camp (rm. 1102A) at the conclusion of the second service and leave together in church buses. Parents may pick up their child at SkyZone at 3 PM. Sign up online or on the app. 
---
Belong
GEMS Luncheon (Widows)
Saturday, February 8 • 12-2 PM • Panera (Southridge) • All are invited! Dutch treat. RSVP to Suzanne Lackey (304-610-3034) or just join us!
A Special Invitation for All BCC Ladies
Monday, February 10 • 6:30 PM • Lobby • There are so many ways to build each other up in our faith and to share it with the women in our city. Come listen or share ideas about how to navigate our next steps in 2020. Let's dream together! Light snacks provided; RSVP for yourself or a whole group.