The global response to the Coronavirus Pandemic has been as varied as the millions of virus-types in the world today.
Some cope by sharing memes, such as the hypothetical episode of The Office where: Michael ignores corporate's "work from home" memo (because he thinks everyone should stick together); Dwight claims genetic immunity; Angela wears a hazmat suit; Creed is somehow Patient Zero; Stanley enjoys a video conference from the beach; and Andy loses his mind while scouring WebMD.
Others react with much more sobriety. They feel confused, afraid, trapped, helpless, isolated, bored, anxious, depressed, frustrated, skeptical, unprepared, or angry.
So, the question niggles at your mind and won't go away, "How should I respond?" Here are 5 invitations from Jesus.
#1 – Frequently check on the people in your life.
How do we address negative feelings? With love. Only love can cast out fear (1 John 4:18).
Jesus put it this way…
Love the Lord your God with all your heart and with all your soul and with all your mind and with all your strength… Love your neighbor as yourself. –Mark 12:30-31 (NIV)
Should we take care of ourselves and our own families? Absolutely. Wash your hands. Feed your children. Protect those in your life who are most at risk.
However, remember that Mother Teresa's legacy wasn't built on hoarding supplies for herself and asking the poor of Calcutta why weren't they as wise and smart as she was.
We can do both. We must do both.
Let's call our parents. Check on that widow or widower down the street. Drop off groceries to that family in need. Take lunch to that health care professional. Purchase a gift card from your favorite small business.
#2 – Find creative ways to "gather" with others.
Early Jesus followers embraced a profound simplicity…
They devoted themselves to the apostles' teaching and to fellowship, to the breaking of bread and to prayer. Everyone was filled with awe at the many wonders and signs performed by the apostles. All the believers were together and had everything in common. They sold property and possessions to give to anyone who had need. Every day they continued to meet together in the temple courts. They broke bread in their homes and ate together with glad and sincere hearts, praising God and enjoying the favor of all the people. And the Lord added to their number daily those who were being saved. –Acts 2:42-47 (NIV)
How can we innovatively practice much of the same, even during a pandemic?
Our faith-based organization is seeking to leverage a new online streaming portal, our app, Facebook Live, and YouTube Live in ways that we've never tried before.
Zoom video communications are a great option for gathering multiple people face-to-face. Responding to our global crisis, Zoom CEO, Eric Yuan, recently expanded Zoom's free services. Let us know if you'd like to jump in with us!
#3 – Take time to rest and reset your life.
Have you experienced any rest since the quarantine began? Some of you haven't, perhaps, because of your job or because of the extra duties of caring for children. But I do pray you can experience some rest.
Just as God built the need for community into our DNA, He has also built into us the need for rest. We can't survive without food and water, and we can't survive without rest.
This has always been God's heart for his children…
Unless the Lord builds the house, the builders labor in vain. Unless the Lord watches over the city, the guards stand watch in vain. In vain you rise early and stay up late, toiling for food to eat—for he grants sleep to those he loves. –Psalm 127:1-2 (NIV)
Jesus still invites us…
Come to me, all you who are weary and burdened, and I will give you rest. Take my yoke upon you and learn from me, for I am gentle and humble in heart, and you will find rest for your souls. For my yoke is easy and my burden is light. –Matthew 11:28-30 (NIV)
#4 – Learn to Pray
Many of us are midway through our first week of social distancing. Yes, I know it feels like we've been holed up in our homes for an eternity. You miss your morning coffee run. You haven't figured out how to exercise now that your gym is closed. Unfortunately, experts estimate that we're going to be in lockdown for a while longer.
Though it might feel terrifying, we now have an opportunity to develop strategies for living in this new reality. We can find ways to break up the day, stay upbeat, and keep our minds active, even though the world outside our doors has ground to a halt. Mental health experts recommend that we spend part of the day on relaxing activities like meditation or learning a new hobby.
Additionally, let me suggest that you also use this time to learn to pray.
It's not hard. Jesus left us with a great pattern…
Our Father in heaven,
hallowed be your name,
your kingdom come,
your will be done,
on earth as it is in heaven.
Give us today our daily bread.
And forgive us our debts,
as we also have forgiven our debtors.
And lead us not into temptation,
but deliver us from the evil one. –Matthew 6:9-13 (NIV)
Just about any of the 150 Psalms can also be used as a prayer guide. Pray them liberally; but, like jazz, feel free to take detours of your own and tell God what you're really feeling.
#5 – Believe that resurrection through Jesus is your only hope.
Should we pray for a vaccine for the Coronavirus? Absolutely.
But let us also remember that, unless Jesus returns, none of us will escape life alive. We're all terminal. Our death is not a matter of if, but when. If a virus doesn't get us, something else will. Since our sinful hearts fall short of God's perfection, we're on a crash course with death.
Thankfully, though, there's good news! God sent His son, Jesus Christ, into the world: to live a sinless life, to suffer and die on the cross as the substitute for our sins (absorbing the punishment we rightfully deserve), to rise again, to ascend back into heaven, and to grant forgiveness, righteousness, His Spirit, and eternal life at the moment anyone repents and believes.
When others were fleeing the plagued cities in the first millennia-and-a-half after Jesus, what caused Christians to run into those same diseased cities to care for the sick and dying, the poor and needy, and abandoned babies? A firm resolve in the resurrection of Jesus and their own imminent resurrection.
This is why the most common tombstone marker for Christians in those days was resurgam, Latin for "I will rise."
Jesus declared…
I am the resurrection and the life. The one who believes in me will live, even though they die; and whoever lives by believing in me will never die. Do you believe this? –John 11:25-26 (NIV)
Will you believe this?
"I became a Christian during the Coronavirus."  May this be the confession of millions of men, women, and children when this pandemic subsides! May this be your confession as well.
Matt Friend, a Charleston native and tenth generation West Virginian, graduated from the Southern Baptist Theological Seminary, has served in pastoral ministry since 2002 and at Bible Center Church since March 1, 2016 (as our sixth Lead Pastor). He and Sarah (his high school sweetheart) are raising two teenage daughters, Katie and Riley, and a son, Kadyn. Together, they are advocates for adoption and all things West Virginia. In his free time, he enjoys reading, camping, hiking, kayaking, golfing, and spending time with his family and two dogs, Queso and Wasabi.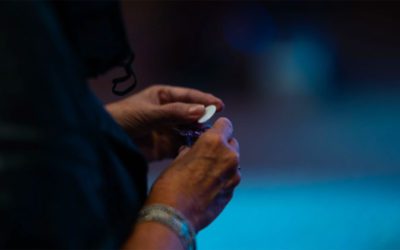 he church service is almost over. Stomachs are growling, infants are weepy, and the clock is ticking. It's at this point every week that I ask the congregation to take a minute of prayerful contemplation and self-examination, and then I...