There will never be a lack of holidays to celebrate. Hallmark will make sure of it.
Currently, the most popular holidays to commemorate in the U.S. are Christmas, Thanksgiving, Mother's Day, Easter, Independence Day, Father's Day, and Halloween. Trailing close behind are Valentine's Day, St. Patrick's Day, and New Year's.
May I suggest one holiday to add or keep on your schedule? 
Good Friday
Germans refer to it as "Mourning Friday," or "Silent Friday," or "Holy Friday."
Nordic countries prefer "The Long Friday."
It's commonly known in Greece, Poland, and Hungry as "Mega Friday."
Occurring each year on the Friday before Easter, this day has been globally revered for two millennia to remember Jesus' death on the cross.
Why is Good Friday worth remembering in the hustle and bustle of life?
Jesus was crucified on this Friday—most likely—in AD 33.
Serving as Peter's historian, John Mark wrote…
It was Preparation Day (that is, the day before the Sabbath). So, as evening approached, Joseph of Arimathea, a prominent member of the Council, who was himself waiting for the kingdom of God, went boldly to Pilate and asked for Jesus' body. Pilate was surprised to hear that he was already dead. Summoning the centurion, he asked him if Jesus had already died. When he learned from the centurion that it was so, he gave the body to Joseph. So, Joseph bought some linen cloth, took down the body, wrapped it in the linen, and placed it in a tomb cut out of rock. Then he rolled a stone against the entrance of the tomb. Mary Magdalene and Mary the mother of Joseph saw where he was laid. -Mark 15:42-47 (NIV)
 Doctor Luke also recorded…
Now there was a man named Joseph, a member of the Council, a good and upright man, who had not consented to their decision and action. He came from the Judean town of Arimathea, and he himself was waiting for the kingdom of God. Going to Pilate, he asked for Jesus' body. Then he took it down, wrapped it in linen cloth and placed it in a tomb cut in the rock, one in which no one had yet been laid. It was Preparation Day, and the Sabbath was about to begin. The women who had come with Jesus from Galilee followed Joseph and saw the tomb and how his body was laid in it. Then they went home and prepared spices and perfumes. But they rested on the Sabbath in obedience to the commandment. -Luke 23:50-56 (NIV)
Since Jesus died shortly before sundown on Friday, and since the Jewish Sabbath technically began then, his closest followers hurried to get him buried in a sealed tomb before the Sabbath began.
Most conservative scholars today believe this event occurred on Friday, April 3, AD 33. Thankfully, date-certainty isn't required for event-certainty. The convoluted overlapping of Jewish, Pagan-Roman (Julian), Christian-Roman (Gregorian) calendar systems can be confusing.
Good Friday was the main reason God created the universe.
Which holiday is most important to God: Christmas, Easter, or Good Friday? As I understand the Bible, Christmas and Easter were necessary to accentuate Good Friday. Christmas was a necessary signpost preceding Good Friday, and Easter was a necessary signpost punctuating Good Friday. In other words…
There had to be a Christmas because Jesus had to live a perfect life.
There had to be an Easter to prove that He was God's Son and that the Father had accepted His sacrifice.
The cross was the main reason God created the universe…
Praise be to the God and Father of our Lord Jesus Christ, who has blessed us in the heavenly realms with every spiritual blessing in Christ. For he chose us in him before the creation of the world to be holy and blameless in his sight. In love he predestined us for adoption to sonship through Jesus Christ, in accordance with his pleasure and will—to the praise of his glorious grace, which he has freely given us in the One he loves. In him we have redemption through his blood, the forgiveness of sins, in accordance with the riches of God's grace that he lavished on us. With all wisdom and understanding, he made known to us the mystery of his will according to his good pleasure, which he purposed in Christ, to be put into effect when the times reach their fulfillment—to bring unity to all things in heaven and on earth under Christ. -Ephesians 1:3-10 (NIV)
The cross wasn't God's plan B. It was a drama of salvation that God purposed in eternity past. God had already planned to show off His grace before the universe was ever created!
He has saved us and called us to a holy life—not because of anything we have done but because of his own purpose and grace. This grace was given us in Christ Jesus before the beginning of time. -2 Timothy 1:9 (NIV)
All inhabitants of the earth will worship the beast—all whose names have not been written in the Lamb's book of life, the Lamb who was slain from the creation of the world. -Revelation 13:8 (NIV)
You and I are part of a large, unfolding drama. Could God have created a world with no possibility for sin? Sure. But he knew He would get more glory and we would love Him more if we knew what it was like to be redeemed.
In the Garden, people walked with God. In Revelation, we bow in worship and throw crowns at his feet. Why? What's the difference? Good Friday!
The cross wasn't God's plan B. It was a drama of salvation that God purposed in eternity past. God had already planned to show off His grace before the universe was ever created!
Click To Tweet
It was the day when Jesus took our bad and gave us His good.
Why do we call Good Friday "good," when it's such a dark, bleak event of death and suffering? Why don't we call it "Bad Friday?" It's all a matter of perspective…
God made him who had no sin to be sin for us, so that in him we might become the righteousness of God. -2 Corinthians 5:21 (NIV)
Good Friday is good for us because…
Jesus wore the crown of thorns that we might wear the crown of life.
Jesus was scourged that we might be healed.
Jesus was condemned that we might be pardoned.
Jesus was abandoned that we might be accepted.
Jesus tasted death that we may taste eternal life.
Jesus drank wrath that we might drink the waters of life.
Jesus died so we can live.
Jesus was showered with judgment so we can be showered with the grace.
Good Friday is good because we're so bad.
Good Friday is only good because Jesus, our Lord and Savior, is so good Himself.
Jesus wore the crown of thorns that we might wear the crown of life.
Click To Tweet
One Possibility
If you don't already have a Good Friday tradition, the church I'm a part of will be hosting an online Good Friday service tonight at 7 PM. Together, we'll enjoy a creative hour of dramatic Scripture reading, art, singing, and prayer as we survey the 14 Stations of the Cross… the 14 places mentioned in Scripture where Jesus journeyed in those final, dreadful hours.
Back in early February, about twenty of our members and I experienced these 14 locations in Jerusalem's Via Dolorosa, and we're eager to share them with you.
All ages are invited as each service element is designed knowing children will be watching.
Join us on our website, our free app, our Facebook page, or our YouTube channel from your living room, kitchen, bedroom, or back porch as we remember, in ancient and modern ways, why this Friday is so Good.
Matt Friend, a Charleston native and tenth generation West Virginian, graduated from the Southern Baptist Theological Seminary, has served in pastoral ministry since 2002 and at Bible Center Church since March 1, 2016 (as our sixth Lead Pastor). He and Sarah (his high school sweetheart) are raising two teenage daughters, Katie and Riley, and a son, Kadyn. Together, they are advocates for adoption and all things West Virginia. In his free time, he enjoys reading, camping, hiking, kayaking, golfing, and spending time with his family and two dogs, Queso and Wasabi.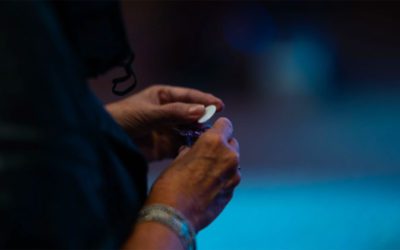 he church service is almost over. Stomachs are growling, infants are weepy, and the clock is ticking. It's at this point every week that I ask the congregation to take a minute of prayerful contemplation and self-examination, and then I...