Dear Bible Center family & friends,
Welcome to our Online Church Campus, and welcome to June!
Can you believe 2020 is almost half-over? (A few of you probably felt this back in February.)
Rest assured that our Pastors, Staff, and Board continue monitoring the virus situation with plans to open at the best possible time. We are tentatively eyeballing June 25th as our first in-person gathering, and we hope to make a firm announcement in the next week or so.
Here are seven ingredients currently boiling in our decision-making stew:
We don't have this figured out. No one does. Every leader in the world is tossing proverbial spaghetti against the wall to see what sticks.
We want to do what's best for our entire congregation, benefiting the most people possible.
We want to practice leadership, not reactionship. We're finding our best friends to be: prayer, time, wise counsel, and sleep.
Due to our size and influence, we were one of the first Charleston churches to close our campus, and it's likely that we'll be one of the last to open.
Going forward, we will focus on being the church (at least) as much as we focus on gathering as a church, and definitely (way!) more than we stress doing
We want to emphasize effectiveness over efficiency. We believe our online and TV services will be more effective, at least for a while longer, though not as efficient.
It's imperative that we not politicize the situation. Very few of us, myself included, have all the information (Proverbs 18:13).
In the meantime, while my family and I are away on vacation, we're blessed to have Pastor Mike Graham continue our Exodus series, "Divergent: What in the World Do We Do Now?" He's one of the finest Bible teachers I know, so be sure to take notes and encourage him.
Missing you more than I ever imagined,
Matt Friend • Senior Pastor
@PastorMattBCC
Church Life
Member Meeting | June 28 | 6 PM
Make plans to join us as Pastors Matt and John share their hearts and clarify our vision for the decades ahead. You'll feel like insiders through spending time with our staff; hearing updates on pandemic decisions, the upcoming rollout of our new Member Statement of Faith, staff transitions, and property developments; voting on the 2020-21 budget, and more. We'll enjoy Huskey's Ice Cream outside after the meeting. We hope all members will attend along with regular attenders considering membership. An optional budget-details meeting will be held at 5 PM and printed budgets will be available upon request.
Fellowship of Christian Athletes (FCA) Golf Scramble
Saturday, June 13 • Greenhills Country Club in Ravenswood, WV • Sign up to play or to be a sponsor by contacting our FCA Global Partner Tim Britton (304) 881-2561.
7:30 AM – Sign in
9:00 AM – Shotgun start
$100/person or $400/team
---
Students
Middle School Parks & Rec Camp | July 6-9 | Schedule & details
If you just finished 6th, 7th, or 8th grade, this camp is for you. Different activities will take place each day (tubing and a day on the river, a trip to Ace Adventures Wonderland Water Park, rafting on the New River, and games at the church rec fields). It is going to be a great week of connecting as a student ministry to each other and in our relationship with God.  Register by Sunday, June 21, if you plan to attend camp. The cost is $150. For questions, contact Pastor Josh.
High School Summer Camp | July 26-31 (upcoming 9th through graduated 12th graders
High School summer camp will now be hosted and run by Bible Center and will be held at Alpine (on the campus of Appalachian Bible College). The cost is $381, due by July 12. Activities include whitewater rafting, paintball, ropes courses, basketball tournament, and more! Cost includes all activities, meals, lodging, and transportation. Register now!
---
Belong
New Here or Wanting to Connect More?
If you're new to Bible Center, whether you've visited in person or online only during the pandemic, we'd love to connect with you and pray for you. Let us know how we can help! Text Connect to (304) 212-6188.
Outdoor Spaces Available to Reserve
Now that we are in Phase 2 of our Campus Re-Opening Plan, outdoor areas are available for your group to reserve. Restrooms on the North end of the building will be available while the rest of the building remains closed. Check out the Facilities page to view available areas and to request a reservation.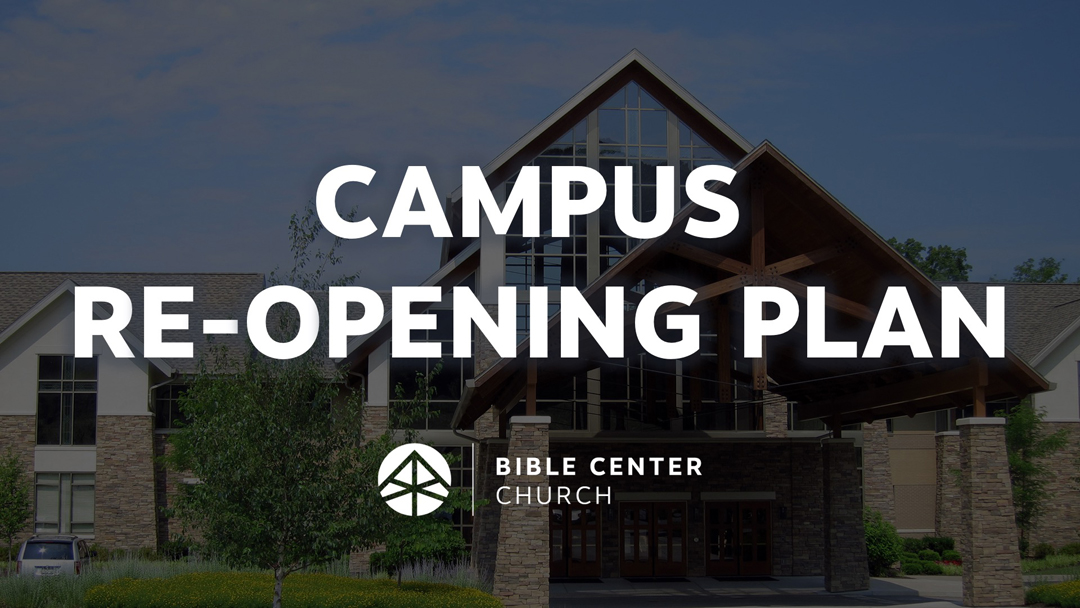 When will we re-open the church campus for in-person gatherings?
We trust you'll find the following information to be both caring and strategic as our Pastors, Staff, and Elders have worked hard and prayed much to lead us to this next step, continuing to follow local and CDC guidelines.
Though we hold the plans loosely since things are regularly changing, the information and a video explaining it can be found on our Campus Re-Opening Plan page.
Church Online
You're invited to worship with us Sunday
at 9 AM (multigenerational) or 11 AM (modern).