P ornography. Where were you when you first saw it?
For the boys in my neighborhood, we were in the second grade when an older kid who lived a few streets away showed us the contraband he had found in his dad's garage.
Second grade. Let that sink in. Second graders should be learning to pop wheelies on their bikes, make their beds, create explosive volcanoes with Diet Coke and Mentos, and read C. S. Lewis. Not see this kind of thing.
Now with 21 years of marriage and 19 years of pastoral experience (and a son of our own in the second grade!), I'm more convinced than ever that we must guard our hearts and our children from the evils of pornography.
Pornography is a social and physical toxin that destroys relationships, steals innocence, erodes compassion, breeds violence, rewires the human brain, and kills love. The issue of pornography is ground zero for all those concerned for the sexual health and wellbeing of our loved ones, communities, and society as a whole.
Here are the first two (of six) meditations that may help.
#1 – Contemplate the Glory of the Lord
Feeling tempted? Take a few minutes to stop and meditate on God's glory.
Exodus 33 records the true story of when Moses saw God's glory. "Show me your glory," Moses cried (v. 18). Then…
The Lord said, "I will cause all my goodness to pass in front of you, and I will proclaim my name, the Lord, in your presence. I will have mercy on whom I will have mercy, and I will have compassion on whom I will have compassion. But," he said, "you cannot see my face, for no one may see me and live."
Then the Lord said, "There is a place near me where you may stand on a rock. When my glory passes by, I will put you in a cleft in the rock and cover you with my hand until I have passed by. Then I will remove my hand and you will see my back; but my face must not be seen" (Exodus 33:19-23).
Moments later…
The Lord came down in the cloud and stood there with him and proclaimed his name, the Lord. And he passed in front of Moses, proclaiming, "The Lord, the Lord, the compassionate and gracious God, slow to anger, abounding in love and faithfulness, maintaining love to thousands, and forgiving wickedness, rebellion and sin. Yet he does not leave the guilty unpunished" (Exodus 34:5-7).
How did Moses respond? He "bowed to the ground at once and worshiped" (v. 8).
Would you allow yourself to play a mindless game on your phone while standing on the precipice of the Grand Canyon? Could you give yourself (or your kids) permission to make mud pies while the magnificent Aurora Borealis flickered above your head? Why, then, would we entertain pornographic habits when we live every day Coram Deo (before the face of God) and Coram Christo (before the face of Christ)—the place where God inhabits just "beyond the veil" of our mortality?
Ponder the glory of God in His Word and in His Creation more often, and watch what happens to your soul.
#2 – Contemplate the Good of Others
At one time I would've given this encouragement to young men only, "Remember that women are created in God's image. Make decisions that protect women from an industry that only seeks to use and destroy them." However, in our modern world of smorgasbord sexuality, this advice is appropriate for both men and women about both men and women.
Consider these biblical truths:
The Triune God—distinct from His creation and out of nothing—created everything visible and invisible by the power of His spoken word.
By Him, through Him, and to Him are all things. God created out of the superabundance of His love and holiness.
His creation, and everything in it, exists to proclaim His greatness, goodness, and glory.
Adam and Eve were personally created in the image of God—a vestige that men, women, boys, and girls retain to this day.
God created Adam and Eve equal in worth and dignity—distinct, similar, and interdependent as male and female.
The divinely ordained differences between male and female reflect God's original design and are meant for human good and flourishing.
God has designed marriage to be a covenantal relationship in the eyes of God and in the eyes of the law.
It's a sexual, procreative, lifelong union of one man and one woman (as husband and wife), and is meant to signify the covenant love between Christ and His bride, the Church.
God's revealed will for all people is chastity outside of marriage and fidelity within marriage.
As a wonderful gift from God, sexual intimacy is to be expressed between a man and a woman within the commitment and love of a marital relationship.
In the Sermon on the Mount, Jesus explicitly declared that it's sin for us lust after someone to whom we are not married (Matthew 5:28).
Therefore, any other form of sexual intimacy or activity (including pornography) is contrary to God's perfect gift and design for the marriage covenant.
Every woman you may lust after (even through the screen of your phone) was created in God's image. God made her just the way He wanted her to be for His glory and for her good.
As a little girl, she once attended Kindergarten. She probably wore pig tails and princess dresses. As a child, at no time did she ever dream of growing up and humiliating herself in such deplorable ways. The same is true of any man who has given himself to the porn industry.
Honor other men and women as fellow human beings. Respect them enough to protect them from themselves, and to protect them from your basest cravings. Make choices that protect their good­­—their God-given value in the eyes of their Creator.
Next Friday we'll look at two more meditations to use in the fight against pornography.
Matt Friend, a Charleston native and tenth-generation West Virginian, graduated from the Southern Baptist Theological Seminary, has served in pastoral ministry since 2002 and at Bible Center Church since March 1, 2016 (as our sixth Lead Pastor). He and Sarah (his high school sweetheart) are raising two teenage daughters, Katie and Riley, and a son, Kadyn. Together, they are advocates for adoption and all things West Virginia. In his free time, he enjoys reading, camping, hiking, kayaking, and spending time with his family and two dogs, Queso and Wasabi.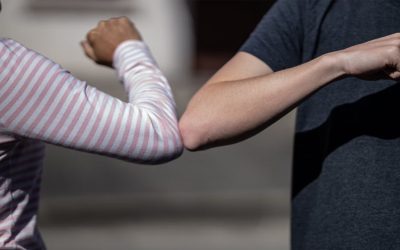 Today my son walked into school without a mask for the first time in almost two years. Instead of walking, I should probably describe him as having floated into school! When Sarah and I received the email from his principal yesterday announcing that masks are now...